QNAP Debuts New TS-x19P+ Line-up of Affordable Turbo NAS for HOME, SOHO, Prosumers
QNAP Systems, Inc., a leading manufacturer of world class NAS servers, NVR Video Surveillance Systems, and Network-based Media Players today announced the TS-x19P+ lineup of affordable Turbo NAS servers targeted primarily for home and SOHO users. The new models utilize Marvell's new 1.6GHz embedded processor and include 512MB of DDRIII memory and Gigabit LAN ports, mustering up transfer rates exceeding 100MB/sec and offering a unique blend of performance and features at very affordable price points. The new models include the 1-drive TS-119P+, 2-drive TS-219P+ and 4-drive TS-419P+. With up to 8TB of networked storage, the TS-x19P+ series NAS servers combine an attractive industrial design, outstanding performance, consumer-friendly features, and above all, legendary QNAP quality and reliability.
NAS servers are becoming a popular addition to home and SOHO networks as they solve the problem of how to share digital pictures, music, and videos among computers in the home without resorting to a USB keychain drive. QNAP's new TS-x19P+ models are easy to attach to an existing home network and provide easy file sharing between PCs, Macs, Linux, and UNIX-based computers. QNAP's TS-x19P+ NAS servers can also provide automatic backup of all computers on the network, host websites, record home security surveillance video from IP cameras on the network, be a UPnP-compliant media server, and act as a stand-alone file server for BT/FTP/HTTP and eMule downloads.
[img]3[/img]
"The next generation TS-x19P+ series Turbo NAS servers from QNAP combine affordable high performance with ultra-low power consumption," said Tony Lu, Product Manager for QNAP. "Whether you are a home or business user, you no longer need to sacrifice performance for the sake of saving energy. These new models offer home and SOHO users many of the advanced networking features found on our higher-end NAS servers, making the TS-x19P+ series an incredible value for the consumer."
The new TS-x19P+ models can also improve multimedia experience for home users. The built-in UPnP media server (TwonkyMedia) feature of the TS-x19P+ series supports numerous media players such as the Sony PS3 and Microsoft Xbox 360 gaming consoles, and High-Definition media players (compatible with NFS). Users can even use their iPod/iPad/iPhone or Android devices to stream music and video or view digital photos stored on the NAS from anywhere they have a Wi-Fi or 3G connection.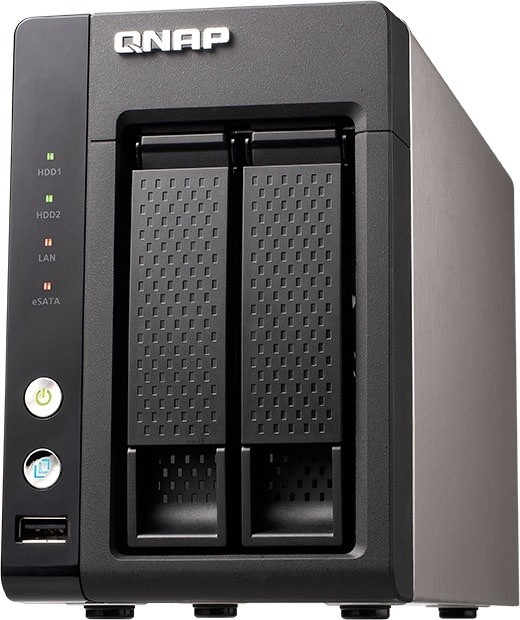 The TS-x19P+ series supports 2.5-inch and 3.5-inch SATA II hard drives with up to 2TB capacity, and storage capacity can be expanded by connecting eSATA or USB storage devices to the NAS. The smart fan and aluminum case design of the TS-x19P+ produces a nearly silent working environment, which is essential for home use. Power consumption is less than 19W, which is ideal for 24/7 operation at home or in the office, and the TS-x19P+ series also supports Wake on LAN and scheduled power on/off management. The TS-119P+ features a swappable drive tray for easy hard drive installation or replacement. The TS-219P+ and TS-419P+ feature hot-swappable hard drives and supports RAID 0/1 for the TS-219P+ and RAID 0/1/5/6/5+hot spare for the TS-419P+ with online RAID capacity expansion and online RAID level migration. The TS-x19P+ series comes with new V3.3 of QNAP's Turbo NAS firmware, which provides an easy to use AJAX-based user interface for managing the features of the NAS.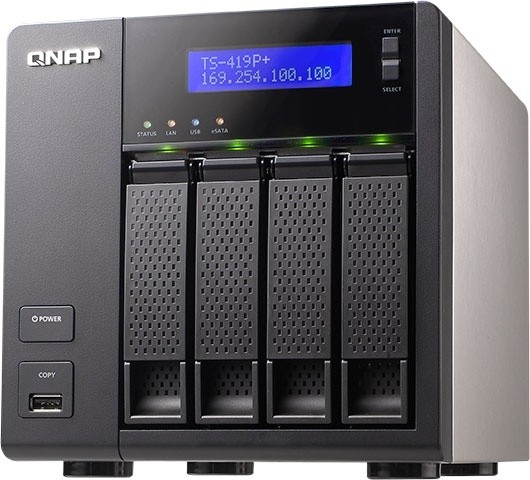 Availability
The new TS-x19P+ Series Turbo NAS servers will be available beginning in November 2010 through QNAP global commercial distributors, resellers and retailers.
Last updated: Apr 7, 2020 at 12:03 pm CDT