Greenliant NANDrive Solid-State Storage Products Now Faster With SATA Interface
Greenliant Systems, a leader in energy-efficient, highly secure and reliable solid-state storage products, has begun sampling its new SATA interface NANDriveTM GLS85LS product family to select customers seeking high-endurance, high-performance, fully-integrated, embedded flash solid-state drives (SSD). Greenliant's award-winning NANDrive combines an integrated SATA NAND controller and the widest range of NAND flash capacities-2, 4, 8, 16, 32 and 64 GB-in a multi-chip package.
For OEMs (original equipment manufacturers) requiring the durability and speed of SSDs in very small form factors, Greenliant's SATA NANDrive devices are 14mm x 24mm x 1.85mm. The NANDrive is offered in a 145 ball grid array (BGA), 1mm ball pitch package for easy, space-saving and cost-effective mounting to a system motherboard, and is ideal for data storage applications in portable computing, set-top box, industrial, automotive and networking systems.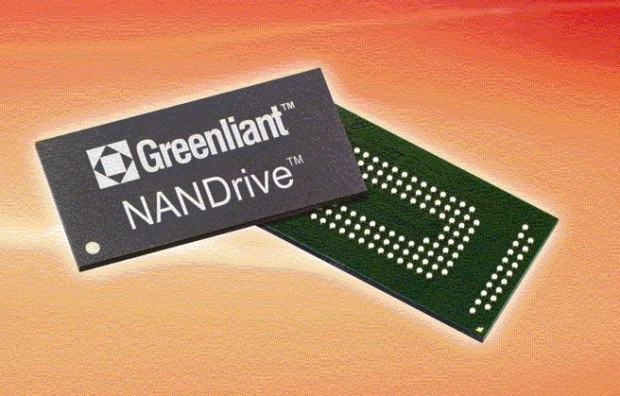 "OEMs have recognized the benefits of Greenliant's NANDrive in providing superior reliability, and the addition of SATA-based NANDrive devices provides our customers with more options to choose a compatible SSD that best suits their needs for various market segments and applications," said Bing Yeh, CEO of Greenliant Systems. "While we are currently sampling our new commercial-grade SATA NANDrive products, an industrial-grade SATA NANDrive is under development for data-critical applications that need SSDs to withstand extreme temperature conditions."
Energy Efficient
Greenliant's SATA NANDrive is an energy and cost-saving device with active-mode power consumption as low as 500mW. It also features a deep power-down mode to further reduce power consumption to 10mW typical and is ideal for battery-powered applications.
Advanced Security
The advanced security features of SATA NANDrive include a unique device ID, password protection and four independent zones that the user can set to different protection levels. In addition, SATA NANDrive allows the user to select specific areas of the SSD to "instant" erase sensitive content, instead of having to erase the entire drive.
SSD Lifespan Monitoring
Greenliant has taken industry-standard S.M.A.R.T. commands a step further with a GUI (graphical user interface) based monitoring and analysis tool that provides custom alerts indicating the remaining useful life of the SSD. This important feature also gives the user the ability to select optimal SSD capacity based upon specific application usage models.
Data Integrity Protection
With its SATA NANDrive, Greenliant introduces a system-level firmware solution that addresses NAND data retention issues, as well as preserves data integrity during power interrupts, reducing the risk of data loss.
Advanced Wear Leveling
Greenliant's NAND management technology is based on advanced static and dynamic wear-leveling algorithms that maximize the NANDrive lifespan allowing system engineers to address applications with long lifetime requirements such as industrial, medical, military, enterprise networking and automotive products.
Availability
Greenliant is currently sampling the GLS85LS NANDrive line with customers on select product engagements.
Last updated: Apr 7, 2020 at 12:03 pm CDT