Digital Storm Named as CES Innovations 2011 Design and Engineering Award Honoree
3D HD multi-display gaming system gives players an unparalleled gaming advantage & represents the future of total immersion gaming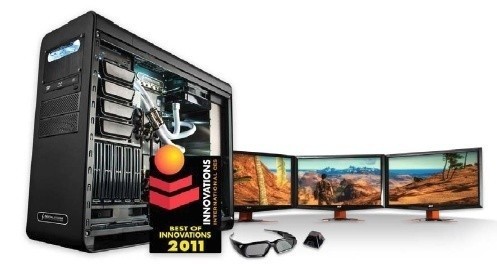 Fremont, Calif. - (November 9, 2010) - Digital Storm today announced that it has been named an International CES Innovations 2011 Design and Engineering Awards Honoree for Black|OPS with 3D Vision Surround Technology. Products entered in this prestigious program are judged by a preeminent panel of independent industrial designers, engineers and members of the media to honor outstanding design and engineering in cutting edge consumer electronics products across 35 product categories.
With the debut of Black|OPS with 3D Vision Surround Technology, Digital Storm proudly ushers in the future of total immersion gaming. For the first time ever, Digital Storm and NVIDIA's 3D Vision™ Surround Technology expands gaming real estate across three monitors in full HD 3D for the most immersive gaming experience ever. With this breakthrough, gamers can expand their view of in-game action, allowing them to see enemies sooner, get a complete survey of strategy games, and race their cars even faster than before.
"Digital Storm has been considered an innovator in the PC gaming industry for years and it's deeply gratifying to now gain recognition for our engineering by the consumer electronic industry," commented Rajeev Kuruppu, Digital Storm's Director of Product Development. "The sign of true innovation is when a new technology spawns widespread change. This new 3D technology is forcing software developers to create games that fully leverage all the capabilities of this new hardware. We couldn't be more thrilled to be at the forefront of this exciting new category.
The prestigious Innovations Design and Engineering Awards have been recognizing achievements in product design and engineering since 1976. It is sponsored by the Consumer Electronics Association (CEA)®, the producer of the International CES, the world's largest consumer technology tradeshow.
Digital Storm's Black|OPS with 3D Vision Surround Technology will be displayed at the 2011 International CES, which runs January 6-9, 2011 in Las Vegas, Nevada. The Innovations Design and Engineering Showcase will feature honorees by product category in the Grand Lobby of the Las Vegas Convention Center and will also be featured at CES Unveiled: The Official Press Event of the International CES on Tuesday, January 4.
The Innovations entries are judged based on the following criteria:
• Engineering qualities, based on technical specs and materials used
• Aesthetic and design qualities
• The product's intended use/function and user value
• Unique/novel features that consumers would find attractive
• How the design and innovation of the product compares to other products in the marketplace
Products chosen as Innovations honorees reflect innovative design and engineering of the entries. Examples may include the first time various technologies are combined in a single product or dramatic enhancements to previous product designs.
Innovations 2011 Design and Engineering honoree products are featured on www.CESweb.org/Innovations, which lists product categories, as well as each product name, manufacturer information, designer, description, photo and URL.
To learn more about Digital Storm's complete product offerings, please visit www.DigitalStormOnline.com
About Digital Storm
Founded in 2002, Digital Storm has rapidly emerged as the predominant name in system integration. With expertise in gaming and workstation PCs, Digital Storm's mission is to deliver its customers bleeding edge technology and performance, coupled with rock solid stability and support. As a validation of Digital Storm's success, the company has maintained an "A+" rating with the Better Business Bureau and its systems have received the industry's most prestigious awards.
Last updated: Apr 7, 2020 at 12:03 pm CDT