Toshiba Introduces High Performance Blade-Type SSD Modules with up to 256 GB
Toshiba Corp. (Toshiba) and Toshiba America Electronic Components, Inc. today announced the Blade X-gale SSD series, an innovative new form factor in high capacity, high performance solid-state storage. Available now, the new drives are offered in capacities of 64-gigabyte (GB), 128GB and 256GB, with a maximum sequential read speed of 220 MB per second (MB/s) and a maximum sequential write speed of 180 MB/s. Ideally suited for integration into space-sensitive products, including tablet PCs, laptops, mini-mobile and netbook PCs, Toshiba's latest SSD offering helps these devices achieve a super slim profile.
"Delivering a product that enables superior user experience in a smaller footprint is the ultimate goal," noted Scott Nelson, vice president, Memory Business Unit, Toshiba America Electronic Components, Inc. "The density of MLC NAND enables the creation of smaller form factor high density storage solutions, and Toshiba, as the technology leader for NAND storage solutions, will continue to innovate in this space."
[img]3[/img]
As mobile devices get smaller and lighter, yet even more feature packed than ever, the SSDs inside them - the heart of storing all of the music and other entertainment data - must be even smaller, and much thinner. Toshiba's new 64GB and 128GB Blade X-gale SSDs are the thinnest available within the company's comprehensive portfolio of SSD solutions. At a thickness of 2.2mm, the modules are 42 percent thinner than that of a typical mSATA SSD, and Toshiba's advanced wiring technology has assured optimized wiring layouts and data transfer rates in this new form factor. Thanks to Toshiba's base design technology that minimizes board warpage during thinning, 256GB capacity can be achieved when mounted on both sides, the largest density in the industry for small type SSD modules. Toshiba also offers designers a choice of mSATA and Half-Slim SSD modules in capacities up to 128GB.
"Until recently, storage designers looking for high capacity storage had accommodated the size of HDD into their designs," continued Nelson. "Up to this point, SSD designs also followed the basic design of small form factor HDD - which does not fully leverage the capabilities of high density NAND technology. Toshiba's module-based SSDs break with this approach, giving hardware designers greater freedom and flexibility in enabling their product design."
Toshiba will continue to promote innovations that widen the horizons of the NAND Flash market and support the company's continued leadership in that market. As such, Toshiba will generate demand for SSDs in notebook PCs, netbooks, laptops, and digital consumer products by enhancing its line-up, offering products with various densities and interfaces in a range of packages - while also advancing device performance.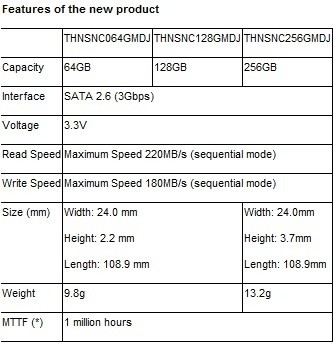 Last updated: Apr 7, 2020 at 12:03 pm CDT