The Future of Entertainment Starts Today as Kinect for Xbox 360 Leaps and Lands at Retailers Nationwide
Kinect transforms Times Square into a celebration of controller-free fun.
NEW YORK - Nov. 4, 2010 - Last night, New York's famed Times Square went controller-free, as the Crossroads of the World was transformed into a dancing, singing, A-list celebration for today's North American launch of Kinect for Xbox 360. A full day of demos, star-studded appearances and a massive, choreographed dance routine culminated in an excited line of thousands of fans eagerly waiting to take home the future of home entertainment, now available at more than 30,000 retailers nationwide.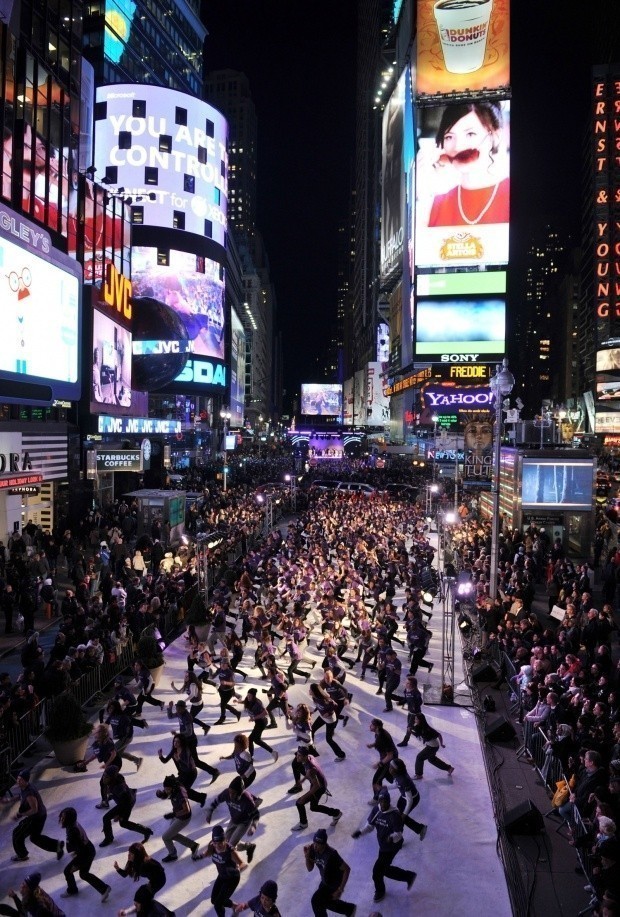 Xbox 360 took over Times Square today draping it in purple and hosting a dance party with thousands to celebrate the launch of its newest product, Kinect, which lets you be the controller.
Unlike any other consumer technology available today, Kinect for Xbox 360 lets you use your body and voice to play your favorite games and entertainment, literally turning you into the controller. Simply step in front of the revolutionary sensor, and Kinect sees you move, hears your voice and learns how you play. No buttons. No barriers. Just you. With 17 Kinect games available this holiday season - including dance, fitness, sports, racing and family experiences - Kinect gets everyone in the family off the couch, on their feet and in the game.
"Kinect transforms entertainment and introduces Xbox 360 to millions of new people - families, friends and people of all ages," said Don Mattrick, president of the Interactive Entertainment Business at Microsoft Corp., who will ring the opening bell at the Nasdaq stock exchange today. "Years of research and a team of engineers and artists have created something approachable, simple and affordable that everyone can enjoy."
The Kinect for Xbox 360 Experiential Tour pulled into Times Square at 8 a.m. yesterday, opening its doors to thousands of passers-by who experienced firsthand the magic moment when YOU become the controller. Actor/producer Mark Wahlberg then joined Xbox to get millions of kids off the couch, active and into the controller-free fun, announcing that Microsoft will donate Kinect for Xbox 360 to thousands of Boys & Girls Clubs across the country.
Later that evening, hundreds of choreographed dancers took to the streets with best-selling recording artists Ne-Yo and Lady Sovereign for a surprise concert tribute to the greatest controller ever invented - you. And as the clock struck midnight, the flagship Toys"R"Us in Times Square joined thousands of retailers across the country as they opened their doors and introduced eager customers to a brand new way to play.
[img]2[/img]
Frank Sanchez Jr. President and CEO, Boys And Girls Clubs of America and Mark Wahlberg with Boys and Girls Club members attend the Kinect for Xbox 360 Launch with Boys & Girls Club of America in Times Square on November 3, 2010 in New York City.
"There's no question that Kinect is going to be one of the hottest holiday gifts of 2010," said Chris Byrne, The Toy Guy® and content director of TimetoPlayMag.com. "This is active, engaging play that lets the whole family have fun together. Simple for players and elegant in the execution, this is a revolutionary product with something for everyone - games, movies, music - all controller-free."
Deemed a "breakthrough innovation" by Popular Mechanics, the "best of what's new" by Popular Science and awarded the National Parenting Publications Awards Gold Award, Kinect for Xbox 360 promises to usher in a new era of entertainment. Kinect transforms everyone's living room into a movie theater, a sports arena and a social playground, reaching the people that matter most to you, no matter where they live in the world.
And if you're one of the more than 25 million Xbox LIVE members, you can control movies, music and even live sports from ESPN on Xbox LIVE with the wave of a hand or the sound of your voice. Share your experiences with friends and family over Xbox LIVE and through Video Kinect - a video chat experience that can be enjoyed couch to couch or with Windows Live Messenger.1
Kinect for Xbox 360 is a great value for the whole family. The all-in-one Xbox 360 4GB Console with Kinect includes the new Xbox 360 4GB console, Kinect sensor and "Kinect Adventures," priced at $299.99 ERP (U.S.). Or for those who have an Xbox 360 console2 at home, the stand-alone Kinect for Xbox 360, priced at $149.99 ERP (U.S.), includes the Kinect sensor and "Kinect Adventures," and works with the 45 million Xbox 360 consoles currently in homes worldwide. More information is available at http://www.xbox.com/Kinect or http://www.facebook.com/xbox.
About Xbox 360
Xbox 360 is a premier home entertainment and video game system. With the addition of Kinect, Xbox 360 will forever transform social gaming and entertainment with a whole new way to play - no controller required. Xbox 360 is also home to the best and broadest games as well as the largest on-demand library of music, standard- and high-definition movies, TV shows and digital games, all in one place. The entertainment center of the living room, Xbox 360 blends unbeatable content with a network of 25 million Xbox LIVE members to create a limitless entertainment experience that can be shared at home or across the globe. More information about Xbox 360 can be found online at http://www.xbox.com.
About Microsoft
Founded in 1975, Microsoft (Nasdaq "MSFT") is the worldwide leader in software, services and solutions that help people and businesses realize their full potential.
1 Kinect works with select Xbox LIVE features and content. Xbox LIVE Gold membership and/or additional subscriptions and requirements apply for some features. See http://www.xbox.com/live.
Last updated: Apr 7, 2020 at 12:03 pm CDT