STEELSERIES AND GUNNAR OPTIKS INTRODUCE NEW STEELSERIES SCOPE PRO GAMING EYEWEAR
Performance Eyewear Allows Gamers to Experience Clearer and Sharper Images in a Unique and Comfortable Design
CHICAGO, Oct.20, 2010 - SteelSeries, the leading manufacturer of gaming peripherals and accessories, along with strategic partner GUNNAR Optiks, today introduced SteelSeries Scope digital performance eyewear for gamers in both prescription and nonprescription. The new line of co-branded pro gaming glasses powered by GUNNAR i-AMP lens technology is designed to improve visual efficiency, endurance, and recovery during gaming sessions. Expanding upon GUNNAR's line of advanced gaming eyewear, SteelSeries collaborated with the company to customize a design with a larger, extended lens and a lightweight, comfortable frame. The eyewear provides gamers a visually enhanced experience while minimizing eyestrain and fatigue.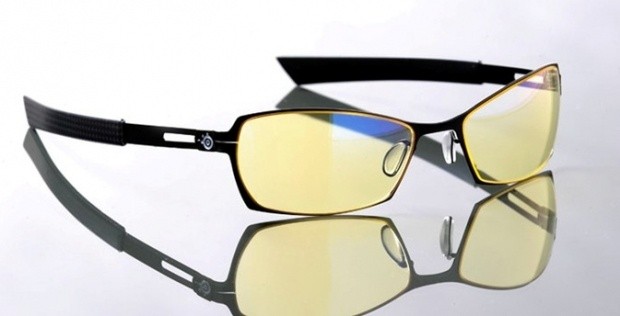 "We've built our brand on the belief that gamers want peripherals and accessories that provide a competitive advantage that will help improve their experience and game," said Bruce Hawver, SteelSeries CEO. "When we announced our strategic partnership with GUNNAR earlier this year, it was our goal to collaborate on a product that would provide gamers with that same solution of an improved experience. The SteelSeries Scope is the result of that collaboration and we're excited to bring it to market."
"Partnering with SteelSeries has been a smart and beneficial alignment for both of our brands. With the introduction of the SteelSeries Scope, we feel confident that gamers will appreciate and value the efforts of this collaboration", said Rob Aarnes, President, GUNNAR Optiks. "SteelSeries' knowledge and feedback from professional gamers about design and fit is what makes SteelSeries Scope so unique to both PC and console gaming."
SteelSeries Scope pro gaming glasses include a larger lens for extended peripheral vision, improving overall coverage and adding a consistent transition of sight. The new glasses also feature a SteelSeries-branded flat temple, designed for comfort while wearing gaming headsets.
More than just the design of the frames and temples, SteelSeries Scope lenses are optimized to enhance a user's visual performance. GUNNAR's proprietary i-AMP® lens technology is an optical platform that includes the following components that create this visual advantage:
• iONik lens tint optimizes light transmission and color contrast to filter out harsh light and reduce eyestrain.
• i-Fi multi-stage lens coatings filter transmitted light and protect the lens, with anti-reflective properties that cuts down on distracting glare and extraneous light.
• diAMIX™ lens material offers an optically pure viewing experience with ultra-light, ergonomic properties;
• fRACTYL™ lens geometry mimics nature to aid the natural focusing power of the cornea and lens while creating a preferential ocular microclimate.
• Rx lens available in the Scope frame through Carl Zeiss Vision (see Eye Care Professional for pricing).
SteelSeries Scope Pro Gaming Glasses are $99.99 and can be ordered online now at both SteelSeries.com and GUNNARS.com. To find out more about the new eyewear as well as giveaways and promotions be sure to check out SteelSeries and GUNNAR on Facebook and Twitter @SteelSeries & @GUNNAROptiks.
About GUNNAR Optiks
GUNNAR Optiks, LLC engineers and produces Digital Performance Eyewear, eyeglasses that enhance and work with the human visual system when viewing computer screens and digital devices. GUNNAR, a privately held company, was founded in 2005 and officially launched Digital Performance Eyewear in the United States in October, 2008.
GUNNAR Optiks eyewear enhances performance, prevents Digital Eye Fatigue (DEF) and protects against Computer Vision Syndrome (CVS), a visual condition that negatively impacts 125 million computer users according to the American Optometric Association. For more information, please visit www.gunnars.com.
About SteelSeries
SteelSeries is a leading manufacturer of gaming peripherals and accessories, including headsets, keyboards, mice, gaming surfaces and software. SteelSeries has been on the forefront of professional gaming gear since its inception in 2001, thanks to continued innovation and product development in cooperation with leading professional gamers. All SteelSeries products are developed in cooperation with professional gamers to ensure optimum performance and durability. SteelSeries supports the growth of competitive gaming and electronic sports through professional team sponsorships and community support all over the world. For more information, please visit www.SteelSeries.com.
Last updated: Apr 7, 2020 at 12:03 pm CDT