Compro IP60 H.264 Network Camera with 10x digital zoomBrings More Choices for Your Home Secure

Compro Technology announces the all-new Compro IP60 Network Camera. By combining the advanced H.264 video compression technology, IP60 can transfer megapixel/HD video with lower bit-rate, compared to other formats. It enables IP60 to be more suitable for the use of network surveillance.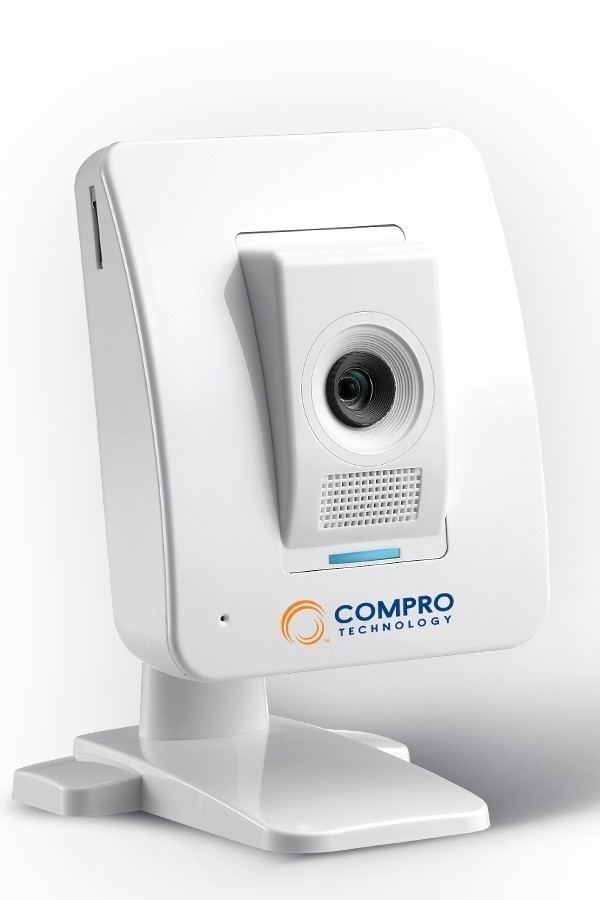 Compro IP60 provides high-definition 1280x1024 image quality with Compro's exclusive free iDDNS dynamic domain name service offers you to easy control the situation through the mobile phone or network devices, while you are away from home. IP60 also has the function to connect sirens and sensing devices, provides completed safety for your home environment, property, family and beloved pets. New version of ComproView is a powerful feature rich 32 channels professional grade multi-camera video management solution for business surveillance, and the upgradable firmware of WebVUer supports innovative active bandwidth management, auto bandwidth detection, Hotmail & Gmail support, and multiple storage technology.

In order to meet different needs, IP60 has built-in MicroSD memory card slot that allows you to make images stored, and can be up to support MicroSDHC memory card. The convenient and thoughtful idea is designed for our valued users. While you are using IP60, you have an option to purchase WL150 USB upgrade module with a simple and easy wireless network installation process. It provides 802.11 b/g/n wireless transfer functions.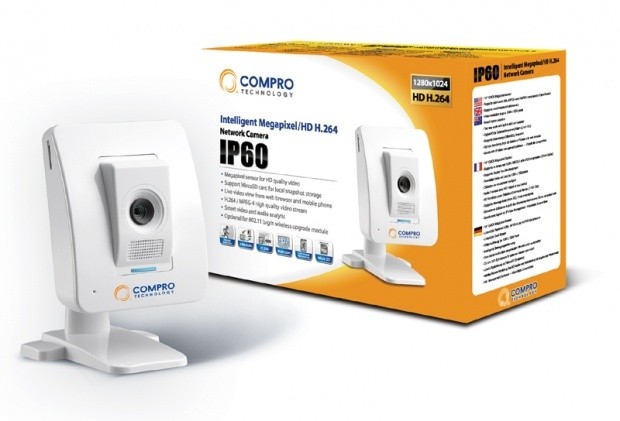 Compro IP60 network camera, the combination of convenience and high-performance, must be an ideal surveillance solution for securing locations such as home, small business, hotel, shop or restaurant!

Key Features

- 1/4" CMOS Megapixel sensor
- Supports real-time H.264 , MPEG-4 and MJPEG compression (Triple Codec)
- Supports dual streams simultaneously
- Support 10x digital zoom
- Video resolution is up to 1280 x 1024 pixels
- Image frame rate is up to 30 frames under 640x480 or 15 frames under 1280 x 1024
- Smart motion detection
- Two way audio with built-in MIC and speaker
- Support UPnP (universal plug and play)
- Support 10/100 802.3/Ethernet
- 802.11b/g/n WLAN on applicable model (Optional W150 wireless adaptor)
- Digital I/O for external sensor and alarm (2 In/1 Out)
- Support real-time MJPEG video mode mobile connection in iPhone, iPad, Android, BlackBerry, Windows Mobile and PDAs. And support 3GPP mobile phone monitoring.
- Bundle with powerful 32-channel IP video management software --- ComproView
- Support Active Bandwidth Management to get better video quality
- Network Bandwidth Detection to help users better define appropriate video bit-rate for applications.
- Hotmail and Gmail SSL webmail notification support
- Support video recording to local (MicroSD/SDHC) and remote (NAS/NFS) storage.
- Support live video watch in FireFox, Safari, Google Chrome web browsers. (with VLC Plug-in installed)
- Camera profile import and export, it's easy to install multiple cameras


About Compro

Compro Technology, Inc. has been an innovative leader in the designs and development of consumer and industrial imaging applications since 1988. Compro Security offers workable and affordable H.264-compressed, high-definition (HD) network cameras, intelligent surveillance systems, a variety of system integration devices, technical know-how, and much more. For complete product or corporate information, please visit www.comprousa.com/en/surveillance or write to security@comprousa.com. If you wish not to receive this Newsletter in the future, please unsubscribe.

Last updated: Apr 7, 2020 at 12:03 pm CDT