Silicon Power Announces Limited Edition USB Flash Drives ~ The Perfect Gift, A Diamond Flake
October 5, 2010, Taipei, Taiwan~ More than "giving", a gift reflects one's personal style and taste! World flash leading manufacturer, Silicon Power today (10/5) announces limited editions of Touch852 and Luxmini323. Limited by the special and monumental date it represents. In addition to your blessings, give them a heartfelt present to make it extra special!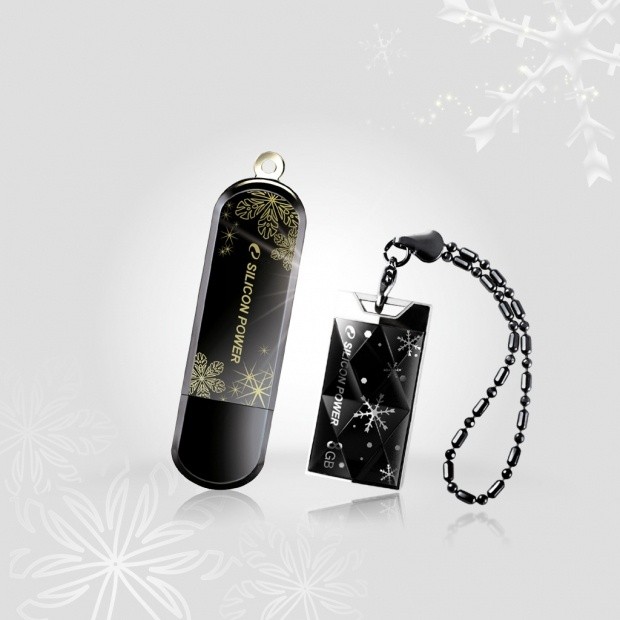 Touch 852 Snow Flake USB Flash Drive
Constructed from zinc alloy, its quality, ruggedness and unique hexagonal diamond cut surface is like the diamond flakes that resemble the beauty of the glistening snow!
The Silicon Power Touch852 is splendid and also robust. Considering ergonomics, the retractable USB port is user-friendly. Utilizing COB (Chip on Board) packaging process, Touch852 is waterproof, shockproof and dust-proof. It is the perfect gift or for personal use to store all personal, important and precious data!
Luxmini 323 Sparkle USB Flash Drive
Simple fashion stripes on a piano lacquer finished surface shows off its luxurious diamond flake design. Standing in a crowd of flashy techno-gadgets, its simplicity and grace outshines all! Utilizing a unibody design, the glistering gold frames outlines a simple structure and in the midst of darkness, it gives an aura of elegance!
To satisfy various customer needs has always been the goal Silicon Power strives for! In addition to its good looks, it also features Microsoft Windows7 compatibility and certifications for the highest quality. It comes with Lifetime warranty
The limited edition USB flash drives are designed and suited for all special occasion. Whether it is for anniversary or a gift, it combines technology, practicality and good looks that reflect the unique fashion sense of the giver while receivers can enjoy the one of a kind design Silicon Power has to offer!
About Silicon Power
Silicon Power Computer & Communications Inc., founded in 2003 by a group of enthusiastic specialists of flash data storage industry. Well dedicated in brand image and product quality, Silicon Power has been recognized and well accepted by millions of end-users in more than 100 countries, becomes the world's leading manufacturer of flash memory cards, USB flash drives, card readers, DRAM modules, solid state disks, and portable hard drives in less than a decade. Headquartered in Taipei, we continuously established various branches throughout the world including Netherlands, Japan, Russia, Mainland China and other emerging market. With superior quality and innovative design, our products stood out in several competitions and awarded Taiwan Excellence and COMPUTEX Design & Innovation Award in 2009 and 2010. Winning trust of global consumers, Silicon Power holds a record of successive double-digit revenue growth for last seven years. For Silicon Power, the product we introduced is not only a digital storage device but also a real promise to create and preserve your most valuable memory in every moment.
Last updated: Aug 9, 2020 at 12:18 am CDT