Thecus® NVR are Chock-Full of Features
Universal Video Monitoring Solutions
10/01/2010- The world has been digital for quite some time now, and as technology develops and gets more advanced, customer's needs become more and more sophisticated. The Network Video Recorder industry has experienced a parallel evolution and Thecus has been at the forefront of this movement. It is more and more important for companies to keep track of their branches and stores in ever more complicated ways. Today these companies demand massive storage capacity for high quality video, safer data storage than ever, no disruptions in service despite power outages and human error, and, most importantly, central control of the entire system. To keep this all working properly, an intuitive user interface is necessary to tie everything together.
[img]2[/img]
Thecus's NVR deliver an expansive list of features for companies across the board, supporting whatever needs they have. With international clients all over the world, we partnered with NETAVIS Software to, using their leading server-based IP video surveillance software, develop the best complete NVR package possible. This state-of-the-art software is available in 17 languages and is used extensively through Europe and Asia. It offers unparalleled support for multiple resolutions and multiple formats for input and export to match the amount of storage space users are working with. It also provides multi-camera support for simultaneous recording from up to ten different sources, and with PTZ (pan, tilt, zoom) camera control, every camera connected to the system, whether it's local or remote, can be adjusted live from a central location.
Businesses of all sizes require video monitoring. Big and small, local and remote, stores and offices, no matter what your situation, the solution has to fit your needs. To provide for everyone across the board, we have a product line that stretches from small-medium business all the way to enterprise. The NVR42, NVR46, NVR55, NVR77, and NVR88 span from a substantial 4 bays with 8-terabyte total capacity to a massive 8 bays with 16 terabyte total capacity and everything in between.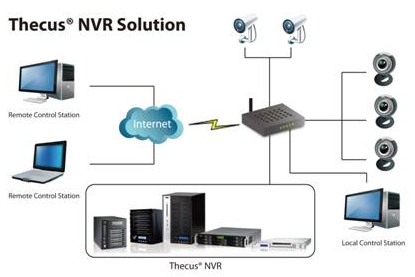 Product Features:
- Multiple Devices in One
Thecus's NVR solution is actually a network video recorder, a real-time monitoring system, and a networked storage unit in one. There is no need to hook up and configure several devices.
- Expansive RAID Support
RAID 0, 1, 5, 6, 10, and JBOD configurations are all supported to provide you with the best selection of speed, storage capacity, and safe data backup for your specific needs.
- Auto-rebuilding and Hot-swapping
If there is any data loss or disk errors, simply pull out a disk, swap it with a fresh one, and the system will automatically retrieve all the lost data from your backup and rebuild it on your new disk. Never worry about disk failure again!
- Support for High Quality Standard Video Formats
Thecus NVR's all have NETAVIS leading software package, supporting MJPEG, MPEG4, H.264, and MxPEG (for Mototix cameras).
For more information on NETAVIS Software, please go to: http://www.netavis.net
About Thecus®
Thecus® Technology Corp. specializes in IP Storage Server solutions, including Network Attached Storage (NAS) , DAS, External Storage and Wireless Media NAS (Bank ) products. The company was established in 2004 with the mission to make technology as transparent and easy-to-use as possible, and to make products that are not only the best on the market, but are accessible to experts and novices alike. With a best-in-class R&D team highly experienced in storage hardware and Linux software and with a keen customer focus, Thecus® stays close to the market to develop high-quality products to fulfill the storage Server needs of today's world.
Last updated: Apr 7, 2020 at 12:03 pm CDT