Panasonic Toughbook CF-C1 Offers Tablet Computing For Gloved Workers, Improves TCO
Panasonic today enhanced its Toughbook CF-C1 range with a Multi-touch Resistive screen, web camera option and a two-year accidental damage warranty making the lightweight, business rugged convertible notebook the tablet for business use.
Able to be used in clamshell or tablet form, the CF-C1 is ideal for mobile workers. The new Multi-touch Resistive screen option is designed to deal with semi-outside conditions less affected by dust particles and water drops and allows the users to operate the device whilst using gloves. The Multi-touch screen also delivers all the benefits of a tablet device allowing pinching and stretching gestures on the screen to control zooming. It is also pressure and gesture sensitive, allowing actions such as the rotation of objects on the screen. This latest screen option complements the existing CF-C1 Multi-touch Digitizer screen model and is available immediately priced at £1,709 + vat. (Standard version).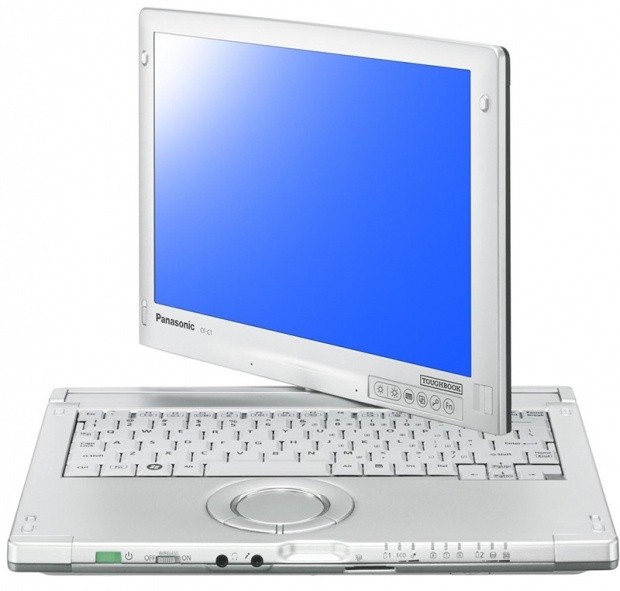 In addition, the company is underlining its confidence in the ruggedness of its products by offering a new two-year accidental damage warranty on all new CF-C1 devices. The warranty covers a complete range of damage: non-intentional liquid spills, drops, falls, collisions and electrical surges and even covers damaged or broken LCD displays. The accidental damage cover complements Panasonic Toughbook's existing three-year warranty against material and manufacturing faults.
"We recognise that our customers' key business hardware isn't always safely stored in the office and needs extra protection on the road," said Stephen Yeo, Marketing Director at Panasonic Computer Products Europe (PCPE). "As part of this agreement, we will repair or even replace your Toughbook CF-C1 free-of-charge if it is accidentally damaged within two year's of purchase. Our approach is simple: you break it; we fix it, quickly and conveniently for you. It's all part of our commitment to providing the ultimate in customer satisfaction and, of course, demonstrates our confidence in Toughbooks."
Tablets purpose designed for the corporate market
Unlike other popular consumer tablets, the CF-C1 has been specifically designed to bring all the benefits and ease of use of a tablet to the business environment.
[img]2[/img]
Twin battery evolution for corporate business
Most consumer tablets use a single battery design which is unable to support busy mobile workers who spend the day travelling and need their tablet to work alongside them. The CF-C1 comes with a twin hot-swappable battery that provides up to 10 hours of operation and allows users to swap batteries while the unit is running.
Advantage over consumer tablets: long battery life cycle and lower TCO.
Designed for business on the move
While consumer tablets are designed for leisure use, the CF-C1 is built for the workplace. With its moulded hand-free ergonomic strap, users can hold the device easily with one hand while typing with the other. This makes the CF-C1 ideal for people who need to capture information in an environment where it may be difficult to put the unit down to type. Unlike consumer tablets, the CF-C1 also comes with an industrial triple hinge design which ensures that the device stays stable in either clam-shell or tablet mode throughout its lifetime.
As well as the different touch screen options, the CF-C1 has a specially designed matt display to ensure a clear view screen in all business environments - less affected by smears or fingerprints - in bright sunshine or wet weather. The unit also comes with all the engineering and business rugged attributes of a Toughbook with a spill-resistant keyboard and drop tested at 76 cm in operation mode.
Advantage over consumer tablets: More comfortable, easier to use, more hardwearing delivering lower TCO.
Last updated: Apr 7, 2020 at 12:03 pm CDT