NEC Display Solutions Presents 23'' Model in the MultiSync PA Series
NEC Display Solutions is launching the MultiSync PA231W, a 23-inch monitor in its award-winning PA series of professional class displays. The display, with its powerful IPS technology, delivers excellent picture quality in the new 16:9 format and includes sophisticated features such as a future-proof DisplayPort connection and ergonomic comfort through height adjustability. With a focus on improving user productivity and having an attractive price/performance ratio, this monitor is designed to meet the demands of the CAD/CAM and DTP sector, precision engineering and for detailed image reproduction in the field of medical radiology.
With a resolution of 1920 x 1080 pixels, the PA231W offers outstanding viewing angle stability and image precision. The Digital Uniformity Control (ColorComp) automatically regulates the evenness of the brightness and colour distribution, thereby guaranteeing consistent display quality. The monitor also features a programmable 3D LUT for precise colour space emulation.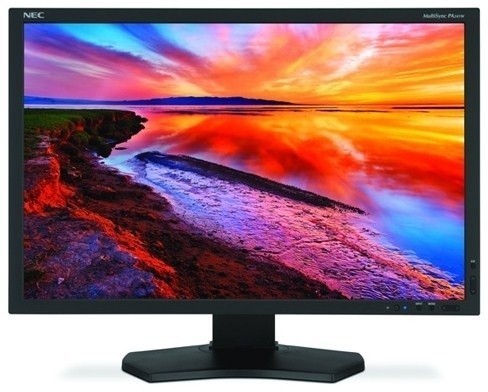 Intelligent features such as the picture-in-picture function for the parallel display of multiple video feeds enhance productivity and facilitate effective working practices. The model also comes with an integrated, programmable USB hub (DisplaySync Pro) that allows flexible connections to multiple PC platforms. The NEC MultiSync PA231W scores brilliantly with its first-class connectivity. As well as VGA and dual digital DVI-D interfaces it also features a future-proof, high-bandwidth, digital DisplayPort connection.
The height adjustability of up to 150 mm and the optional landscape or portrait viewing mode mean that the display can be set up to suit the individual user's specific needs. These ergonomic features were an important contribution in the PA231W's achievement of the TCO 5.0 certification.
When developing the 23" model, NEC focused greatly on the issue of environmental responsibility. The use of recycled plastic for the monitor housing, the use of arsenic-free materials and the transparency of the carbon savings meter are all consistent with NEC's acclaimed "Green Vision" campaign. In order to minimise environmental impact, the company employs a green product design methodology with energy-efficient technology solutions and seeks sustainability in the manufacturing process.
"Current users of conventional 19, 20 and 21-inch 4:3 format professional displays will appreciate the move to a wide screen format and all the well known advantages and qualities of NEC products," says Christopher Parker,Product Line Manager for Professional Displays at NEC Display Solutions Europe. "The NEC MultiSync PA231W offers the combination of a new format and future-proof features to boost productivity and ensure our customers will be well equipped to meet the growing demands of today's working life."
Availability
The NEC MultiSync PA231W is available in black from September 2010. The package supplied includes a power cable, one digital DVI-D, one DisplayPort signal cable, one analogue VGA cable, a manual and an installation and driver CD-ROM. NEC Display Solutions Europe offers a three-year warranty including backlights.
Last updated: Apr 7, 2020 at 12:03 pm CDT