Silicon Power Unleashes the All New Super Speed USB3.0 PCIE Card
World leading USB flash drive manufacturer, Silicon Power announces today (9/21) their super speed USB3.0 PCIE Card. Silicon Power's USB3.0 PCIE Card is user and price friendly so users need not spend big bucks to experience USB3.0 speeds.
The USB3.0 PCIE card comes with two USB3.0 ports providing up to 5Gb/ sec maximum transfer rate (theoretical value). When compared to USB2.0's 480Mbps, it has 10 times the bandwidth. The PCIE Card is easy to install and users can instantly enjoy the USB3.0 read/ write speeds from their USB3.0 devices.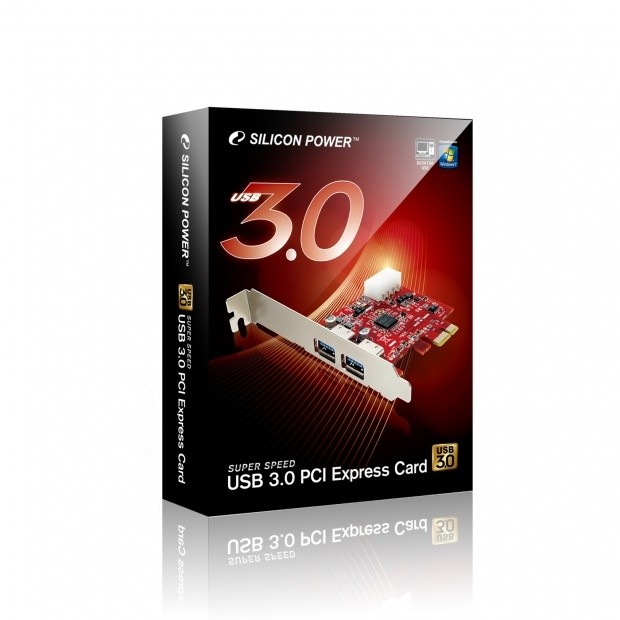 USB3.0 Port can supply 900mA current (400mA more than USB2.0) to the connecting external device. The extra current offers greater stability and performance. The USB3.0 port is also backwards compatible with USB2.0 so users can continue to use their USB2.0 devices.
Silicon Power's USB3.0 PCIE card can be installed on most motherboards on the market, therefore, for users who hasn't planned to change their motherboards; Silicon Power's USB3.0 PCIE is an economical solution.
Silicon Power's USB3.0 PCIE card supports the latest Window 7 operating system and it comes with a 2-year warranty.
Features:
Add two external USB 3.0 ports to desktop computer with a PCI Express slot
Connection bandwidth up to 5Gbits per second (USB 3.0 mode)
Built-in 4-pin power connector for receiving extra power supply from system.
Installs easily in any PCI Express slot, including x1,x4,x8 and x16 slots
Compatible with USB 2.0 and USB 1.1 devices
Supports PCI Express Card Electromechanical Specification 2.0
Supports PCI Bus Power Management Interface Specification revision 1.2
Compliant with Intel's extensible Host Controller Interface (xHCI) specification revision 0.95
Specification:
Dimensions:120mm (L) × 95mm (W) × 22mm (H)
Weight: 46g (57.5g (with 2 Installation Brackets))
Interface: USB 3.0 / 2.0 / 1.1
Data Transfer Rates: Up to 5gbits per second(USB3.0 model)
Power Input:4-pin Type Power
Power Output: +5V / 900 mA (each port)
PC Interface: PCI Express 2.0 single lane (x1)
USB Ports: 2 external (supports USB3.0/2.0/1.1)
Operating Temperature: 0? to 85 ?
Storage Temperature: -65? to 125 ?
Operating System Supported: Windows 7(32/64-bit), Vista, XP, 2000
Warranty: 2-year warranty
About Silicon Power
Silicon Power Computer & Communications Inc., founded in 2003 by a group of enthusiastic specialists of flash data storage industry. Well dedicated in brand image and product quality, Silicon Power has been recognized and well accepted by millions of end-users in more than 100 countries, becomes the world's leading manufacturer of flash memory cards, USB flash drives, card readers, DRAM modules, solid state disks, and portable hard drives in less than a decade. Headquartered in Taipei, we continuously established various branches throughout the world including Netherlands, Japan, Russia, Mainland China and other emerging market. With superior quality and innovative design, our products stood out in several competitions and awarded Taiwan Excellence and COMPUTEX Design & Innovation Award in 2009 and 2010. Winning trust of global consumers, Silicon Power holds a record of successive double-digit revenue growth for last seven years. For Silicon Power, the product we introduced is not only a digital storage device but also a real promise to create and preserve your most valuable memory in every moment.
Last updated: Apr 7, 2020 at 12:02 pm CDT