A New Technology Experience ~ The Sporty SILICON POWER Unique 530 USB Flash Drive
September 14, 2010, Taipei, Taiwan ~World leading flash memory manufacturer, Silicon Power today (9/14) announced their Unique 530 that features a sporty style. The "green" silica gel material is pliable and simple in design showing an original sports styling look. The Unique 530 is trendy and available for customers who are fashion conscious.
Silicon Power is always in tune with the ever changing trend and to satisfy various customer needs. The result is the creation of Unique 530, in response to the LOHAS lifestyle, wrapped in an eco-friendly silica gel that is clean, natural and sporty for you to express personal style.
Covered in a unique and soft silica gel material that is comfortable to grip, Unique 530 sets itself apart from other frigid IT products on the market. The silica gel casing makes it more durable than most USB flash drives. It is technologically advanced as the industry's first to fuse and blend metallic accessories with the eco-friendly silica gel material. The metallic accessories can withstand up to 10kg of pull-force so users can attach it to mobile phones, key chains or bag/ purse carefree.
The quality and design of Unique 530 are exceptional. The color of Unique 530 comprises of pure prevailing white and natural green bringing an unprecedented fresh look. In addition, there is a non-slip ripple design to prevent accidental drops. The retractable USB port design is convenient while protecting the connector.
Unique 530 utilizes COB (Chip On Board) packaging technology for waterproof, shockproof and dustproof characteristics. It is small enough to use on laptops or desktop PCs and is just the right size for everyday plug and unplug operations. It also comes with SP Widget that features 7 powerful backup and security functions for users to download. Included, is a 60 trial version of Norton Internet Security. All Silicon Power products are of high quality, in compliance with RoHS directives and come with Lifetime warranty!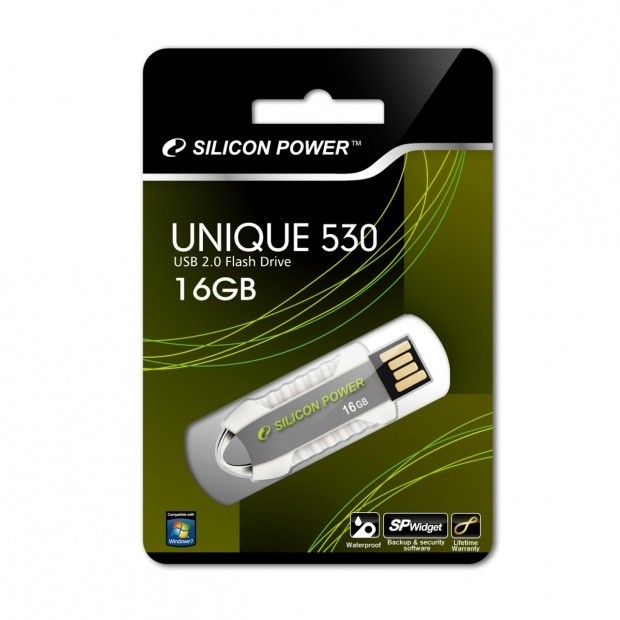 Silicon Power USB flash drives have won various renowned international awards. The design, performance and quality have won assurances from Taiwan, Japan, Thailand and Russia professional hardware reviews. The reviews are often in-depth and Silicon Power products left them with a lasting impression. The excellent results are Silicon Power's persistence on better design and quality. The Silicon Power Unique 530 concept is user oriented and hopes to bring USB flash drive users a breath of fresh air! For more information, please visit www.silicon-power.com.
Features
- Sports / recreation styling
- High quality silica gel
- World first silica gel material USB flash drive with dongle hole for metallic accessories
- Utilize COB (Chip On Board) packaging technology
- Lidless push-out design to protect gold fingers and prevent loosing lids
- True plug and play ; no external power required
- Compliant with RoHS requirement
- SP Widget free download software features seven main functions to maximize your SP USB flash drive
Specification
-Dimension: 56.18 x 20.14 x 9.09 mm +/-0.3mm
- Weight:9 g
-Interface:USB1.1 and USB2. 0 compatible
-Supported operating systems:Windows Vista, WinXP, Win2000, WinME, Win98, Mac OS 9.0 & higher, Linux2.4.0.
-Durability:10,000 insertions (minimum)
-Operating temperature:0°C ~ 70°C
-Storage temperature:-40°C ~ 85°C
-Color:Prevailing white
- Lifetime warranty
About Silicon Power
Silicon Power Computer & Communications Inc., founded in 2003 by a group of enthusiastic specialists of flash data storage industry. Well dedicated in brand image and product quality, Silicon Power has been recognized and well accepted by millions of end-users in more than 100 countries, becomes the world's leading manufacturer of flash memory cards, USB flash drives, card readers, DRAM modules, solid state disks, and portable hard drives in less than a decade. Headquartered in Taipei, we continuously established various branches throughout the world including Netherlands, Japan, Russia, Mainland China and other emerging market. With superior quality and innovative design, our products stood out in several competitions and awarded Taiwan Excellence and COMPUTEX Design & Innovation Award in 2009 and 2010. Winning trust of global consumers, Silicon Power holds a record of successive double-digit revenue growth for last seven years. For Silicon Power, the product we introduced is not only a digital storage device but also a real promise to create and preserve your most valuable memory in every moment.
Last updated: Aug 9, 2020 at 12:18 am CDT