Acer Unveils it's Highly Anticipated Smartphone Line for the Australian Market
Acer Unveils it's Highly Anticipated Smartphone Line for the Australian Market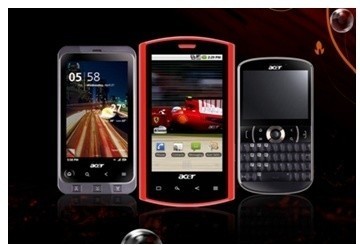 Sydney, Australia: 1 September 2010 - Acer, today unveiled their brand new range of smartphones for the Australian market. Acer has kicked off this spring a series of Android based smartphones, available in five eye-catching models, including the special edition Ferrari Liquid E.
Acer is proud to have designed a range of smartphones as unique and diversified as their customers needs. The new range offers funky-stylish models for the young-and-restless to competent chic-savvy models for the business market that look as good as they perform.
The expressive smartphone range includes the Liquid E, Liquid E Ferrari Special Edition, Stream and the beTouch E120 and E130 with all models available this month Australia wide.
Liquid E Smartphone - A smooth operator; sleek, intelligent and intuitive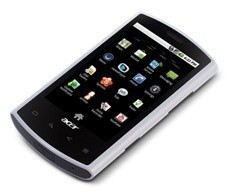 The beautifully designed and limitlessly elegant Acer Liquid E. In addition to an eye-catching design, the stylish Liquid E sports an ultra-fluid tactile interface, the latest user-friendly Android 2.1 Éclair operating system and three predictive keyboard options to improve texting speed.
This appealing high definition smartphone is the ideal solution for users demanding the best from their devices and in particular for high-definition video playback or streaming, gaming and browsing smoothly rich-content internet sites.
"We're thrilled to bring the Android-powered Liquid E to our customers in Australia," said Nigel Gore, General Manager for Product Group, Acer Australia. "The Liquid E is a brilliant mix of innovative design, entertainment features and practical technology for boosting the user experience. Liquid E is sure to please the most discerning shoppers with its easy-to-use interface, long battery life, high-definition touch screen and host of other advantages."
With its 3.5" high-definition capacitive touch screen, Acer Liquid E offers an unparalleled experience when watching pictures or videos, and proposes an abundance of new applications on Android™ Smart Handhelds - games, professional applications and web applets that will enrich the end user experience.
Powered by the powerful Qualcomm™ Snapdragon™ processor, Acer Liquid E provides instant access to web pages, smooth streaming of videos or music, and instant response from popular mail, maps and search applications.
Liquid E Ferrari Special Edition Smartphone - Move Up a Gear
The most exclusive smartphone in the world, dedicated to those who refuse to settle for mere perfection and demand something extra from their technological devices: passion, cutting-edge technology, performance, and above all, exclusive features.
Created from a pure racing soul, the Acer Liquid E Ferrari special edition combines powerful performance with design excellence. It is not merely a luxurious smartphone or status symbol; it is an object where obsessive attention to detail ensures its owner a uniquely rare experience.
Above all, it flaunts a bold yet elegant design: the glossy red casing with chrome trim makes it a true pleasure for the eyes. The front is dominated by a spacious 3.5", hi-resolution capacitive touchscreen, while the back sports the legendary "Scuderia Ferrari" shield with details in carbon fibre, while the redesigned microphone recalls the "air intake inlet", lending it a powerful look to keep it in pole position.
Acer has completely personalised the user interface, thereby allowing fans of the Rossa to have the thrill of the Gran Premio always at their fingertips.
Also available is the compact and advanced Ferrari branded bluetooth earpiece and ultra chic Ferrari case to safeguard the phone from shocks and dust.
"A Ferrari is not just about speed. It is an expression of beauty, power, excitement, pleasure and natural excellence" Gore comments. "From the original concept to the finished product the new smartphone was conceived down to the finest details with the idea of giving a stronger sense of belonging to all Ferrari fans."
Stream - The Ultimate Multimedia Machine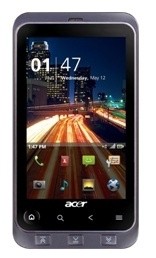 Powerful cutting-edge technologies; state-of-the-art connectivity; ultra fast and highly sensitive: Acer Stream is the utmost expression of technology, design, performance and entertainment.
Elegant and minimalist in design, Acer Stream is made from highly resistant materials and offers truly outstanding user interface and technical features, all in just 11.2 mm, ensuring users a unique and unrepeatable experience.
A high-end multimedia smartphone, optimized for watching movies, listening to music and enjoying web browsing like at home. With ultra-fast 3G+ connectivity, Bluetooth and WiFi, enabling faster transmission of multimedia content than ever before! The Acer Stream, with Dolby mobile, is for the most demanding users who look for the best in entertainment.
The Stream also features a built in 2GB of internal memory for downloads, HDMI input for connection to your home television and software enabling the recording of HD videos up to 720p.
beTouch - Be Stylish, Be Fresh
The beTouch comes in two distinct models, the E130 and the E120, funky, fresh and perfect for the modern lifestyle.
E130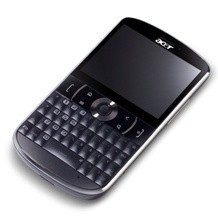 The stylish and fun beTouch E130 is everybody's new best friend, regardless of their budget.
The beTouch E130 is the perfect SMS/messaging companion, thoughtfully designed with an QWERTY keyboard to enable fast and error-free texting, the E130 is for those who like to let their fingers do the talking.
The trendy model is surprisingly affordable and available in either black or white colour.
Equipped with 1,500 mAh battery Acer beTouch E130 guarantees long hours of web surfing, calls with friends and listening to music.
Acer beTouch E130 offers access to an ultimate range of applications for fun and entertainment (Android Market apps, Facebook & Twitter apps and games) as well as integrated GPS and WiFi connectivity.
E120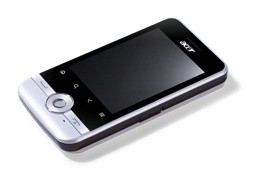 Acer beTouch E120 is not only an affordable smart phone for mobile internet, but also a stylish and compact take everywhere friend. The trendy, mini sized beTouch is a full featured Android smartphone that won't break your pocket.
Available in black or white, the pocket rocket beTouch E120 is finished with a beautiful silver edging and comes with a handy 5 way button for easy navigation.
Like its sister the E130, the beTouch E120 offers access to an ultimate range of applications and comes with integrated GPS and WiFi connectivity.
Pricing and Availability
Vendor: Acer Computer Australia
Recommended Retail Prices (in AUD):
1) Liquid E - $699
2) Ferrari Liquid E - $999
3) Stream - $799
4) beTouch E120 - $399
5) beTouch E130 - $499
About Acer
Since its founding in 1976, Acer has achieved the goal of breaking the barriers between people and technology. Globally, Acer ranks No. 2 for total PCs and notebooks. A profitable and sustainable Channel Business Model is instrumental to the company's continuing growth, while its multi-brand approach effectively integrates Acer, Gateway, Packard Bell, and eMachines brands in worldwide markets. Acer strives to design environmentally friendly products and establish a green supply chain through collaboration with suppliers. Acer is proud to be a Worldwide Partner of the Olympic Movement in staging the Vancouver 2010 Olympic Winter and London 2012 Olympic Games. The Acer Group employs 7,000 people worldwide. Reported revenue for 2009 is US$17.9 billion. See www.acer-group.com for more information.
About Acer Computer Australia
Established in 1990, Acer Computer Australia (ACA) currently employs over 300 staff and is currently the number one notebook vendor in Australia (Source: IDC Asia-Pacific PC Quarterly Tracker, Q1, 2010).
Last updated: Apr 7, 2020 at 12:02 pm CDT
PRICING: You can find products similar to this one for sale below.

United States: Find other tech and computer products like this over at Amazon.com

United Kingdom: Find other tech and computer products like this over at Amazon.co.uk

Australia: Find other tech and computer products like this over at Amazon.com.au

Canada: Find other tech and computer products like this over at Amazon.ca

Deutschland: Finde andere Technik- und Computerprodukte wie dieses auf Amazon.de
Related Tags