ASUS Releases ROG Rampage III Formula Motherboard to Market
The ASUS Republic of Gamers (ROG) Rampage III Formula brings together numerous features and advantages demanded by contemporary PC gamers. It uses the Intel X58 chipset, enabling support for some of the fastest processors available, including the i7-980X six-core CPU. Rampage III Formula also ships with ROG Connect hardware overclocking, high definition audio, GameFirst bandwidth optimization for online gaming, and a versatile power management scheme that's perfect for performance applications.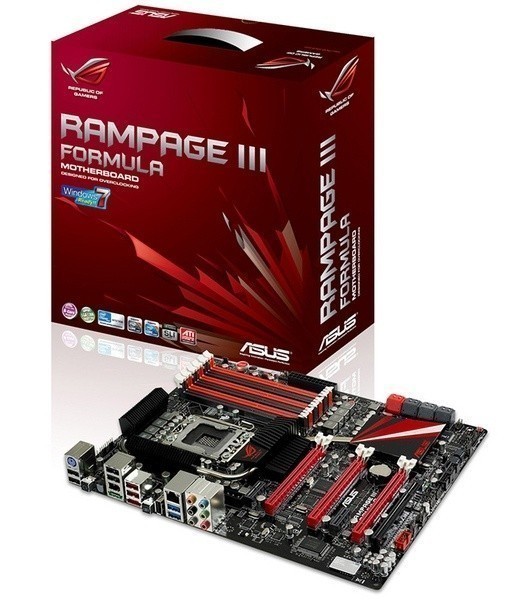 Ideal for Overclockers
Rampage III Formula includes the trademark Republic of Gamers overclocking interface ROG Connect, which enables remote tweaking of system parameters via a USB cable on a notebook or another desktop PC. Since ROG Connect works on a pure hardware level and conducts resource-hungry monitoring on a remote console, it allows the PC being overclocked and benchmarked to attain its full potential. This is perfect for competitive tuners in search of ever-higher scores.
Gaming Focus
As a member of the Republic of Gamers family of products, the Rampage III Formula benefits from a legacy of gamer-friendly design. From start to finish, this motherboard aims to enable better, more enjoyable gaming on PC.
Supreme FX X-Fi 2 sound comes standard, with support for EAX 5.0 surround and THX TruStudio PRO music rendering. These bring out every aural detail vividly, contributing to immersive experiences while helping craft livelier, more believable environments within which gamers can gain maximum enjoyment.
To expedite online gaming, Rampage III Formula comes with GameFirst bandwidth optimization, allowing users to prioritize resources and continue downloading even while they game â€" with no performance hit. GameFirst helps minimize and even eliminate lag and latency, critical in online gaming.
This works in conjunction with Intel Ethernet, a hardware engine that relieves processor loading when online, so that performance continues at an optimized level even when the connected action is at its most intense.
Stable Power Creates Better Experiences
Gaming PCs require flexible and reliable power management in order to maintain performance, especially if pushed to their limits through overclocking. Rampage III Formula uses the most stable and reliable technologies available in its power management system, including digital VRMs and all-solid state capacitors, affording the flexibility and versatility needed to handle tasks such as high-definition gaming and extreme overclocking.
The materials used throughout Rampage III Formula lend themselves well to its role as a gaming motherboard, withstanding heat with great efficiency. This endurance adds to the value offered by this new motherboard, as it is intended for prolonged, extensive usage.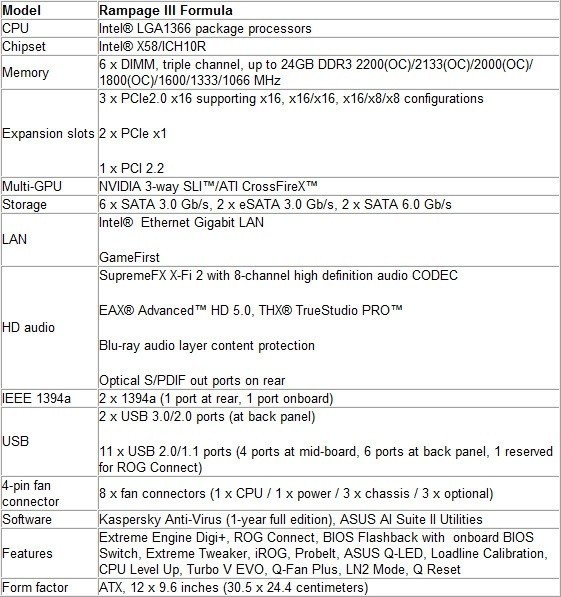 Last updated: Apr 7, 2020 at 12:02 pm CDT