Icy Dock releases MB668U3-1SB USB 3.0 tool-less external 2.5-inch SSD/HDD enclosure
Portable operating systems can be beneficial for practically any user in almost any situation. Regardless of profession or occupation, a majority of today's users tend to operate on several different computers for their daily functions. Users can utilize their personal desktop preferences on multiple systems by using a portable OS on any computer that is capable of booting from a USB drive. This means that you can carry all your personal desktop settings, applications, music, and documents with you on a single portable device. Utilizing a portable OS is also effective if you need to access any data from a hard disk of a computer that has crashed or won't boot. It is the perfect solution for students and or business people that are always on the go and hate having to use different computer systems or worrying about compatibility of programs.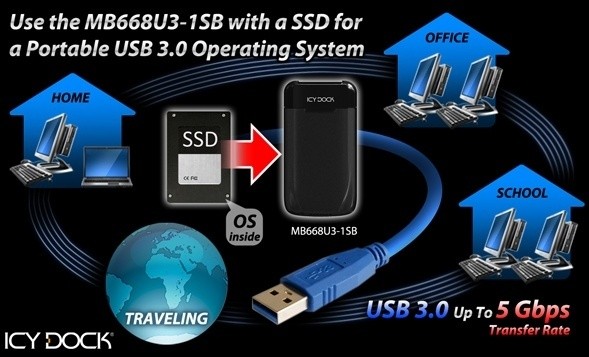 With current technology, you can take the portable OS to even greater lengths by utilizing Super Speed USB 3.0 and a Solid State Drive. This way, your portable OS will be low powered and extremely fast. Solid state drives are also known to be much more shock resistant than normal disk hard drives, a feature that is very important considering that the device will be mobile.
Icy Dock's new
MB668U3-1SB
is a small tool-less external 2.5" SSD/HDD enclosure with the Super Speed USB 3.0 interface that can reach transfer speeds of up to 5.0 Gbps! That is 10x faster than USB 2.0! This state of the art enclosure is manufactured with an aluminum body optimal for cooling and durability. It conveniently fits into a pocket with its extremely light weight and small size. The MB668U3-1SB is the perfect enclosure to use for a portable operating system.
Setting up an operating system on a SSD in a portable enclosure like the MB668U3-1SB is a much simpler process than most people think. For example, let's say that you wanted to install Linux on an Intel X25-M or OCZ Vertex SSD. To do this, you'll need to download and run "Portable VirtualBox" which is a portable wrapper for VirtualBox. Portable VirtualBox, created by Micha (michaelm_007) and produced by Sun Microsystems, is an emulator used to run operating systems within another host operating environment. For specific instructions, visit http://www.pendrivelinux.com/using-a-portable-virtualbox-to-run-linux-from-usb/ Once you have Linux installed on the SSD in your super speed USB 3.0 MB668U3-1SB, you'll be ready to run your portable OS from any computer as long as it is capable of booting from an USB device.*
But what if I can't utilize the super speed of MB668U3-1SB because my computer doesn't support USB 3.0? Not to worry, there are simple and affordable solutions for upgrading your computer to USB 3.0! Currently, there are several USB 3.0 PCI Express cards such as the ASUS U3S6 that can add two USB 3.0 ports on your computer at a low cost of only about $30. There are also several low priced USB 3.0 adapter cards on the market for use with notebook computers. If you plan on using an adapter card, it is important to make sure that your motherboard can support booting from the adapter card.** USB 3.0 is also backwards compatible with USB 2.0 which is available on almost all computers!
Using the MB668U3-1SB with a SSD for a portable Super Speed OS is an excellent solution for users that are always on the go and are looking for a consistent use of the same OS on multiple computer stations. It is convenient and cost efficient compared to other all-in-one portable operating system options which retails from $220.00 to $820.00 depending on the size of the SSD. Icy Dock's MB668U3-1SB is also certified by Gigabyte! Make your daily computer use at home, work and school easier with the MB668U3-1SB as a small portable Super Speed operating system!
Icy Dock's USB 3.0 MB668U3-1SB:
http://www.icydock.com/product/mb668u3-1sb.html
VirtualBox Home Page:
http://www.virtualbox.org
Portable VirtualBox Wrapper:
http://www.vbox.me
More reference for using Linux on a portable device:
http://www.pendrivelinux.com
*Motherboard must support booting from USB device in order to run a portable OS, check your motherboard manufacturer's user manual for more details.
Recommended Solid State Drive:
Intel X25-M
OCZ Vertex Turbo
Super Talent Ultra Drive ME
Crucial M225 & Crucial RealSSD
Kingston SSDNow
Recommended products for upgrading your system to USB 3.0:
USB 3.0 PCI Express Adapters:
Asus U3S6
Gigabyte GA-USB3
USB 3.0 Motherboards:
Asus P6X58D Premium
Asus M4A89GTD PRO/USB3
Gigabyte GA-X58A-UD3R
Gigabyte GA-790XTA-UD4
MSI Big Bang-XPower
ASRock X58 Extreme 3
**USB 3.0 adapter cards have a confirmed compatibility with the MB668U3-1SB as long as it uses the NEC uPD720200 host controller chipset.
Last updated: Apr 7, 2020 at 12:02 pm CDT
PRICING: You can find products similar to this one for sale below.

United States: Find other tech and computer products like this over at Amazon.com

United Kingdom: Find other tech and computer products like this over at Amazon.co.uk

Australia: Find other tech and computer products like this over at Amazon.com.au

Canada: Find other tech and computer products like this over at Amazon.ca

Deutschland: Finde andere Technik- und Computerprodukte wie dieses auf Amazon.de
Related Tags