ZOWIE and BenQ to co-develop gaming monitor

th of August, 2010
Upon the release of the first LCD-monitors, the whole world cheered. Almost. People were happy that they could finally get rid of their large CRT's and replace them with a fancy little flat thing. It was just a small group called competitive gamers that weren't cheering, as they did not understand the hype. The LCD-monitors couldn't measure with the performance of their CRTs.
Today, years later, the LCDs still cannot measure with the performance of the CRTs, but competitive gamers are being forced to play with these monitors at events and tournaments. The performance is better compared to the first LCD-monitors that was released, but it's still far from satisfying - and far from the performance of the CRTs, which are being phased out by the manufacturers.
As an active supporter of gaming events and eSport initiatives around the world, BenQ recognizes that there is need to develop an LCD-monitor which delivers the best performance possible and allows the gamer to focus on his game. To help them in their efforts, BenQ invited ZOWIE GEAR to take part in the development of their new gaming monitor using the newest LED-backlighting technology.
"Professional gamers have valuable experience and knowledge about display device performance ," says Enoch Huang, Senior Manager, Product Management of BenQ and continues, "they are so critical about the equipment they use as even the smallest flaws can make a huge impact on their play. ZOWIE helped us understand that gamers require equipment which has been developed with certain aspects of competitive gaming in mind."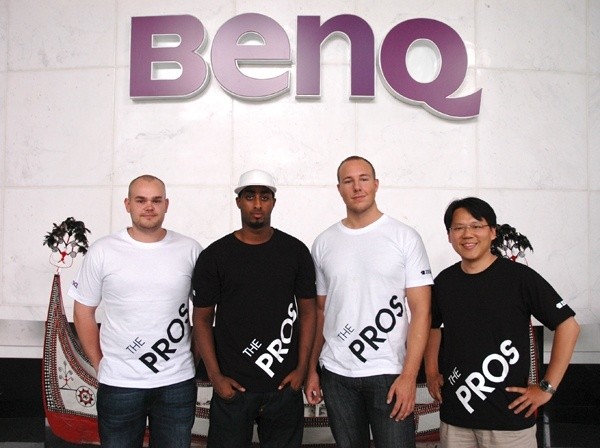 ZOWIE GEAR's legendary gamers Abdisamad 'SpawN' Mohamad and Emil 'HeatoN' Christensen took part in the co-development of the LED gaming monitor on behalf of ZOWIE GEAR and shared their experiences from the vast amount of gaming events they have participated in. This is the first time professional gamers have been directly involved in the development of a flatpanel monitor for competitive gaming.
"I was surprised when I first experienced BenQs genuine interest and passion for competitive gaming," says Danny Ramkvist, Chief Marketing Officer of ZOWIE GEAR and continues, "our cooperation proves that more companies are beginning to recognize the demand for higher performance products designed specifically for competitive gaming."
The result of SpawN and HeatoN's work on the gaming LED gaming monitor will be officially announced later this month.
If you are very curious and want to know the features and specifications NOW, it's just too bad. You still have to wait.
Gaming is in the details.
About ZOWIE GEAR
ZOWIE GEAR is an innovative manufacturer of competitive gaming gear, founded late 2008 with a mission to develop the best competitive gaming gear available.
We are not limited by shareholders telling us what we can or cannot do. We are a free-minded company consisting of experienced and creative individuals, united in ZOWIE on a common ground; our passion for gaming. No boundaries. No compromises. Just gaming.
ZOWIE GEAR has no ambition to become the biggest manufacturer of competitive gaming gear. We just want to be the best. If we can develop products that will increase a gamers performance by just 1%, we will do it. This is our mentality.
It's not just a game.
This is ZOWIE GEAR. Strive for Perfection.
About BenQ
BenQ Corporation, a leading provider of networked digital lifestyle devices, is a multi-faceted company with strengths in product design, visual technology and mobile technology. BenQ offers unrivalled breadth and depth of products and integrated technologies across platforms through the brand promise of "Bringing Enjoyment and Quality to Life," including digital projector, LCD monitors, laptop PCs, Netbooks, All-in-One PCs, LCD TVs, digital cameras, storage devices, eBook reader, mobile phones, storage media and human interface devices such as mice and keyboards.
Last updated: Apr 7, 2020 at 12:02 pm CDT