ASUS SABERTOOTH X58 Heavy Duty Motherboard Joins Durable TUF Series
The new SABERTOOTH X58 motherboard delivers the latest Intel chipset and support for the fastest processors on the market, including the Intel Core i7-980X, as part of the TUF Series of heavy duty motherboards. It is the latest entry in this ruggedized lineup, providing uncompromised durability and the utmost reliability to users who demand 24/7, high-intensity usage.
As the name implies, TUF Series motherboards put reliability and endurance above all else. They are built with more rigorous stress testing than normal motherboards, and ship with added longevity measures. TUF Series motherboards are the most reliable and stable models on the market, making them ideal for tough, heavy duty tasks where compatibility is critical.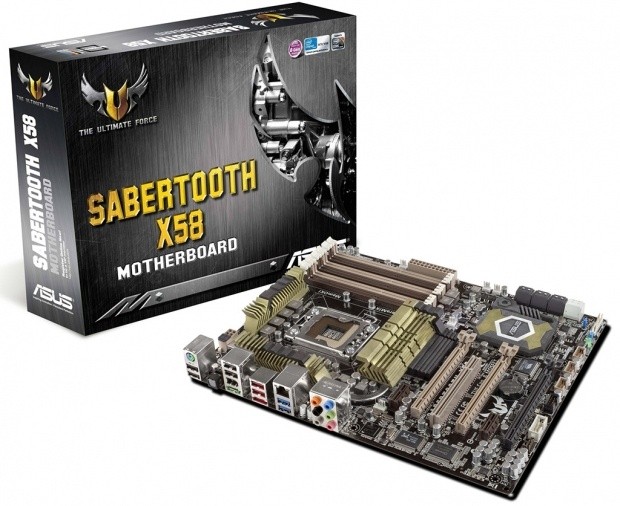 True to its TUF Series form, the SABERTOOTH X58 offers superior stability and reliability, putting it at the level of server and mainframe boards in terms of durability.
Covering all the Essentials of Reliability
The key emphasis for TUF Series motherboards lies in enabling prolonged use. The SABERTOOTH X58 can keep going round the clock with no pause thanks to its meticulous thermal design, which means heat and stress are not obstacles. This new thermal design revolves around CeraM!X Heatsink Coating Technology, using revolutionary ceramic application on vital motherboard surfaces and components to ensure unrivalled heat resistance and dissipation. Thus, it is the perfect choice for server functionality and extreme, steady reliability. CeraM!X application has never been done on a motherboard before the ASUS TUF Series entered service.
Reliability Tested to Military Grade
The SABERTOOTH X58 from ASUS uses heavy duty materials and parts to ensure truly unmatched capabilities in terms of stability, reliability, endurance, and value.
The chokes, solid state capacitors and MOSFETs have all been tested under the most arduous of conditions and harsh environments based on military standards, providing users with a proven heavy duty solution.
TUF Series motherboards are ruggedized from the ground up, so they can handle more than just long-haul usage and heat. They are also tested to server-grade standards and can stand up to humidity and ambient temperatures to an exponentially larger extent than normal motherboards. As a consequence, they are long-life products users can install with complete confidence.
Being strong does not mean TUF Series motherboards compromise added features. The SABERTOOTH X58 ships with new data transfer standards USB 3.0 and SATA 6GB/s, so it offers some of the latest innovations in addition to superior strength. It is a complete package of guaranteed reliability and compatibility.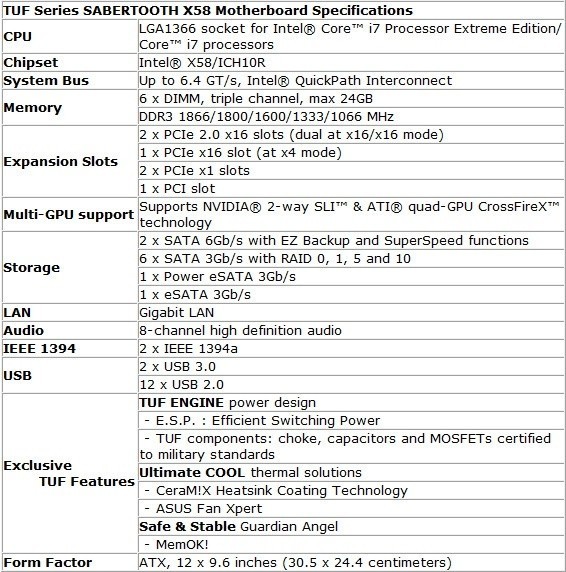 Last updated: Apr 7, 2020 at 12:02 pm CDT