Vuzix VR Manager 3.0 Software Expands Eyewear Compatibility and Title Support

New software download expands eyewear compatibility and supported titles list and now offers VR support to Vuzix Wrap 920 video eyewear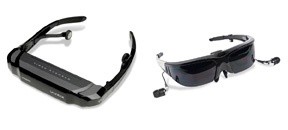 Rochester, NY - August 3, 2010 - Vuzix Corporation (TSX-V: VZX), the leader in video eyewear for the consumer, defense and low vision markets, is delighted to announce the immediate release of VR Manager 3.0. This software package, available for free download from the Vuzix website, enables virtual reality capabilities for the Vuzix iWear VR920 virtual reality eyewear and as well as the newly supported Wrap 920 video eyewear connected to a Windows personal computer through a Wrap VGA Adapter. Support is also provided for the soon-to-be-released Wrap Tracker 6TC and Wrap 920AR video eyewear. VR Manager 3.0 provides a streamlined user interface and 3D video and/or head tracking more than 120 titles.
"The VR Manager 3.0 provides improved support for our existing iWear VR920 customers and now offers the same VR capabilities for Wrap 920 owners that connect to a PC with our Wrap VGA Adapter," said Vuzix CEO, Paul Travers. "As with our previous VR software for the VR920, this easier to use product is compatible with virtually all graphics cards running on a 32 or 64 bit version of Windows 7, Vista or XP," added Travers.
The VR Manager 3.0 features include:
- An Improved Vuzix Gaming Experience:
- New and simplified graphical user interface.
- Combined Calibration and Extension Monitor programs for straightforward VR920 functionality.
- Includes tools to simplify hardware testing and troubleshooting.
- Increased 3D Capability:
- Offers over 120 Vuzix Extensions, adding stereoscopy and/or tracking support for the iWear VR920 and the new Wrap 920.
- Vuzix Extensions can now be developed and imported independent of the VR Manager updates. Previously, extensions could only be added with a new release of the VR920 Monitor application.
- Users will have access to the Vuzix VR SDK, a royalty free development kit that will enable software developers to incorporate stereoscopic video and head tracking support for the iWear VR920 and Wrap eyewear and tracker into their software projects.
- Easy Download Process:
- Free and effortless download on the Vuzix website.
- Its "Device Aware" software auto-configures options and settings depending on which model (the Wrap or iWear) is plugged in.
The VR Manager 3.0 is available now and the Wrap Tracker will soon be released. For more information or to download the free software, please visit www.vuzix.com.
About Vuzix Corporation
Vuzix Corporation manufactures personal display devices for the entertainment, defense, industrial and low vision medical markets. Vuzix products provide users with a portable and private big screen experience that delivers big screen mobile entertainment in the consumer markets, low vision assist in the medical markets and tactical information in the defense markets. The company is revolutionizing the mobile display industry and aims to continue to create products that enrich the lives of its customers. Vuzix has won six CES Innovations Awards since 2005, the 2008 RetailVision Best New Product - Hardware Award among others. Founded in 1997, Vuzix recently became a public company listed on the TSX Venture Exchange (TSX VENTURE: VZX) with offices in Rochester, NY, London, UK and Tokyo, Japan.
Last updated: Apr 7, 2020 at 12:02 pm CDT