SEQUENTIAL Gaming is proud to announce an exciting partnership has been established with Tt eSPORTS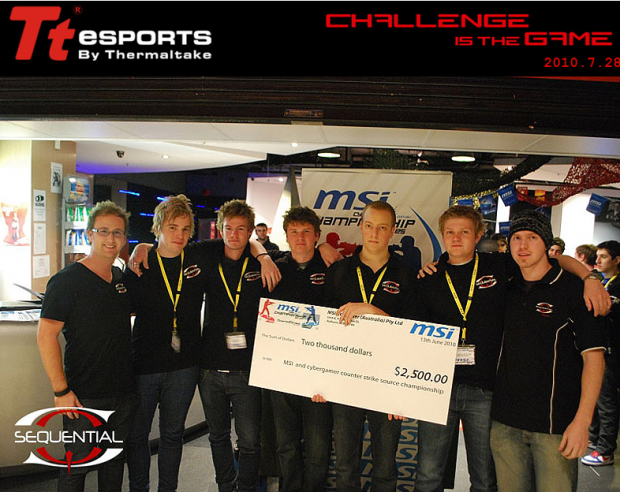 Friday 23rd July, 2010 - SEQUENTIAL Gaming is proud to announce an exciting partnership has been established with industry heavyweights Thermaltake and specifically, their new branch, specialising in gaming peripherals Tt eSPORTS. Thermaltake is a multinational company who provides a wide range of high quality, consciously designed hardware. Ranging from PC Thermal management to water cooling systems and computer chassis, the Thermaltake range has a long history of boasting the best conditions for intense gaming, which is at the heart of both Sequential as an organisation and the ever-growing E-Sports scene.
Due to the constant requests for keyboards and mice from gamers and end users, Thermaltake decided to create a series of gaming keyboards, mice, and headsets with the Tt eSPORTS brand. By using Tt eSPORTS, they hoped to extend their product lines into the gaming industry, and hoped to create more "personalized gaming" gear for gamers and enthusiasts worldwide. With years of experience in the gaming industry, Tt eSPORTS is committed to creating the most personalized and highest quality tools for competitive gaming yet.
Taken from the Tt eSPORTS website, Thermaltake's mission is clear and their understanding unquestioned - Computer gaming over the past decade has grown to a global movement and evolved into a competitive sport. eSports is increasingly recognized as an official sport. The eSports environment is more organized and professionalized, people around the world are taking eSports competition more seriously. Tt eSPORTS is uniting gamers from all over the world in a unique eSports culture, in an effort to achieve recognition of this global movement as a true sports discipline with engagingly competitive tournaments, just like in the real world. Tt eSPORTS represents an integrated eSports environment for pro-gamers, semi-pros, entire gaming teams as well as the occasional leisure gamers who enjoy mastering the challenge among a common fellowship.
Thermaltake was recently announced for the 5th year, as a major sponsorship partner of the World Cyber Games, with the 2010 World Finals to be staged in Los Angeles, California in September/October. Tt eSPORTS will be providing peripherals products to an expected 600 players across over 50 countries at the games. It is exciting to know that the internationally regarded products will be on showcase not only at the WCG Grand Final, but at Australian events via SQL.
Statements from SEQUENTIAL and Tt eSPORTS:
Josh "merlin" Hoffman, Managing Director of SEQUENTIAL Gaming issued the following statement regarding the new sponsorship:
"We are extremely excited to be working with a well organised, reputable and burgeoning brand. The opportunity to assist such an amazing company with a long history in the Industry, to release, grow and represent in the eSports scene is something we are all highly excited about. There is no doubt our players will cherish the opportunity to use the new Tt eSPORTS peripherals. I personally look forward to the relationship between the two organisations growing and the future opportunities that may arise from such partnership."
Iain "snyper" Turner, Counter-Strike Source Captain of SEQUENTIAL Gaming stated:
"Ecstatic. I am honoured at the prospect of being sponsored by Tt eSPORTS. There is no doubt the team is excited to be utilising their professional range of products and the potential of being involved in development/feedback opportunities in the future."
Francis Lim, National Manager of Thermaltake Australia & New Zealand had the following to say:
"Thermaltake is thrilled to have one of Australia's oldest, most successful and organised Gaming organisations under our new brand of Tt eSPORTS. From initial introductions it was evident that the Sequential organisation epitomises everything we would look for in a sponsored team. I would like to wish them luck and look forward to their future successes wearing Thermaltake colours. Tt eSPORTS is eagerly awaiting our first Australian win and to working with SQL Management and their teams."
Tt eSPORTS by Thermaltake products will be available for purchase via most online PC stores and major distributors in the coming months.
Please check out the Tt eSPORTS website and product range at - http://www.ttesports.com
Stay tuned for product reviews, prize giveaways, competitions and a SEQUENTIAL Player using Tt eSPORTS peripherals fragging online or at a LAN near you!
About SEQUENTIAL, Founded in Late 2006 by Nathan "Nateus" Walton, Josh "merlin" Hoffman and Fabrizio "ver0n" Bottaro, Sequential Gaming was formed with the intent of raising the bar in Australian Multi-gaming Organisations.
more detail: http://www.sql-gaming.com/
Last updated: Apr 7, 2020 at 12:02 pm CDT