Patriot Launches 60GB, 120GB and 240GB Inferno Series Sold-State Drives
New Larger Capacity Inferno Series Drives Offer Cutting Edge Performance
Fremont, California, USA, July 27, 2010 - Patriot Memory, a global pioneer in high-performance memory, NAND flash and computer peripheral solutions, today announced the immediate availability of three new capacities to the award winning Inferno Series of SSDs. The Inferno 60GB, 120GB and 240GB drives build upon the earlier 100GB and 200GB product offerings found in the family.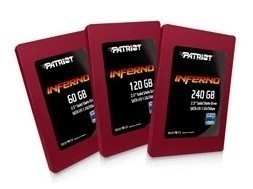 Designed around the SandForce SF-1200 SSD processor, the Inferno series delivers incredible performance while also providing superior reliability and longevity utilizing SandForce DuraClass™ technology. Inferno's blazing performance of 285MB/s read and 275MB/s write (sequential) are more exceptional when the 24K IOPS (write) at 4K file sizes are considered. The result is a series of SSD optimized for enthusiast use as a primary system boot drive.
"The Inferno series of SSDs are the fastest and most exciting that Patriot has yet brought to the market," states Les Henry, Vice President of Engineering at Patriot. "Our Inferno series has been well received and reviewed. We are excited to expand the product family with the introduction of the new larger capacity Inferno drives as well as the new 60GB capacity option. With the addition of the 60GB capacity drive, enthusiasts can enjoy the blistering performance of the Inferno SSD at a more affordable price point making it ideal as a boot drive in a high performance system."
Patriot Inferno SSDs are paired with specially screened MLC NAND Flash to deliver class leading performance, include a 2.5" to 3.5" adapter plate for easy installation into desktop computer chassis and are covered by a 3 year warranty. SandForce DuraClass™ technology provides enhanced endurance and reliability by an average of 20x over traditional SSD controllers through innovative write technology and Wear Leveling. Check with your favorite distributor or reseller for the Patriot Inferno series SSD.

For more information about Patriot's products and solutions, please contact your Patriot Sales Representative or visit http://www.patriotmemory.com.
About Patriot Memory:
Patriot Memory designs, manufactures and markets high performance, enthusiast memory modules, flash products, and computing technologies. Patriot products have become world renown for their extreme performance, reliability and innovation. Patriot Memory sells its products through original equipment manufacturers, retailers, e-tailers and distributors throughout the world with operations in North America, Asia and Europe. Patriot Memory's parent company, PDP Systems, Inc., was founded in 1985 and is headquartered in Fremont, California, USA.
Last updated: Apr 7, 2020 at 12:02 pm CDT