Samsung First to Begin Mass Producing 2 Gb Green DDR3 Using 30nm Class Technology
Jul 22, 2010 2:42 AM CDT
Samsung First to Begin Mass Producing 2 Gb Green DDR3 Using 30nm Class Technology
Samsung Electronics Co., Ltd., the world leader in advanced memory technology, announced today that it has begun mass producing the industry's first two-gigabit (Gb) Green DDR3 using 30 nanometer (nm) class process technology.
"We're seeing a sharp rise in demand for DDR3 chips and are meeting that need with the timely introduction of 30nm-class Green DDR3 solutions," said Soo-In Cho, president, Memory Division, Semiconductor Business, Samsung Electronics. "Thirty nano-class DDR3 DRAM will deliver the most satisfying user experience possible, offering extremely high performance and reduced power consumption for PC and server applications designed to capitalize on new multi-core processors."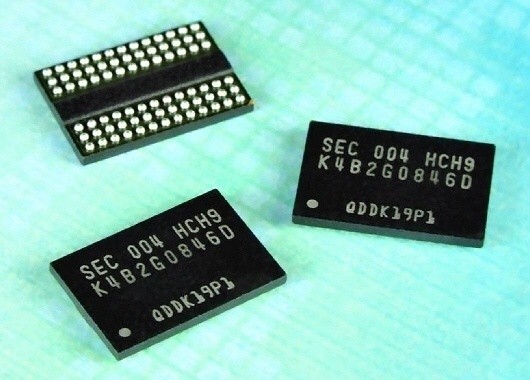 Samsung's 30nm-class 2 Gb Green DDR3 chips provide the highest performance solution in the industry, based on an innovative circuit design. For server applications, memory modules can reach up to 1.866 gigabits per second (Gbps) at 1.35 volts, while PC modules can run at up to 2.133Gbps (1.5 volts), which is 3.5 times faster than DDR2 and 1.6 times faster than 50nm class DDR3.
Recent growth in the smartphone market has triggered a sharp increase in data usage, leading to heavier traffic in data centers. Samsung's new 30nm-class DDR3 chip will provide memory solutions with the highest performance and lowest power levels to accommodate the new generation of servers optimized for cloud computing and virtualization. Power savings for most new server applications using 30nm DDR3 will be about 20 percent greater than applications that use 50nm-class DDR3.
In addition, when combined with new multi-core PC platforms, Samsung 30nm-class 4GB DDR3 solutions for PCs can operate 60 percent faster than two 50nm-class 2GB DDR3 solutions, using 65 percent less power.
Using the new 30nm-class process, the new chip provides a 155 percent overall increase in productivity over Samsung's 50nm-class process.
With plans to also produce the new 30nm DDR3 chips in a 4Gb density by year end, Samsung will soon broaden its memory line-up with mass production of 4GB, 8GB, 16GB and 32GB 30nm-class RDIMMs for servers, 2GB, 4GB and 8GB UDIMMs for workstations and desktop PCs, plus 2GB, 4GB and 8GB SoDIMMs for notebooks and all-in-one desktops. For more information about Samsung Green DDR3, visit
this page
.
Last updated: Apr 7, 2020 at 12:02 pm CDT
PRICING: You can find products similar to this one for sale below.

United States: Find other tech and computer products like this over at Amazon.com

United Kingdom: Find other tech and computer products like this over at Amazon.co.uk

Australia: Find other tech and computer products like this over at Amazon.com.au

Canada: Find other tech and computer products like this over at Amazon.ca

Deutschland: Finde andere Technik- und Computerprodukte wie dieses auf Amazon.de
Related Tags