Transcend Introduces Value-priced Class 4 Series and 32GB Ultimate Class 10 SDHC Card
Transcend Information, Inc., a worldwide leader in storage and multimedia products, today announced the expansion of its flash card product line with the introduction of the standard Class 4 Series and the new 32GB "Ultimate" series Class 10 SDHC card. The Class 4 SDHC cards are aimed at entry-level users, while the Class 10 SDHC cards are designed for the professionals to enjoy high-speed consecutive shooting and smooth HD video recording.
Transcend's Class 4 standard level SDHC cards are a great alternative for beginners and amateur photographers who do not need ultra fast memory cards. Although SDHC Class 4 cards are less expensive, users can still take extremely high quality photos with their point-to-shoot camera. Featuring acceptable transfer speeds up to 13MB/s and large capacities up to 32GB at an affordable price, the new Class 4 SDHC cards strike an ideal balance between performance and cost.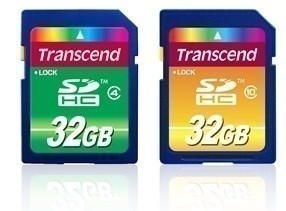 32 GB Ultimate Class 10-Best Suited for Full HD Video Recording
Aside from launching the standard level Class 4 cards, Transcend also announced the addition of the 32GB Class 10 SDHC card. The Ultimate series Class 10 SDHC cards offer massive storage capacity and enhanced transfer speeds of up to 20MB/s. This unique combination of speed and capacity not only helps record clear and smooth 1920 x 1080p Full HD videos, but also enables high-speed consecutive shooting-especially important at sporting or other fast-motion events.
The new 32GB SDHC card can store up to 13104 pictures (based on 5 megapixel JPEG compression format), over 176 hours of standard quality video (MPEG-4 video at 384 Kbps), or 960 minutes of HD video (AVCHD at 9 Mbps), providing photography enthusiasts with sufficient space for their high-resolution digital masterpieces.
All SDHC cards are fully tested for compatibility and reliability, and carry Transcend's renowned Lifetime Warranty. The Class 4 SDHC cards are now available in 4GB, 8GB, 16GB and 32GB, while the Ultimate Class 10 cards are offered in 4GB, 8GB, 16GB and 32GB capacities.
Last updated: Apr 7, 2020 at 12:02 pm CDT