POWERCOLOR ADDS VORTEX TECHNOLOGY TO THE PCS+ HD5770 SERIES
Evolutionary whirlwind technology brings cools like never before
Taipei, Taiwan -July 16, 2010 -- TUL Corporation, a leading manufacturer of AMD graphics cards, introduced an innovative cooling technology into the PCS+ HD5770 series: the PCS+ HD5770 Vortex Edition. This special edition offers the flexibility for users to manually adjust the fan and its physical attributes, providing better air flow to effectively cool down the temperature up to 15°C when compare to reference design.
The PCS+ HD5770 Vortex Edition also features factory overclocking with core and memory clocks at 900 MHz and 1225 MHz respectively. With the cooling ability seen in the Vortex Edition, it allows more headroom for overclocking that maximizes performance releasing more potential for gaming power.

Call of Duty: Modern Warfare2 Game Coupon
"PowerColor offers an attractive option which features a brand-new cooling technology with additional factory overclocking," said Ted Chen, CEO of TUL Corporation. "We never compromise-so here's the solution which can bring the ultimate gaming performance in a better cooling environment!"
The PowerColor PCS+ HD5770 Vortex edition will be available on July 28th.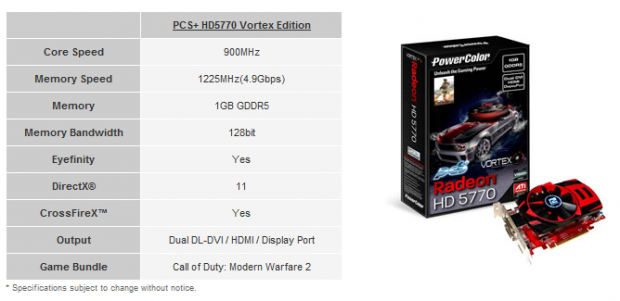 About TUL Corporation
TUL is a leading supplier of AMD graphics cards under the PowerColor brand. We offer award-winning products based on our technology leading components, quality design and superb engineering. TUL employs more than 150 talents worldwide, with offices in China, Europe, Russia and USA to support over 300 channel partners and distributors in 50 plus countries. For further information, visit: http://www.tul.com.tw/global/
For more product information, visit: www.powercolor.com.
Last updated: Apr 7, 2020 at 12:02 pm CDT