The EX-10Q: - A USB 3.0 SuperSpeed External Drive Enclosure from Lian Li
14 July 2010, Keelung, Taiwan - Lian Li Industrial Co. Ltd. today launches a USB 3.0 2.5" External Hard Disk Drive (HDD) Enclosure. The conveniently thin, all-aluminum EX-10Q connects its users' external HDD to computers with a super-fast USB 3.0 cable that reaches speeds up to 5GMbps. For computers without USB 3.0 compatibility, the operating speed is 480Mbps. The bridge chip used in the EX-10Q is a VL700. No AC adapter is needed and the EX-10Q's flexible design makes it compatible with SATA I & II HDDs. Coming in blue, red, silver, and black, the EX-10Q's dimensions stand at 75x12x130 millimeters (W.H.D). Lian Li once again proves its time-to-market ability in more than just computer cases but complete PC-related products.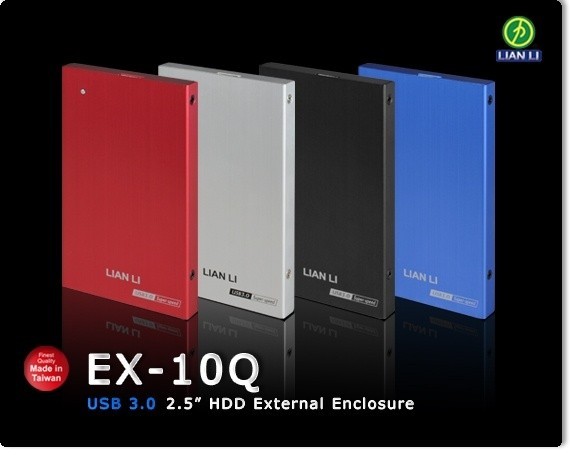 Highlights for EX-10Q
• USB3.0 superspeed up to 5GMbps
• Bridge Chip: VL700
• No AD adapter needed
• All aluminum material
• Internal interface: SATA-II
• Blue LED for power/write
• Four colors available: blue, red, silver, and black
• Availability: Arriving at local distributors early August
• MSRP : US$30 for all colors
The MSRP for the Lian Li EX-10Q 2.5" External HDD Enclosure is US$30 for all colors.
For more details about EX-10Q please visit Lian Li's website: www.Lian-Li.com.
About Lian Li
Lian Li Industrial Co. Ltd is an Aluminum Chassis and Chassis peripheral manufacturer and provider of industrial wholesale as well as OEM & ODM services for the PC industry as required. With over 20 years of service excellence, ISO 9001 certification and a team of professional staff willing to do the utmost to deliver durable, superior quality products, all backed by a *2 year guarantee; your satisfaction is guaranteed.(*conditions apply)
Last updated: Apr 7, 2020 at 12:02 pm CDT