The World First Palit GTX 460 1GB SONIC Platinum solution is available around the globe
Jul 12, 2010 3:16 AM CDT
The World First Palit GTX 460 1GB SONIC Platinum solution is available around the globe
Palit Microsystems Ltd, the leading graphics card manufacturer, announces a fresh class of Fermi architecture GeForce GTX 460 series: GTX 460 768MB, GTX 460 1GB Sonic and GTX 460 1GB Sonic Platinum. Palit GTX 460 series is ready in stores around the world in over 20 countries: Australia, Germany, Japan, Korea, Russia, UK, USA, Indonesia, Israel, Latvia, Macedonia, Romania, Singapore, Thailand and many more.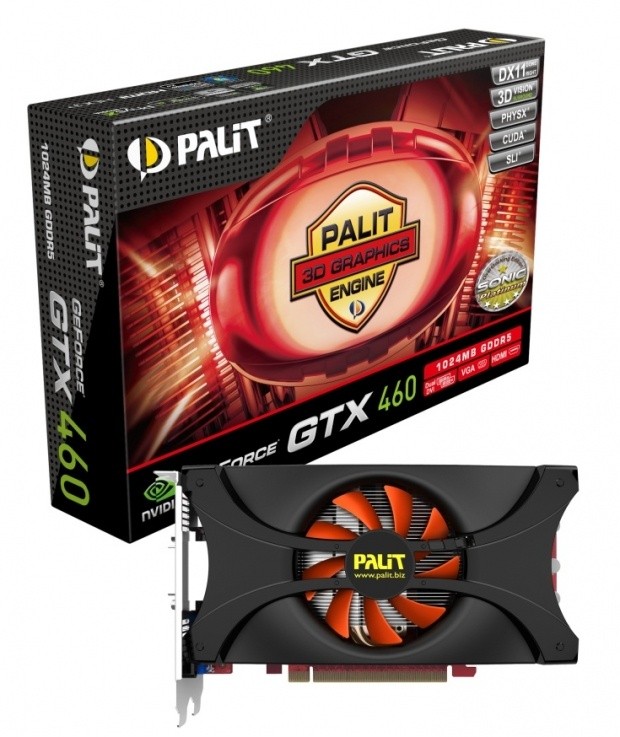 The first custom design Palit GeForce GTX460 is base on identical Fermi architecture but with better DX11 performance. The new GTX460 Fermi architecture is even suitable for the most popular DX10 games. Palit GTX 460 1GB Sonic provides up to 4.5x faster DX11 Tessellation performance but the crown goes to our Palit GTX 460 1GB Sonic Platinum which offers up to 5x faster DX11 Tessellation performance than our competition(HD series). And being the first to provide 1GB solution, Palit presents a new edition called "SONIC PLATINUM" with extremely outstanding benchmark performance which is more than your expectation. Palit GTX 460 1GB Sonic Platinum Edition is factory overclocked to 800 MHz core, 1GB of high speed GDDR5, memory clocked at 4GHz, and can boosts the performance 17.5% higher than non-OCed GTX460. With Palit GTX 460 1GB Sonic Platinum, you can enjoy the best gaming experience. In order to provide the highest quality, Palit use 2-Ball Bearing Fan which is more durable especially at higher temperatures but quieter at higher rotation speed, Palit 2-Ball Bearing Fan provides longer lifetime than the usual fan.
Built from the ground up for DirectX11, Palit GeForce GTX 460 delivers exceptional DirectX11 tessellation performance that can output at high detailed visual into your games without sacrificing frame rates. NVIDIA 3D Vision, PhysX and CUDA technologies are elements that make the GeForce GTX 460 a genuinely piece of hardware that produce incredibly realistic effects for your current and next generation games.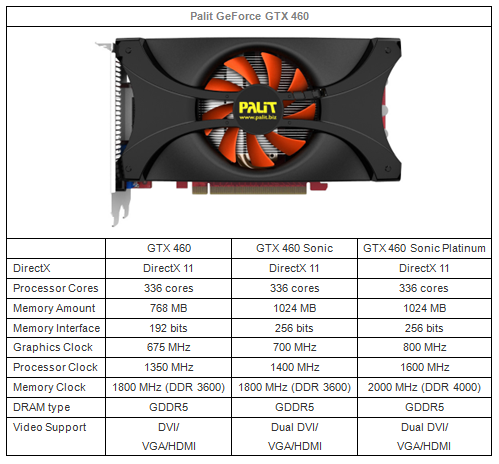 Features
Microsoft DirectX 11 Support:
- DirextX 11 GPU with Shader Model 5.0 support designed for ultra high performance in the new API's key graphics feature, GPU-accelerated tessellation.
NVIDIA PhysX Technology:
- Full support for NVIDIA PhysX technology, enabling a totally new class of physical gaming interaction for a more dynamic and realistic experience with GeForce.
NVIDIA 3D Vision Ready
- GeForce GPU support for NVIDIA 3D Vision, bringing a fully immersive stereoscopic 3D experience to the PC. A combination of high-tech wireless glasses and advanced software, 3D Vision transforms hundreds of PC games into full stereoscopic 3D.
NVIDIA 3D Vision Surround Ready
- Expand your games across three displays in full stereoscopic 3D for the ultimate "inside the game" experience with the power of NVIDIA 3D Vision and SLI technologies. NVIDIA Surround also supports triple screen gaming with non-stereo displays.
NVIDIA CUDA Technology
- CUDA technology unlocks the power of the GPU's processor cores to accelerate the most demanding system tasks such as video transcoding, physics simulation, ray tracing, and more, delivering incredible performance improvements over traditional CPUs.
NVIDIA SLI Technology:
- Industry leading NVIDIA SLI technology offers amazing performance scaling for the world's premier gaming solution.
32x Anti-aliasing Technology:
- Lightning fast, high-quality anti-aliasing at up to 32x sample rates obliterates jagged edges.
Microsoft Windies 7 Support:
- Windows 7 is the next generation operating system that will mark a dramatic improvement in the way the OS takes advantage of the graphics processing unit (GPU) to provide a more compelling user experience.
DirectCompute Support:
- Full support for DirectCompute, Microsoft's GPU computing API.
OpenCL Support:
- Full support for OpenCL GPU computing API.
OpenGL 4.0 Optimization and Support:
- Ensures top-notch compatibility and performance for OpenGL applications.
PCI Express 2.0 Support:
- Designed to work perfectly with the new PCI Express 2.0 bus architecture, offering a future-proofing bridge to tomorrow's most bandwidth-hungry games and 3D applications by maximizing the 5GT/s PCI Express 2.0 bandwidth.
Dual-link DVI Support:
- Able to drive the industry's largest and highest resolution flat-panel displays up to 2560 x 1600 and with support for HDCP.
HDMI support
- Fully integrated support for HDMI 1.3a including deep color, Dolby TrueHD and DTS-HD 7.1 digital surround sound. A future NVIDIA driver will enable HDMI 1.4a support for Blue-ray 3D playback.
About Palit
Established in 1988, Palit Microsystems Ltd is well-known for manufacturing stable, excellent, and innovative graphics accelerators. As one of the top PC components manufacturers, Palit continues to provide industry-leading graphics cards with reliable and excellent quality. With branch offices in America, Europe, and Asia, Palit has developed a worldwide sales network which cooperates closely with our customers.
Last updated: Apr 7, 2020 at 12:02 pm CDT
PRICING: You can find products similar to this one for sale below.

United States: Find other tech and computer products like this over at Amazon.com

United Kingdom: Find other tech and computer products like this over at Amazon.co.uk

Australia: Find other tech and computer products like this over at Amazon.com.au

Canada: Find other tech and computer products like this over at Amazon.ca

Deutschland: Finde andere Technik- und Computerprodukte wie dieses auf Amazon.de
Related Tags