AC RYAN EXPANDS DISTRIBUTION OF AWARD WINNING PLAYON! SERIES IN AUSTRALIA WITH NEW PARTNER BLUECHIP INFOTECH
Sydney, Australia - 12th July, 2010 - AC Ryan, International IT and CE manufacturer and leading digital lifestyle producer, is pleased to announce the partnership with Bluechip Infotech for distribution in Australia. This exciting new partnership will increase the availability of the Playon! Series, which includes the renowned and highly awarded Playon!HD, Playon!HD Mini and soon to be launched Playon!DVR HD
The Playon!HD, which was launched in June 2009, was the world's first Full HD Realtek chipset-based media player. The Playon!HD operates as a NAS (Network Attached Storage) when connected to a user's local network, and has BitTorrent client for downloading directly to the internal HDD (available up to 2TB) and full support of Composite/Component/HDMI1.3 video output, as well as Composite/SPDIF Coaxial/TOSlink/HDMI audio output.
Launched earlier this year, the Playon!HD Mini is streamlined, compact, completely silent and equipped with the same specifications as the successful Playon!HD. The feature packed Mini automatically turns any attached USB storage device into a NAS device and offers more features than other media players in the same price bracket.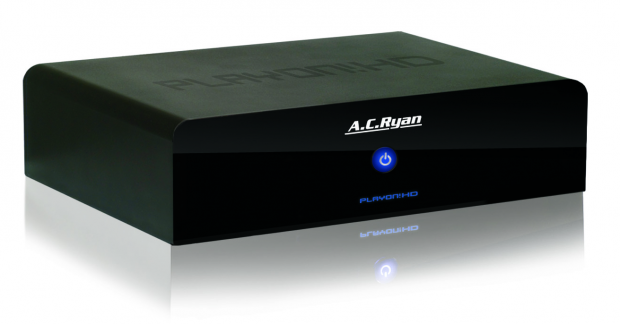 The soon to be launched Playon!DVR HD is a Full HD media player and recorder that you can access remotely via the web. Record your favourite program and stream your favourite music, movies and photos. Users can navigate through all the features the Playon!DVR HD has to offer with the new user interface, completely unique in its design and usability. HDMI is built for the highest definition audio and video quality and the Playon!DVR HD provides an exceptional level of clarity with Full HD 1080p image.
The Playon! Series supports all the most popular media formats including Blu-ray and DVD ISO. Users can catalog and play movies by cover art with YAMJ, the most popular Movie Jukebox program, or create their own cover art and movie information directory with ThumbGen. Enjoy superior HD Audio with Dolby TrueHD and DTS HD to enhance the Playon! experience.
The Playon! brand encapsulates the technology required to fully engage with today's digital lifestyle - cutting edge, creative, and superior functionality that enables users to engage with their favourite media content.
Bluechip Infotech ensures a high level of commitment to the AC Ryan Playon! brand, working only with a small number of quality organisations and products in any particular technology. Bluechip differentiates itself in the distribution market in that they guarantee full comprehensive understanding of products and their market value. Bluechip Infotech is a continually evolving company, they are the perfect partner to grow and evolve the AC Ryan Playon! Series in Australia.
"We are excited to have Bluechip as our distributor in Australia and P.N.G. and I am confident the good people in Bluechip will bring AC Ryan Playon! to become the most sought-after media player and recorder in Australia in no time." said Lewis Goh, Commercial Director of AC Ryan, Asia Pacific.
"Bluechip Infotech is proud to have AC Ryan join our stable of vendors in an exclusive distribution agreement of their Playon! Series of media players and recorders. We believe this partnership and synergy will give our customers access to a prime range of media players that are affordable, compact and easy to use. The AC Ryan products will complement our current AV product line up", said Ron Jarvis, Sales Director Bluechip Infotech.
For further company and product information, visit:
www.acryan.com
www.playonhd.com
www.playondvr.com
About AC Ryan
Since our inception in 1992, AC Ryan has become a leading International IT and CE manufacturer with 7 international offices spread across Europe,
Asia and USA. The company HQ is based in the Netherlands, where the products are conceptualised and sold in over 30 countries. AC Ryan
manufactures products that integrate and express user content in a digital experience like no other - Engage your Senses with Playon!
Last updated: Apr 7, 2020 at 12:02 pm CDT