Gainward GeForce GTX 460 "Golden Sample-Goes Like Hell" (GS-GLH)
Virtually World 1st and the Fastest GeForce GTX 460
The Miura bull has been released, and it goes like hell. Any one dare to take on a charging bull, result can't be more obvious! It's been quite some time since Gainward awarded any models the supremacy of "Golden Sample-Goes Like Hell" (GS-GLH) after GeForce GTX 260. Like its predecessor to challenge one scale up to its big brother - GTX 275 and defeated other followers, new-born GeForce GTX 460 inherits mighty DNA in revolutionary GF104 architecture, is ready for repeating the history and up one scale to challenge its brothers and beat its rival HD 5850 in every ways, regardless of DirectX11 or DirectX10 performance under more affordable pricing.
No any ordinary GPUs are entitled for such an ultimate glory. The golden child is written and destined to be the chosen one the day it was born, while it has to be carefully selected and gone through a series of the harshest trials. Otherwise, it may look and perform like anyone else. Every Gainward GeForce GTX 460 GS-GLH has to survive from the most critical burn-in tests, operating in the most extreme clock rate in extreme temperature. Gainward engineers showed no mercy and pushed GTX 460 performance to the edge. The result is rather amazing, Gainward factory pre-overclocked near 20% from 675MHz to 800MHz for all 336 CUDA Cores and from 1,800MHz to whopping 2,000MHz for 1 GB GDDR5 256 bit memory bank, equivalent bandwidth is up to 128 GB/sec, which is more than 29% boost from standard 192 bit GTX 460. It is absolutely rare! The chance you get to own this untamed bull can be as low as struck-by-lightning! You'd better start running now to the store nearest you.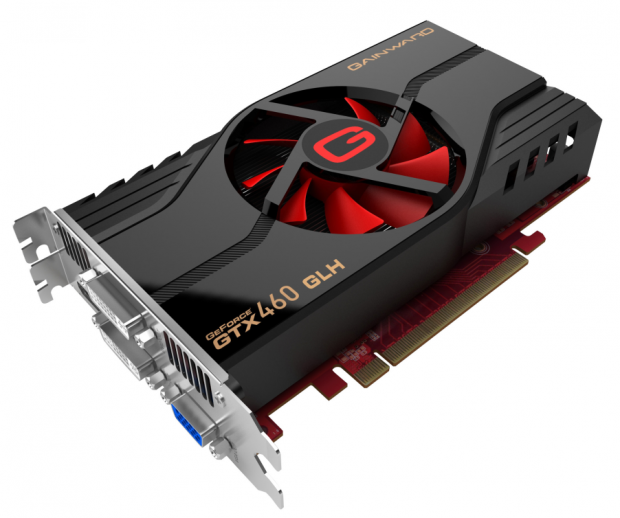 Don't worry if you couldn't get your hands on the supreme Gainward GeForce GTX 460 GS-GLH. The hellbull Miura is leading a gang of the wildest beasts. The first runner-up is a synonym of high performance - Golden Sample! Gainward GeForce GTX 460 1GB GS is expected to the most popular one of its kind, for its excellent quality with modest pre-overclocked at 700MHz in Cores, 1,800MHz for 256 bit 1GB GDDR5 frame buffer. The same critical burn-in tests have been applied to every single piece of Golden Samples to ensure best stability under aggressive overclocking. It's without a doubt your best bet for a good balance in performance, quietness, sustainability and most importantly depth of your pocket.
Moreover both GS-GLH & GS GPU are cooled by Gainward Grand Prix (GP) Heatpipes Cooler, forced ventilated by GR8 fan (Great 8 cm double-ball-bearings fan), which leaves lots of head room for exercising overclocking maneuver by Gainward awarding winning Expertool utility. Feel free to test-drive its limit, you'll be surprised by its superb overclockability. To get the same adrenaline pumping effect with cheaper price tag, can be more rewarding. Tempted? It's calling you to push it hard and discover more potential out of its reckless spirit. The gladiator won't be happy settled just in standard form. Train it, tweak it and join the combat!
Last but not least, the youngest brother in the family can be the wildest! Gainward GeForce GTX 460 768MB, it can't wait to prove its capability in magic number of memory suitable for most applications under 1680x1050 resolution (Max. resolution for most 20 ~ 22" monitors). It has been awarded the MVP. With MSRP (Manufacturer's Suggested Retail Price) positioned below $200 mark, its C/P (Capability over Price) is the highest against its brothers and competitors in red camp - HD 5830 even threatens to HD 5850! DirectX11 performance defeats both easily thanks to future-proof GF104 architecture, which fully adopts all DirectX11 state-of-the-art technologies. While its DirectX10 performance is almost the same as HD 5830, and you get to enjoy extra NVIDIA exciting features - PhysX, CUDA & 3D Vision or more immersive 3D Vision Surround in SLI configuration. The lively stereoscopic 3D across 3 monitors out-of-screen experiences are beyond your senses.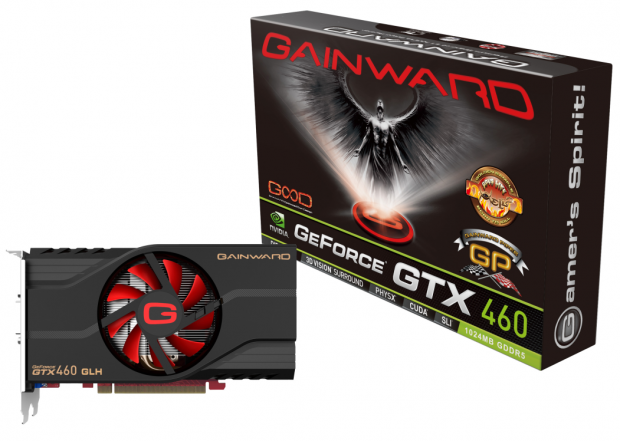 Regardless of its cheaper price tag, Gainward generously equips QuattroPorts (HDMI, Dual Dual-Link DVI & legacy VGA ports) on the entire GeForce GTX 460 lineup from top to bottom. Capped with GR8 Fan and rugged Japan-made solid-state capacitors, Gainward GeForce GTX 460 768MB retains excellent thermal performance and great stability under aggressive over-clocking. The over-clocking behavior is rather linear and predictable. Aided by Fail-Safe Gainward "Expertool" over-clocking utility, even a computer newbie can easily earn more performance from their fingertips with peace of mind.
Have you even been in San-Fermin bull-run? This is exactly the same excitement, what Gainward GeForce GTX 460 series of three delivers to you. Gainward collaborated with NVIDIA have bred the widest beasts ever! Imaging the King of hellbulls "Goes Like Hell" (GS-GLH) leads GS & 768 all Miura variants, charging to you fiercely. You'd better run; you'd better take cover! Who is waving the red flag then?
Gainward Signature Designs
Gainward dedicates in graphics industry and stands strong for more than 2 decades counts on innovative R&D and highest quality control standards down to components level. Gainward won gamers' thumb-up with signature designs listed below,
Gainward Optimized Own Design, GOOD for Infinity!
Gainward accumulated 2 decades of core competences in graphics industry. Always comes out creative own innovations, engineering for more stable circuit layouts, empowering GPU, memory & key components with more than sufficient power for better overclockability & robustness.
QuattroPorts, 4-ports-in-1 Universal HD connectivity
Gainward generously provide 4 ports (HDMI, Dual Dual-Link DVIs & legacy VGA ports) in one, fulfills universal connectivity to diverse displays. Dual View is supported with ease without bothering connector conversion. Got a 30" monitor looking for 2560 x 1600 extreme HD resolution. Here you go!
Gainward Grand-Prix Heatpipes Hybrid Cooler with GR8 Fans
Gainward Grand-Prix Heat-Pipes Hybrid Cooler, was designed in 6 mm copper-water heat-pipes on a copper base conducting heats away from GPU at highest efficiency, then dissipating onto aluminum heatsinks, which are forced ventilated with Great 8 cm double-ball-bearings Fan (GR8) Achieve highest cooling performance at much lower temperatures under power saving mode and full load with much quieter operation noises than reference GTX 460. Do not waste a GOOD design without overclocking it. Gainward Great (GR8) fan design has deployed a safety net for every GeForce GTX 460. Have fun tweaking it.
Rugged Cap, Full Solid-State OS-CON capacitors
Gainward designs in only with the highest quality components to ensure excellent stability at extreme conditions. High quality low-ESR rugged solid-state OS-CON capacitors are used to improve overclockability and robustness even at critical environments.
Expertool, Best Graphics Tuning Utility in the industry
No any super fast graphics card is complete without a powerful tuning engine! Always tempted to go one step further and squeeze last drop of juice out of your already over-clocked gaming rig. It's a piece of cake, Gainward takes care of your power-hungry desires, gears you up with the best graphics tuning utility - Expertool, which enable clock rates and fans controls. Your babies are well protected by the safety net, the smart utility possesses fail-safe clock-down override, and even a first-timer can exercise with peace of mind.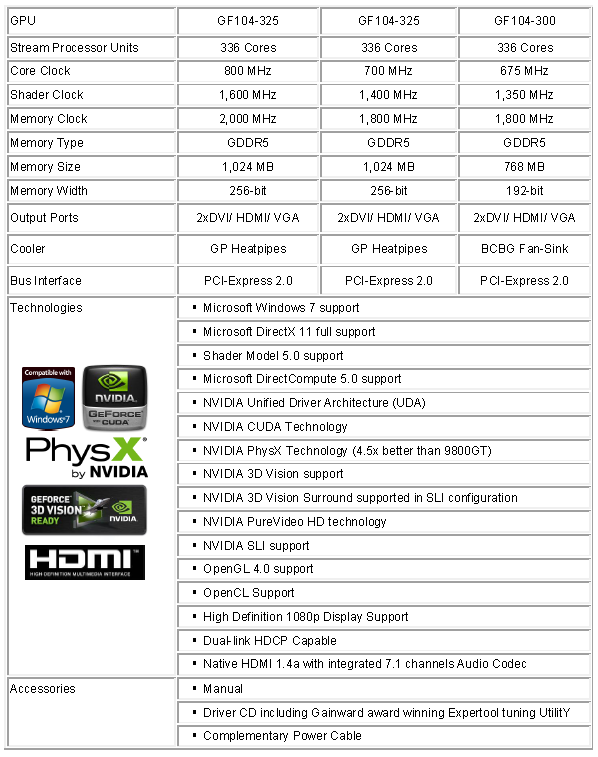 About Gainward
Gainward was founded in 1984 with a commitment to develop the most advanced graphics accelerators in the industry and ensuring the highest level of customer satisfaction. Received great reputation for manufacturing of leading edge products for the enthusiastic market. Gainward "Golden Sample" (GS) and "Golden Sample Goes Like Hell" (GS-GLH) are two signature synonyms for aggressive overclocked and extreme overclocked graphics cards in the gaming society. As one of the top graphics cards leading brands, Gainward continues to provide cutting edge products with excellent quality. Furthermore, Gainward brand name symbolizes our belief in gaining trusts and respects from our valued customers. With Headquarter based in Taipei, Taiwan, factory in Shenzhen, China and European Headquarter in Munich, Germany. Gainward is ambitious to address worldwide market and cooperates closely with its globally localized channel partners.
Last updated: Apr 7, 2020 at 12:02 pm CDT