Kingston's Message on Ensuring Important Data is Kept Secure and Private, Anywhere and Anytime
Sydney, Australia: July 12 2010 - The transfer of sensitive data via a USB Flash drive can pose an enormous risk for personal users and organizations alike. If the personal drive lacks a data protection function than any private information stored on the USB can easily be accessed by anyone who may come across it.
The loss of a USB drive,
reported in Hong Kong news
recently, highlighted the quintessential importance of data protection. A clerk at the School of General Nursing of Kowloon Hospital stored the personal data of around 300 student nurses in a personal USB Flash drive for daily contact purposes. On the evening of June 12, the clerk found she lost the USB drive at a LRT station.
The Nursing School was faced with the task of informing and apologising to all pupil nurses concerned. Kowloon Hospital is investigating the incident and will take the appropriate disciplinary actions for the concerned clerk. After this case, Kowloon Hospital has reminded all crew that they must strictly follow the guidelines on personal data protection and all data must be stored in encrypted storage devices.
Simple mistakes such as these can happen at any organisation at any place across the world and just as easily confidential and personal information could become available to anybody, anywhere, who finds it.
For keeping your important data safe, Kingston has presented secure solutions that are tailored to your needs, from high-end to entry level, including DataTraveler 5000, DataTraveler Vault-Privacy Edition, DataTraveler Locker+, and DataTraveler Locker. For more information on Kingston's secure drives product family, visit www.kingston.com/anz.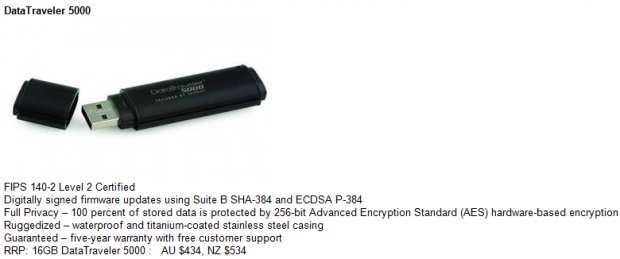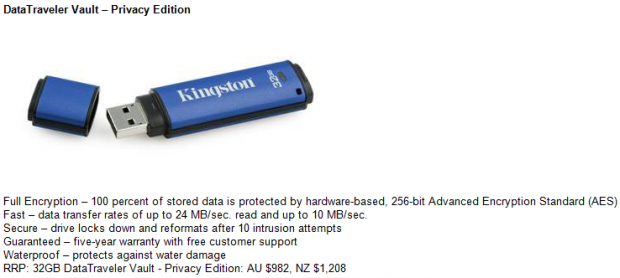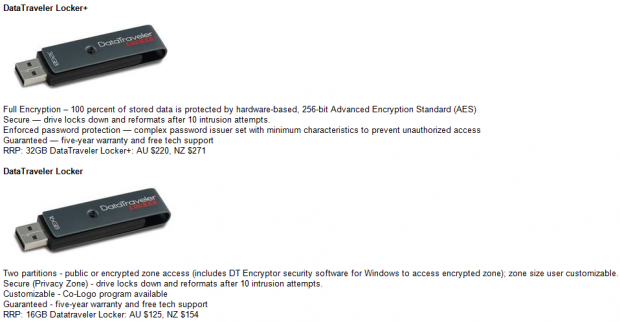 To discuss Kingston products, please visit www.kingston-blog.com. To try the exciting game "Challenge Your Memory", please go to www.kingston-blog.com/challenge_your_memory/en/ and http://apps.facebook.com/kingston/. To get the freshest information on Kingston, please go to http://twitter.com/KingstonFEPR. To know more about Kingston's inside stories, please join its Facebook Fan's page at: www.facebook.com/KingstonAPAC.
To find out if your Kingston product is genuine, Kingston also provides an online verification site: www.kingston.com/anz/verify. To try the game "Search for Genuine Kingston", please go to http://anti-counterfeit.kingston-blog.com. For the interesting animation: The Adventures of Rex, please visit: www.theadventuresofrex.com
Product and Pricing Summary
Manufacturer: Kingston
Product Name: Kingston Secure Drive Collection
RRP:
16GB DataTraveler 5000 : AU $434, NZ $534
32GB DataTraveler Vault - Privacy Edition: AU $982, NZ $1,208
32GB DataTraveler Locker+: AU $220, NZ $271
16GB Datatraveler Locker: AU $125, NZ $154
Website: www.kingston.com.anz
Australian Distributors: Avnet Australia Pty Ltd, Ingram Micro, Simms International Pty Ltd., Synnex Australia PTY Ltd.
New Zealand Distributors: Ingram Micro NZ, Synnex NZ, Simms NZ
Warranty: Kingston Flash memory is backed by a five-year warranty and free technical support.
Availability: Shipping now
About Kingston Technology Company, Inc.
Kingston Technology Company, Inc. is the world's largest independent manufacturer of memory products. Kingston designs, manufactures and distributes memory products for desktops, laptops, servers, printers, and Flash memory products for PDAs, mobile phones, digital cameras, and MP3 players. Through its global network of subsidiaries and affiliates, Kingston has manufacturing facilities in California, Taiwan, China, Malaysia and sales representatives in the United States, Taiwan, China, India, Australia, New Zealand, Vietnam, Europe, Russia, Turkey, and Latin America. For more information, please visit www.kingston.com/anz.
Last updated: Apr 7, 2020 at 12:02 pm CDT