-- GIGABYTE Announces Winners of Pentium G6950 OC Challenge on HWBOT --
-- over@locker886 Takes Top Score for all 4 Benchmarks --
TAIPEI, Taiwan - July 09, 2010 - GIGABYTE TECHNOLOGY Co., Ltd, a leading manufacturer of motherboards, graphics cards and other computing hardware solutions today proudly announced that over@locker886 from Hungary was the winner of the Pentium G6950 OC Challenge hosted by HWBOT, scoring a total of 40 points by reaching the top spot in 4 different benchmark categories using a GIGABYTE GA-P55A-UD7 motherboard.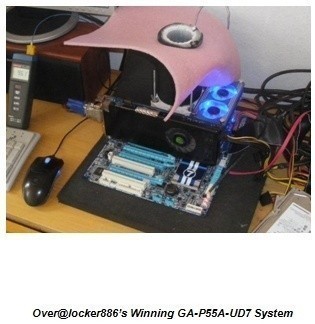 Overclocking a mainstream Pentium G6950 processor requires a special set of overclocking skills, so GIGABYTE wanted to test just how far overclockers were able to take the performance of their processor. Using any GIGABYTE P55/H55 motherboard, overclockers from all over the world submitted to HWBOT some truly impressive results on Super Pi and WPrime, as both benchmarks highly stress the processor and are good indicators for showing system stability in extreme overclocking.
The top 3 winners for the Pentium G6950 OC contest are: 1st place: over@locker886 from Hungary scoring 40 points and leading the competition with his amazing 5.85GHz overclocked Pentium G9650. For winning the top spot, over@locker886 gets a brand new GIGABYTE GA-X58A-UD7 motherboard and an Intel® Core™ i7 930 processor. 2nd place: Moonman from Slovenia using a GIGABYTE GA-H55M-UD2H motherboard and 3rd place: TK-OC from Taiwan using a GIGABYTE GA-P55A-UD3P. There was tough competition between 2nd and 3rd places with a narrow score difference of a mere 5 points.
The Top 3 winners' scores starting from left to right

For more details of the Pentium G6950 OC Challenge please visit the HWBOT.org website at:
http://hwbot.org/competition/gbt_g9650_comp?tab=info
About GIGABYTE Upgrade Your Life
GIGABYTE, headquartered in Taipei, Taiwan, is known as a global leading brand in the IT industry, with employees and business channels in almost every country. Founded in 1986, GIGABYTE started as a research and development team and has since taken the lead in the world's motherboard market. On top of motherboards and graphics accelerators, GIGABYTE further expanded its product portfolio to include notebook and desktop PCs, digital home entertainment appliances, networking servers, communications, mobile and handheld devices, servicing every facet of people's lives at home or business. Everyday GIGABYTE aims to "Upgrade Your Life" with the most innovative designs and impeccable quality and services. Visit www.gigabyte.com for more information.
Last updated: Apr 7, 2020 at 12:02 pm CDT