The World's First Multi-Touch 24" Full HD 3D All-in-One PC
The World's First Multi-Touch 24" Full HD 3D All-in-One PC
Leading by 3D & Multi-touch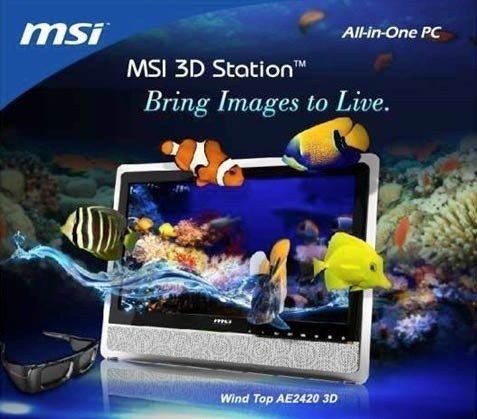 MSI 3D Station™ Technology Recreates 3D Images
MSI's All-in-One PC product line is a global pacesetter and is the first to introduce the a 3D All-in-One PC with touch screen functionality, the Wind Top AE2420 3D. MSI's 3D Station™ technology integrates the most advanced 3D imaging technologies. Featuring MSI's exclusively developed 3D Station™ technology combined with a 120Hz high resolution panel that transmits high density, 3D digital content to Shutter Glasses. Through precise image processing technology, 3D visual effects then simulate how the human eye views actual images. The Wind Top AE2420 3D features a 120Hz high scanning frequency LED panel, twice the speed of average displays, to provide users with a comfortable viewing experience when looking at 3D images, rather than the uncomfortable sensation felt when watching on 60Hz 3D panels. In addition, the Wind Top AE2420 3D comes with MSI's exclusive 3D Infinity (Shutter Glasses) that solve the problem of blurred 3D images caused by visual angle deviation. With a large 24" display, several people can view 3D images at the same time, making it even more suitable for use in family entertainment. MSI's 3D Station also integrates 2D to 3D transfer technology, addressing the current shortage of 3D movies. Even DVD rentals or home videos can be instantly transferred and viewed as 3D images. The Wind Top AE2420 3D is the world's first multi-touch 3D All-in-One capable of running 3D games, so you can experience the exquisite feeling of touching 3D images that actually seem real. Users need only wear 3D glasses and use fingertip controls to immerse themselves in a realistic 3D experience.
Flawless Integration of Ultra-High Performance CPU & GPU
The Wind Top AE2420 3D comes with the newest, fastest Intel® Core™ i5/i7 powerful core processor for enhanced performance. And with multi-tasking functionality and automatic adjustment of processing frequency, it completely meets the demands of running 3D images and 3D games while being a functionally superior computer well-suited to everyday use. In GPU performance, it features the ATI® Mobility Radeon HD5730 discrete graphics chip that supports DireX 11 and provides ultimate 3D graphics performance. Watching a 3D movie or playing a 3D game can both be accomplished with ease. The large, Full HD 1080p display and high performance discrete GPU allows 3D images to display even more smoothly, with a more clearer picture and more color layers.
First to introduce USB 3.0
The Wind Top AE2420 3D is the first All-in-One PC in the world to feature USB 3.0 technology. USB 3.0 supports transfer rates up to 5 Gbps, or ten times that of USB 2.0. With USB 3.0 it takes 1 min 41 sec to transfer 520 MB of data from a 3.5" HDD, while USB 2.0 takes 4 minutes. This is also twice as fast as e-SATA under the same given conditions, making it the fastest transfer interface available on the market today. USB 3.0 means Wind Top AE2420 3D users will be able to transfer high-definition data such as movies, videos and other large file formats faster and easier than ever before.
Extreme Audio & Video for Enhanced Entertainment
The Wind Top AE2420 3D is a heavyweight 3D audio/video entertainment. In audio and video specifications, the AE2420 3D features MSI Premium Sound Technology, full range 5W left and right channel hi-fi speakers, and a 10W subwoofer that creates authentic 2.1 channel sound. And through Hollywood grade THX TruStudio Pro™ surround sound technology, sound performance is enhanced to 7.1 surround sound for pure, clear tone quality, extreme sound layering, and powerful vibrations. While users will be shocked at the amazing Full HD 3D images, your ears will experience rich, layers of sound effects. What's more, the Wind Top AE2420 3D comes with a variety of built-in Wind Top series multi-touch software featuring user-friendly operating interfaces and ingenious innovations that make life more convenient and much more interesting.
All New Exterior Design Reveals Fashionable Elegance
The Wind Top AE2420 3D is housed in an all-new stylish exterior design. Its transparent exterior frame softens the presence of the large screen display while producing a transparent visual effect. Below the display, the rippling water design works in concert with the rear support stand's rippling water pattern to generate a relaxed presence. Whether placed in a living room or a study, it will add an artistic ambience to any space. And with MSI's exclusive 3D Infinity glasses, you get both style and technology.
Wind Top AE2420 3D Specifications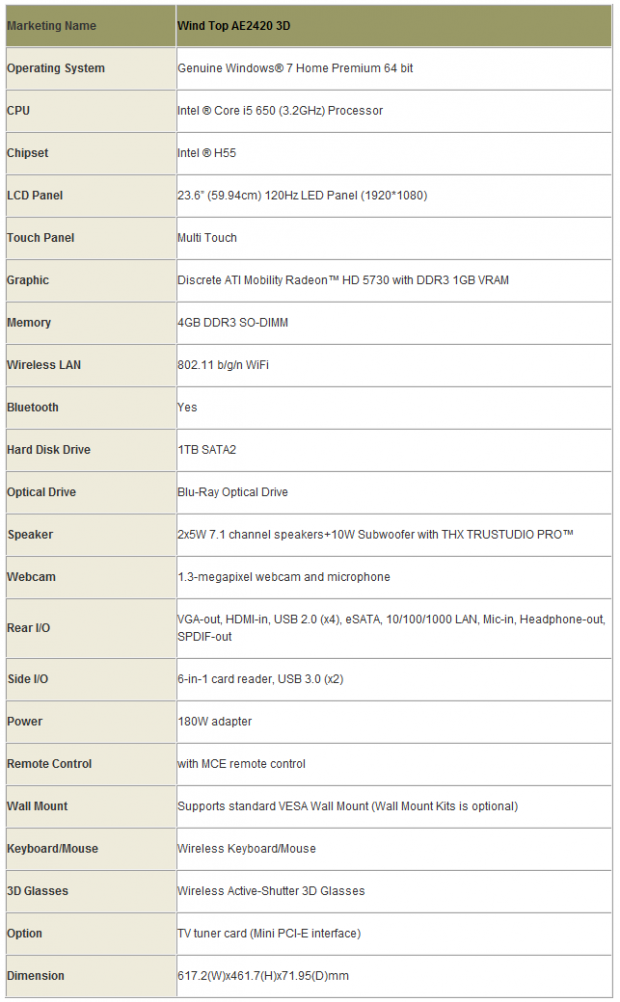 Last updated: Apr 7, 2020 at 12:02 pm CDT
PRICING: You can find products similar to this one for sale below.

United States: Find other tech and computer products like this over at Amazon.com

United Kingdom: Find other tech and computer products like this over at Amazon.co.uk

Australia: Find other tech and computer products like this over at Amazon.com.au

Canada: Find other tech and computer products like this over at Amazon.ca

Deutschland: Finde andere Technik- und Computerprodukte wie dieses auf Amazon.de
Related Tags