The Classic Checkered Design is Back Again - With Silicon Power Touch 851 bringing Luxurious series all your way
The classic checkered design never fades and it shows in Silicon Power Touch series USB flash drives! World flash leading manufacturer, Silicon Power announces today (7/6) their new Touch 851 Crystal Disk. It is available in gold or silver and coated with shinny checkered like/ diamond cut design showing off its quality and elegant aura.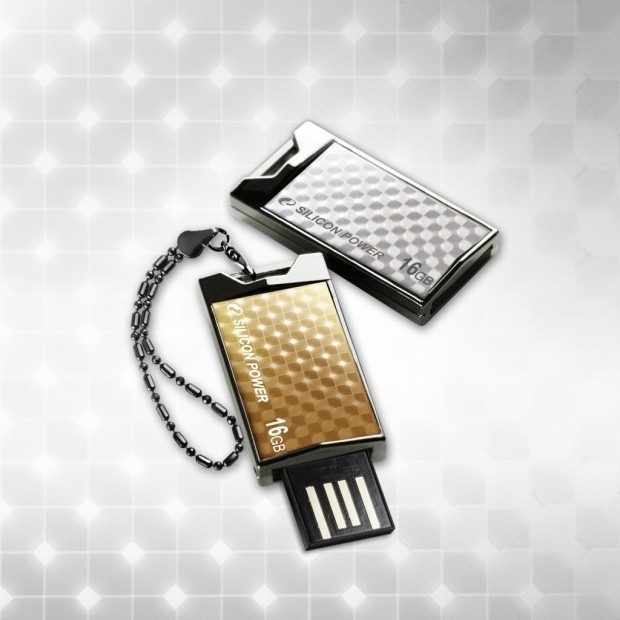 Silicon Power's Touch 851 Crystal Disk comes with a necklace that turns it into a unique fashion accessory. Materials on Touch 851 are carefully selected and designed. Made from zinc alloy, it is tougher than most; it has a sliding design that protects the gold fingers from unnecessary exposure which may result in data loss.
Utilizing COB (Chip On Board) packaging technology, Silicon Power's Touch 850 is waterproof, dustproof and shockproof; Silicon Power also provides users with SP Widget that has 7 major security functions and a 60-day trial version of NIS (Norton Internet Security). All Silicon Power products are in compliance with strict RoHS standards and comes with Lifetime warranty!
Features
- Classic checkered and luxury design
- Rugged zinc alloy construction
- Waterproof, dustproof, shock and vibration proof
- Utilize COB (Chip On Board) packaging technology
- Sliding design to protect gold fingers and prevent losing lids
- True plug and play, no external power required
- Compliant with RoHS requirement
- SP Widget free download software features seven main functions to maximize your SP USB flash drive
- Lifetime Warranty
Specifications
- Dimensions: 31.6 x 16.4 x 6 mm ± 0.3mm
- Weight: 6.3g
- Interface: Universal Serial Bus 1.1 & 2.0 compatible (USB)
- Durability: 10,000 insertions(minimum)
- Support OS: Windows 7, Windows Vista, WinXP, Win2000, Mac 10.3.X above, Linux 2.6.X above
- Operating Temperature: 0°C ~ 70°C
- Storage Temperature: -40°C ~ 85°C
- Capacity: 2GB, 4GB, 8GB, 16GB
- Color: Gold, Silver
About Silicon Power
Silicon Power Computer & Communications Inc., founded by a group of specialists with more than 20 years experience in the field of international trading, global marketing, technical know-how of flash data storage products, is the world's leading manufacturer of flash memory cards, USB flash drives, portable hard drives, DRAMS, and card readers. We are also the initiator to offer Lifetime Warranty service both for the Flash Memory Card series and USB Flash Drive products. At the heart of Silicon Power, it exists a strong atmosphere of "Sharing, Caring, and of being Trustworthy." These are our finest commitments at the core. Recognized and supported in over 90 countries, Silicon Power provides fast, international lifetime service and superior products. Silicon Power makes a remarkable and successful achievement in the global community. The company is headquartered in Taipei and has established branches worldwide including the Netherlands and Japan.
Last updated: Apr 7, 2020 at 12:02 pm CDT