QNAP Expands the Capabilities of Its Current and Legacy NAS Servers with New Version 3.3 of NAS Management Software
New V3.3 Update Adds New Multimedia Station 2, Support for QMobile Remote Content Streaming App for iPad/iPhone/iPod ouch, and a Host of New & Enhanced Features Enabling Users to Get the Most Out of Their QNAP Turbo NAS Products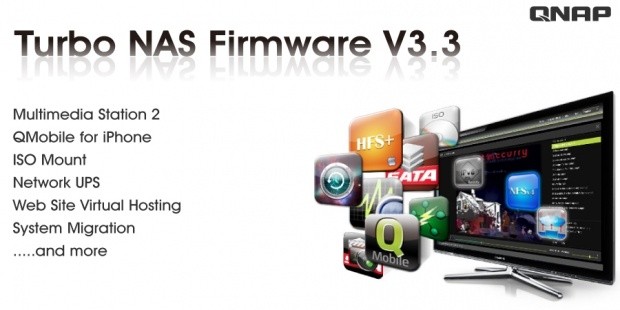 Taipei, Taiwan, June 2010 - QNAP Systems, Inc., a leading manufacturer of world class NAS servers, NVR Video Surveillance Systems, and Network-based Video Players today announced a major update to the NAS management software embedded in their Turbo NAS products as firmware. The new V3.3 update provides many new features and enhancements for consumer and business users of both current and legacy Turbo NAS server models, helping users maximize their investment in a QNAP NAS by extending new features to owners completely free of charge. What's new in the V3.3 update?
•New! Multimedia Station 2 is a comprehensive music, picture, and video management and player application that allow web-based management, playback and sharing of your music, videos and pictures. Music lovers can build their own playlists, organize by artist, song, album, and genre and playback their favorite music from anywhere they have Internet access. Pictures can be showcased with stunning Cooliris 3D walls. Users can create slideshows and set the background music, even email pictures to friends & family and publish pictures to popular social networking sites including Facebook, MySpace, Twitter, Blogger, and others;
•New! Support for QMobile app (compatible with OS3 & latest iOS4) for iPad, iPhone, and iPod Touch users, allows music, photos, and videos stored on QNAP Turbo NAS servers to be remotely streamed and played directly on the Apple devices anywhere there is access to a WiFi or 3G network, eliminating the need to store the content physically on the device;
•New! Firmware Live Update feature allows QNAP Turbo NAS servers to automatically check for and download new NAS management software updates;
•New! ISO Mount feature allows mounting/accessing of archived CD/DVD/Blu-ray Disc ISO images instead of burning a physical disc;
•New! Web Server Virtual Hosting now allows multiple websites (up to 32) to be virtually hosted on a QNAP Turbo NAS server with HTTPS and SSL certificate import;
•New! HFS+ support allows Mac HFS+ external drives to be connected to a Turbo NAS for easy file sharing;
•New! Built-in SFTP server via SSH for secure administrator access and file transfers;
•New! New QPKG plug-ins from Mono, Vtiger CRM, Magento, PS3 Media Server, OpenLDAP, iStat, PostgreSQL, and eyeOS;
•Also New! System Migration, allowing easier migration of data when NAS are upgraded, and new Network UPS support;
•Enhanced! Easier monitoring and management of existing Apple Time Machine backups;
•Enhanced! Resource Monitor has been enhanced to provide more detailed information for network administrators on CPU usage, bandwidth statistics, disk space, and more.
Availability
The new V3.3 Firmware is available for download free of charge from the www.qnap.com website.
Applied models:
•TS-110, TS-119, TS-210, TS-219/219P, TS-410, TS-419P, TS-410U, TS-419U
•TS-239 Pro/ TS-439 Pro/ TS-639 Pro/ TS-439U-SP/ TS-439U-RP/ SS-439 Pro/ SS-839 Pro
•TS-509 Pro/ TS-809 Pro/ TS-809U-RP
•TS-239 Pro II/ TS-259 Pro/ TS-439 Pro II/ TS-459 Pro/ TS-559 Pro/ TS-659 Pro/ TS-859 Pro/ TS-459U-RP/ TS-859U-RP
QNAP offers the broadest lineup of NAS server enclosures currently available. QNAP Turbo NAS servers are available in 1, 2, 4, 5, 6 and 8-bay tower & rack mount configurations to fit consumer's needs, including small/medium business, workgroups, and entry-level enterprise networks. Most QNAP NAS servers feature hot-swap removable cartridge drives with 2.5" and 3.5" drive support, and offer unique features including virtual disk, and dual Gigabit LAN ports with fail-over, load-balancing and multi-IP setting capabilities for all Intel-based models. QNAP NAS servers are ideal for simple website hosting, ultra-high performance RAID storage supporting RAID 0, 1, 5, 6, 5+ hot spare and 6+hot spare (5 drive and higher models), stand-alone file downloading, network-wide backups, printer sharing, video surveillance, and a whole lot more. QNAP NAS servers are fully compatible with Windows, Macintosh, Linux, and UNIX networks and incorporate green power management technologies.
Last updated: Apr 7, 2020 at 12:02 pm CDT