Acer Announces Aspire Predator Gaming PC with GeForce GTX 470
Acer, the world's second largest vendor in the PC market, today announced its newest Acer Aspire "Predator" gaming desktop PC is armed for combat and ready to do battle in the U.S. A force to be reckoned with, the power-packed AG7750-U2222 gaming rig harnesses the pinnacle of processor, graphics and memory technologies for conquering the fiercest opponents.
Taking bold style and performance to a killer level, the Aspire Predator is designed for avid gamers with a "take no prisoners" attitude. It's a monster machine outfitted with plenty of ammo, including Intel Core i7 quad-core processors, NVIDIA GeForce GTX 470 graphics with 3-way SLI support and a whopping 12GB DDR3 memory for blowing away the competition.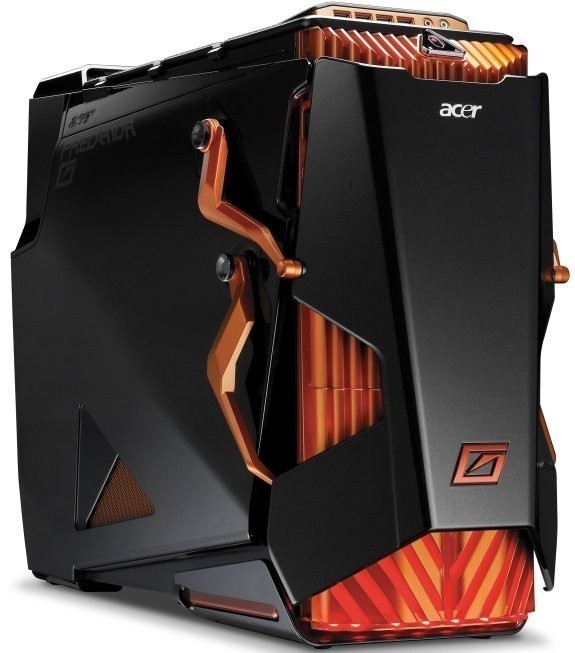 "Designed to conquer and destroy, the Aspire Predator boasts a rugged, intimidating chassis as well as super power and speed," said Steve Smith, senior business manager of consumer desktops for Acer America. "It's a smoking hot gaming rig delivering eye-popping graphics and dynamic audio for a jaw dropping experience that will fire up even hard core gamers. Plus, plenty of room for future upgrades will assist gamers in their quest to reign supreme in the new world order."
NVIDIA 3-Way SLI Graphics Pump Up Games With Stunning Visual Definition The Predator AG7750 is ready from a thermal and power standpoint to take on 3-way SLI graphics, the next generation in graphics technology. Outfitted with NVIDIA GeForce GTX470 with NVIDIA SLI technology, users can scale graphics performance by combining multiple NVIDIA graphics solutions in a 3-way SLI-certified motherboard. The motherboard has an installed GTX470 card and can accommodate up to two more. These advanced GPUs run simultaneously to deliver kickass, high-performance graphics playback. The combined power of DirectX 11, CUDA™ and NVIDIA PhysX Technologies deliver amazing, cinematic quality visuals.
Primed for Dynamic, Heart-Pounding 3D
The Aspire Predator AG7750 with an NVIDIA SLI graphics card comes ready for exciting 3D gaming. Users can add an Acer GD245HQ/GD235HZ 3D monitor for a fully immersive experience with NVIDIA 3D Vision technology, a combination of high-tech wireless glasses and advanced software - to transform hundreds of PC games into full stereoscopic 3D.
Fierce Quad-Core Power Shreds Opponents
Outfitted for battle, the Aspire Predator AG7750 is power packed with an Intel Core i7 930 quad-core processor that delivers speed for gaming, including 3D as well as multitasking and other multimedia entertainment. Intel Turbo Boost Technology heightens performance by increasing processor frequency by 133 MHz on short and regular intervals if it's operating below power, until the upper limit is met or the maximum possible upside for the number of active cores is reached. It also increases energy efficiency by allowing near-zero power consumption for inactive cores.
Gamers will appreciate the 1.5 TB hot-swap SATA hard drive. Adding further fuel to the fire are three additional easy-swap hard disk drive (HDD) cages, allowing up to a total of four Serial ATA 3 G/bs high-capacity hard disks to be added with up to a 2 TB capacity per single drive for a total storage capacity of up to 8 TB. Users can save games, movies, music and more on the local disks, which can be easily swapped or removed for transport.
High-definition 7.1-channel audio with EAX (Environmental Audio Extensions) 5.0 provides clear heart pounding sound to ratchet up the excitement of gaming tourneys. In addition, a state-of-the-art, two-part liquid cooling system protects PC performance even during the fiercest matches, so gamers can confidently push their limits.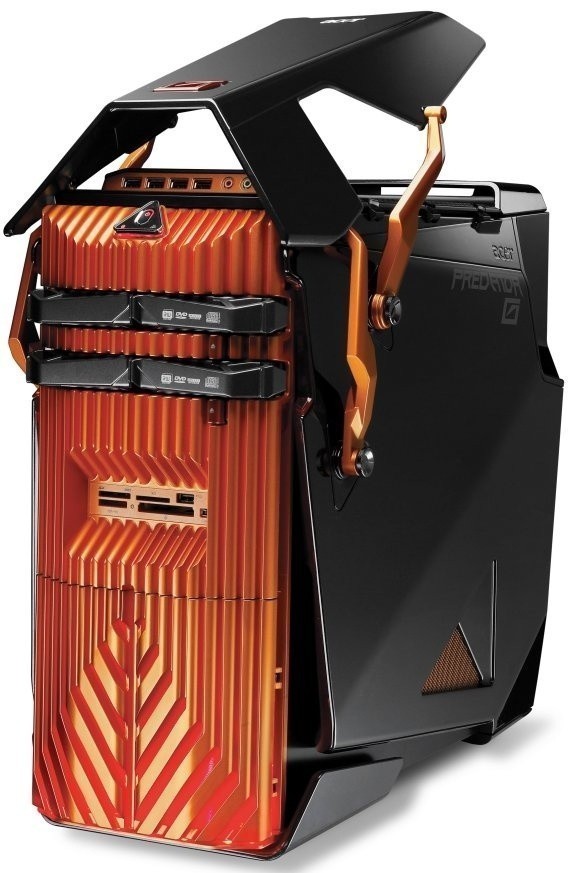 Radical Design Intimidates Rivals
Showcasing Acer's innovation, the dramatic orange and black desktop visually shouts power. The intimidating exterior boasts a mechanized front cover that can be raised up and over the front of the chassis to provide convenient access to a multi-card reader, USB and audio ports. The chassis is also covered by a rugged protective material and has a secure handle for transport.
Opening the case reveals the inner power of the Predator, including striking and highly dynamic mechanical elements and cool lighting effects, such as claw-like optical disk drive doors, easy-swap HDDs and red LED lighting. An illuminated door on the lower front of the chassis provides quick entry to the hard disks, simplifying upgrades.
Highly Scalable, Well-Connected
Gamers who want to ensure their PC remains on the cutting edge will be pleased to know the Aspire Predator AG7750 is highly scalable, allowing integration of many advanced components and gaming peripherals, such as joysticks, steering wheels, foot pedals and more. The system comes with a multi-in-one card reader and an optical drive and is easily expandable with an available 5.25-inch optical drive bay and a variety of open PCI Express slots, including two PCI Express x16, two PCI Express x1, one PCI Express x8 and a standard PCI. The system also offers a host of connectivity options including 11 USB 2.0 ports (five in front, six in back), IEEE 1394, two eSATA ports, two Ethernet ports, two DVI-D ports (up to six with three graphics cards), a TV-out port, six audio jacks and various others.
Slick Software Suite
The system comes loaded with Arcade Deluxe 2010, an all-in-one media portal for managing today's digital media. Acer Arcade archives millions of songs, photos, movies and videos; Arcade Photo optimizes graphics acceleration for ultra fast photo sorting and creation of memorable slide shows; Arcade Video converts videos quickly for playback on a favorite media player and uploads videos to YouTube and Facebook; and Arcade Music browses and organizes music collections.
Pricing and Availability
With a starting MSRP of $1,999, the Acer Aspire AG7750-U2222 is now available at technology and electronics retailers and comes with a one year parts and labor limited warranty and toll-free technical support.
Last updated: Apr 7, 2020 at 12:02 pm CDT