Gorgeous, intuitive and entertaining, say hello to the new Inspiron R laptops from Dell
Dell's Most Popular Laptops Designed to Keep Families Organized and Entertained • Available at Dell's Newest U.S. Retail Partner, Fry's Electronics on June 25
Today, more than ever, families are looking to technology as an extra set of hands - one that helps them stay connected, quickly cross items off daily 'to-do' lists, and keep them entertained. The new Inspiron R laptops were designed with this in mind - making it easier than ever to access personal files and securely share photos and videos wirelessly, as well to enjoy the ideal mobile personal entertainment hub, offering smooth video playback, surround sound and a built-in Webcam.
Wrapped in curvy edges, smooth lines and available in four unique colorful finishes with chrome accents, the Inspiron R laptops are as beautifully designed as they are useful. With several display sizes ranging from 14-inch models that fit perfectly in a messenger bag, to home and dorm room-friendly 15- and 17-inch versions, the Inspiron R boasts a contemporary and sleek appearance that will make anyone feel good about bringing it out in the classroom or the local coffee shop.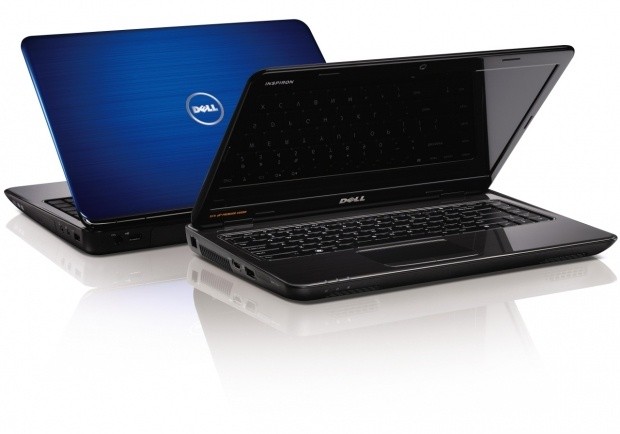 Dell also built in unique features and timesavers like the Dell Dock, which reduces time searching applications and files - photos, videos and most commonly used apps are placed right at the top of the screen. For those who choose the optional Intel Wireless Display* feature, the Inspiron R makes it easy to project what is on the laptop display on a nearby HDTV without the need for cables. Students have the option to purchase any version of Microsoft Office 2010 pre-installed on their Inspiron R laptops, to ensure they have the tools they need to kick off the school year.
"The Inspiron R takes the rock solid Inspiron line and amps up the cool factor with a sexy and practical machine for entertainment, and social networking along with all the usual home, school and work functions," said Glen Robson, vice president, product marketing, Dell. "Photos, videos and personal files can also be securely stored and shared with DataSafeOnline for peace of mind right out of the box. This is a laptop that moms will love and youths will ask for."
Designed to stand up to the rigors of active families and students on the go Inspiron R models feature smudge-resistant palm rests, a full-size, comfortable keyboard and a stiffer frame for a solid, quality feel. Available Intel Core i3 and Core i5 processors and optional ATi graphics ensure great performance today and tomorrow.
Prices for Inspiron R laptops begin at $449 at www.dell.com. For students and families who need a laptop as soon as possible, popular configurations of the new Inspiron R are also available via Dell's FastTrack* program, which can ship systems within 24 hours. By upgrading to next business day shipping,* new Inspiron R systems can arrive within 48 hours. The new Inspiron R laptops are also available through authorized retailers, including Dell's newest retail partner in the U.S., Fry's Electronics. Select Inspiron R laptops will be available in all 34 Fry's Electronics stores starting June 25.
Common Technical Highlights for the Inspiron 14R, 15R and 17R:
- Intel Core i3 and i5 mobile processor options for outstanding everyday performance with Microsoft Windows 7
- Choice of models offering bright 14-, 15-, and 17-inch displays, with high definition (HD) resolution offered on all systems
- Choice of optional colors on select models : Mars Black, Peacock Blue, Tomato Red and Lotus Pink
- Built-in wireless connectivity
- Optional Intel Wireless Display that allows for a cable-free connection to most HDTVs when paired with a separate third party Intel Wireless Display TV adapter
- SRS Premium Sound provides an excellent stereo surround soundstage
- Built-in media card readers speed up transferring photo and video files.
- Optional 1GB ATi graphics provide realistic video effects
- Up to 640GB hard disk drives on select models for storing large photos, music and video collections
- Up to 8GB* DDR3 memory performs tasks quickly and seamlessly
- Built-in Webcam enables Web chats on the go
- Touchpad with integrated scrolling and gestures makes using the laptop more intuitive and simple to use
- Dedicated 10-key number pad on the 15-and 17-inch systems that gives gamers additional keys for more shortcuts
- Dell Dock organizes music, videos and photos and puts most commonly-used apps right up top
- DataSafeOnline data backup & recovery keeps data & memories secure outside of the system
- DataSafeLocal, a secure, simple and reliable way to create backup copies of the factory image
About Dell
Dell (NASDAQ: DELL) listens to its customers and uses that insight to make technology simpler and create innovative solutions that simplify daily activities and help people stay, entertained, connected and in touch. Learn more at www.dell.com.
Offers subject to change, not combinable with all other offers. Taxes, shipping, handling and other fees apply. U.S. Dell Home and Home Office new purchases only. Dell reserves the right to cancel orders arising from pricing or other errors.
Last updated: Apr 7, 2020 at 12:02 pm CDT