Lian Li Has More PC Chassis With SuperSpeed USB 3.0 Connectivity Than Any Other Case Maker
17 June 2010, Keelung,Taiwan - Lian Li Industrial Co. Ltd., the award-winning, aluminum computer chassis manufacturer, is proud to announce that it has launched more cases supporting the new SuperSpeed USB 3.0 port than any other case maker, making it the leading chassis manufacturer in providing this new connectivity to customers.
"We pride ourselves on giving customers the best quality products money can buy. Quickly incorporating new technological advances into our products is standard operating procedure at Lian Li. Just like with our tool-less installation designs, we are again the leading the way in incorporating SuperSpeed USB 3.0 ports among computer chassis manufacturers." - Michael Chen, General Manager
Lian Li now offers the next-generation USB 3.0 ports on seventeen of its case series. Furthermore, Lian Li has incorporated USB 3.0 ports onto fourteen accessory products. Recently completing its most successful exhibition, at COMPUTEX TAIPEI 2010, Lian Li once again turned the heads of international buyers and the public at-large.
Lian Li's Products with USB 3.0 Connectivity: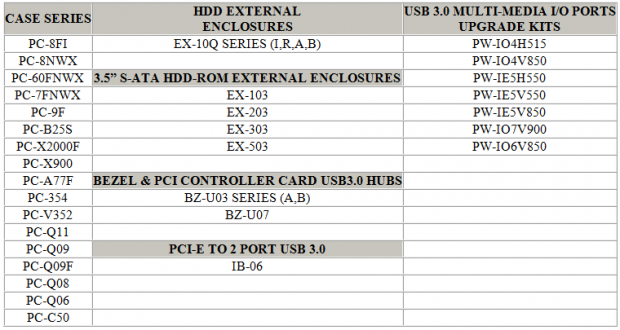 To learn more about Lian Li and its complete products, please visit the website: www.Lian-Li.com.
About Lian Li
Lian Li Industrial Co. Ltd is an Aluminum Chassis and Chassis peripheral manufacturer and provider of industrial wholesale as well as OEM & ODM services for the PC industry as required. With over 20 years of service excellence, ISO 9001 certification and a team of professional staff willing to do the utmost to deliver durable, superior quality products, all backed by a *2 year guarantee; your satisfaction is guaranteed.(*conditions apply)
Last updated: Apr 7, 2020 at 12:02 pm CDT