LIGHTS, CAMERA, ACTION; VIEWSONIC® BRINGS THE INTERNET AND NETFLIX TO YOUR LIVING ROOM
ViewSonic's new NexTV VMP75 networked media player allows easy and seamless streaming of movies and TV shows directly to your TV
WALNUT, Calif. - June 15, 2010 - ViewSonic® Corp., a leading global provider of computing, consumer electronics and communications solutions, today announced the NexTV VMP75 - a network media player that delivers the ultimate entertainment experience to consumers' HDTVs with Full HD 1080p playback from external storage devices or streaming media from home networks and the Internet. Among the available Internet options is Netflix, the leading online movie subscription service whose members can instantly watch thousands of movies and TV episodes streamed via the NexTV VMP75.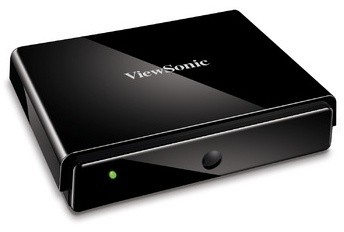 In addition to Netflix, NexTV's iMedia feature brings a world of Internet entertainment to HDTVs with quick and easy links to media content from YouTube, Live365.com, SHOUTcast Radio, Flickr and more. NexTV's integrated web browser allows for Internet surfing and custom RSS feeds for instant news and world events of interest. Users can keep up with their friends through social networking sites like Twitter and Facebook, and instant content and connections are never more than a click away - all through an intuitive user interface and full function remote control.
Bringing all the digital content together from your home PCs or network has never been simpler. The NexTV VMP75 allows you to listen to your stored music, view all your digital photos and watch any home movies right on your TV, making the living room the center of entertainment. Whether accessed through USB memory stick or hard drive, eSATA storage device, or over the network through Ethernet or optional wireless connection, your digital content will look and sound better than ever.
"Imagine the internet's endless library of information and entertainment in the palm of your hand and displayed on your HDTV in the comfort of your living room", said Josephine Chiu, senior product marketing manager, ViewSonic "The NexTV VMP75 brings all of your favorite entertainment choices directly into the heart of your home or office with easy and convenient play back or streaming to any HDTV. We're delighted to be opening up the possibilities of digital entertainment to enjoy or share in full HD quality."
Full connectivity for the NexTV VMP75 includes HDMI, Composite, S/PDIF, USB and eSATA, with an easy network connection through an Ethernet port or via 802.11b/g/n with optional wireless adapter. NexTV also supports an external USB keyboard and mouse.
Although the NexTV VMP75 streams in full HD1080p, HD content from Netflix instantly streams in 720p and most of the thousands of titles streamed from Netflix are in standard definition.
The NexTV VMP75 has an MSRP of $149.99 and is available for pre-order from Amazon.com and Newegg.com.
For further information on ViewSonic products, please visit ViewSonic.com or follow ViewSonic on Facebook, YouTube and Twitter.
About ViewSonic
ViewSonic® Corporation is a leading global provider of computing, consumer electronics and communications solutions. ViewSonic develops, markets and supports a broad range of innovative products, including LCD TVs, computers, LCD monitors, projectors, digital photo frames, digital signage displays and digital media players.
Last updated: Apr 7, 2020 at 12:02 pm CDT