Samsung Launches New Blu-ray Combo Drive with World's Fastest 12X Read Performance
Samsung Electronics Co., Ltd., a worldwide leader in digital consumer electronics and information technology, announced today its new Blu-ray disc (BD) Combo, the SH-B123 optical disk drive (ODD), which reads BD-ROMs at the world's fastest speed of up to 12X, CDs at up to 48X, and DVDs at a maximum speed of 16X. With Samsung's new internal Blu-ray drive, users can watch HD movies on their PCs as well as record HD camcorder movies and HDTV broadcasting on DVDs with Samsung's Cyberlink Powerproducer software provided in the BD combo package.
"As market demand and adoption of BDs, HDTVs and digital broadcasting accelerate, so has consumer interest in watching Blu-ray movies on personal computers," said John Suh, Director of Samsung Semiconductor Inc. Optical Disc Drive Division Sales Team. "Samsung's new BD combo drives can read BD discs, and read and write CD/DVD discs, providing consumers with a broad choice of HD movie sources on their computers."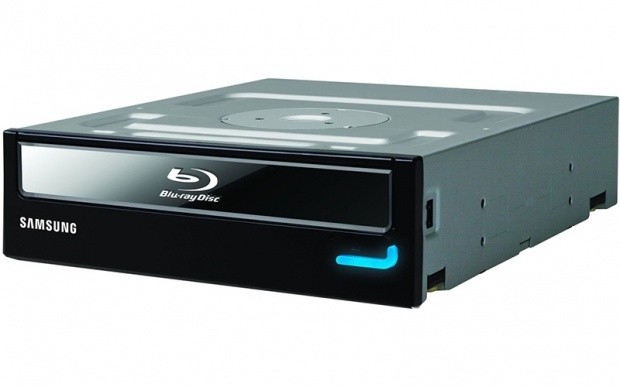 With Samsung's Cyberlink Trutheater technology, consumers can upscale DVD resolution movies to full HD resolution. PCs can be verified if they are Blu-ray enabled by activating the Cyberlink BD advisor, also available in the package and via the Cyberlink homepage.
The new BD combo guarantees high reliability in BD play performance by utilizing two lenses and a two laser diode structure, which provide stable BD read, and DVD and CD read/ write performance. SACT (Spherical Abberation Compensation Technology) improves the quality of the read function on BD drives if the protective layer does not have a uniform thickness. In addition, PSCT (Precision Step Control Technology) optimizes position control for the optical pick-up feature that requires small track pitch of BD drives. Samsung's Firmware Live Update ensures users that they always have the latest BD drive firmware version.
Samsung's BD drive, designed with an edgier look that sets it apart from conventional ODDs, features a chic mirror front door, blue LED and high-tech front bezel of the internal BD. The light and tiny casing not only reduces internal heat, but also contributes to low CO2 emissions by improving loading efficiency.
Like all the other Samsung ODDs, the BD drive is eco-friendly. The new drive features Aerodynamic Frame Design for low acoustic noise and it operates at a low-power consumption level that averages 25 percent lower power compared to comparable drives in the market. Moreover, the lead time is greatly improved, reducing the overall timeline 17 percent to 37 percent over previous models. The SH-B123 BD Combo is manufactured with lead-free soldering technology. The drives are compliant to international environmental regulations that restrict the use of materials such as Pb, Cd, Cr+6, Hg, PBBs and PBDE.
The BD Combo provides a variety of speeds across different data media types including: 12X BD-ROM read, 8x BD R/RE/DL read, 48X CD-ROM, 40X CD-RW, 16X DVD±R recording, 12X DVD-RAM recording, 8X DVD±R Dual Layer recording, 8X DVD+RW recording and 6X DVD-RW recording.
Samsung's new BD combo, the SH-B123, is available worldwide in July 2010.
Last updated: Apr 7, 2020 at 12:02 pm CDT