J&W unleashes the world's 1st USB3.0, SATA 6Gbps & Core Unlock ITX Motherboard
MINIX™ 890GX-USB3 with USB 3.0, SATA 6Gbps and Core Unlocking features
Hong Kong, 1st June 2010 - J&W Technology Ltd., a leading manufacturer of motherboards, notebooks and AIO PCs today unleashes the world's first USB 3.0 & SATA 6Gbps mini-ITX form factor MINIX™ 890GX-USB3 motherboard.
"MINIX™ 890GX-USB3 is the most powerful mini-ITX motherboard that ever existed, we planned to launch this motherboard since 2009 and the specification was revised for several times to make it the "best-of-the-best" mini-ITX motherboard on the market. Many users have the misunderstanding that small cannot be powerful, or mini-ITX is only capable to play HD videos, we want to prove that mini-ITX can be small and powerful by launching the MINIX™ 890GX-USB3 motherboard." Ken Wong, Product Marketing Manager of J&W Technology Ltd. explained the product philosophy of MINIX™ 890GX-USB3. "MINIX™ 890GX-USB not only offering the most powerful integrated graphics chipset, but also the latest high-speed USB 3.0 and SATA 6Gbps features, its launch witnesses the advancement of technologies. I believe nobody would have imagined running a 6-core processor on a mini-ITX motherboard few years ago."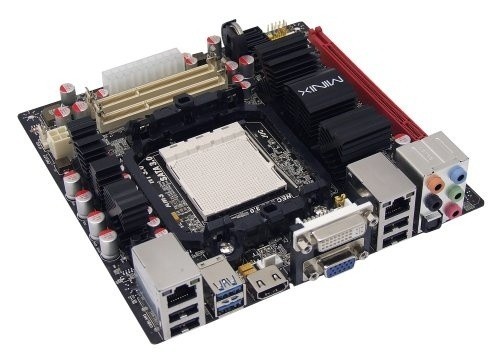 Powered by AMD's latest and fastest 890GX IGP chipset, the ATI Radeon™ HD 4290 graphics allows the MINIX™ 890GX-USB3 motherboard to fully support Microsoft® DirectX® 10.1, UVD2, Full HD 1080p playback, dual-stream PiP on Blu-Ray™, and multi video outputs. The graphics performance is further enhanced by the onboard 128MB high-speed DDR3 sideport memory. Based on socket AM3, MINIX™ 890GX-USB3 supports the AMD® Phenom™ II series, Athlon™ II series and Sempron™-100 series processors. More excitingly, the motherboard support the exclusive, Windows® based Core-unlocking utility - the Just Unlock Core (JUC) Technology which is capable to unlock the "hidden core" of the processors, a free and user-friendly "CPU upgrade" tool for users. With the latest AMD® SB850 southbridge, MINIX™ 890GX-USB3 is ready to support the latest SATA 6Gbps hard drives, and is the world's first mini-ITX motherboard supporting this feature, thus users can setup their 6Gbps RAID 0, 1, 5, 10 arrays on a mini-ITX system.
MINIX™ 890GX-USB3 supports the latest Super Speed USB 3.0 connection powered by the onboard NEC uPD720200 host controller. The transfer rate could be up to 5Gbps, which is almost 10 times faster over the USB 2.0. MINIX™ 890GX-USB3 also comes with 2 x Broadcom PCI-Express Gigabit Ethernet which allows users to connect the PC to another PC through LAN, to form home-router, NAS, and other applications are made possible on this small form factor motherboard. The PCI-Express x16 Gen.2 slot provides an upgrade option for users to plug-in an extra graphics card, RAID card or other PCI-Express devices whenever necessary. Last but not least, the onboard mini-PCIe slot provides another upgrade option for users to add a mini-PCIe device such as SSD drive or a wifi card to form a Tri-LAN PC system.
Last updated: Apr 7, 2020 at 12:02 pm CDT