TRENDnet® Expands PoE Switch Portfolio
TORRANCE, Calif. -June 9, 2010-TRENDnet, a best-in-class wired and wireless networking hardware brand, today announces the availability of the 8-Port 10/100Mbps PoE Switch, model TPE-S80. This unmanaged PoE switch reduces equipment and installation costs by delivering data and power over existing Ethernet cables to Power over Ethernet (PoE) enabled devices, such as Access Points and IP Cameras.
Boost office efficiency and reduce network congestion with a total switching capacity of 1.6Gbps generated by eight 10/100Mbps Full Duplex PoE ports. LED indicators on the front of the switch display device status for easy power management and troubleshooting. An internal power supply reduces clutter and delivers 15.4 Watts to each PoE port. This switch comes in a 10.5 inch wide sturdy metal housing that is well suited for workgroup and networking room installations. A convenient on/off button is located on the back of the switch.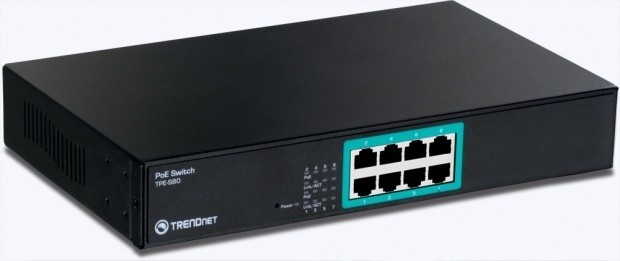 Non-PoE devices can also connect to the switch-auto-sensing PoE technology cuts power to non-PoE connected devices. Use TRENDnet's PoE Splitter, model TPE-112GS, with the TPE-S80 to install non-PoE devices in remote locations.
"The TPE-S80 complements our comprehensive PoE portfolio which includes switches, IP cameras, access points, splitters, and injectors," stated Zak Wood, Director of Global Marketing for TRENDnet. "It has a broad array of applications whereby it can reduce installation costs by powering PoE and non-PoE devices (with the use of a PoE splitter) in remote locations."
The 8-Port 10/100Mbps PoE Switch, model TPE-S80, will be available from online and retail partners shortly.
The MSRP for the TPE-S80 is U.S. $199.00
Additional High resolution images are available at:
http://www.trendnet.com/downloads/list_subcategory.asp?SUBTYPE_ID=1405&SUBMIT=Go
About TRENDnet
For TRENDnet logos visit: http://trendnet.com/asp/partners/marketing.asp
TRENDnetis an award winning global brand, dedicated to providing a completeline of high quality yet affordable networking solutions for small tomid-sized business and home users alike. Founded in 1990, TRENDnetis headquartered in Torrance, California, and maintains branch officesin Europe, Central America, South America and Asia. TRENDnet productsare sold in over 125 countries. The TRENDnet brand is consistentlyrecognized for high quality, exceptional performance and unparalleledsupport. For more information visit www.trendnet.com or call +1 (310) 961-5500.
Last updated: Apr 7, 2020 at 12:02 pm CDT