Toshiba Announces STOR.E ALU 2 Series Portable Hard Drives
Toshiba Europe GmbH today presented its new external hard disk drive, the STOR.E ALU2, a successor of the fast-selling STOR.E ALU. It comes in two different versions: A 2.5" hard disk version, offering storage capacity up to 640GB and the other, a 3.5" hard disk providing storage space of up to 2TB. The STOR.E ALU2 will be available in the second quarter 2010 throughout Europe, Middle East and Africa.
The 3.5" model with a 24 Watt 12V/2A power supply is intended for stationary use at home or in the office. The 2.5'' STOR.E ALU2 is designed for users who require a portable device that performs well on the go and at home. The 175g lightweight drive is powered by an USB connection and measures only 129mm x 14mm x 74mm. To ensure fast data transfer, the STOR.E ALU2 features a High Speed USB 2.0 interface which offers a transfer rate of up to 480 Mbps.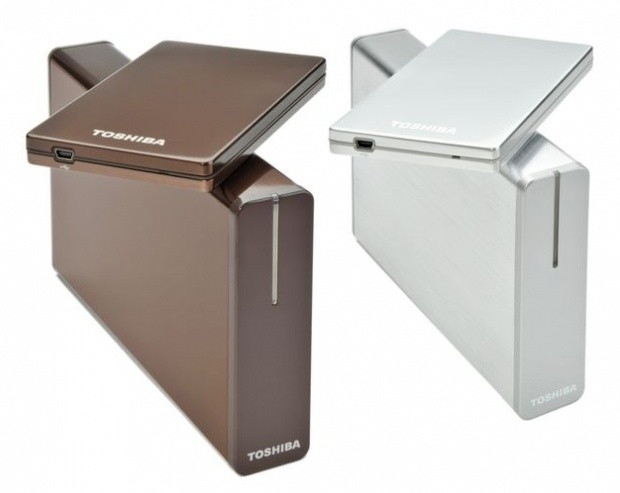 Solid, secure and stylish
The robust, plain yet stylish aluminium case of the STOR.E ALU2 drive comes in two different colours - silver and cappuccino brown. It protects the electronic components and hard disk against dust, water spills and mechanical shocks.
Facts & Figures
STOR.E ALU 2 2.5"
• Storage capacity: 320GB, 500GB, 640GB
• USB power / data connection
• Size: 129mm x 14mm x 74mm
• Weight: 175g
• High Speed USB 2.0 interface
• Interface transfer rate up to 480 Mbps
• System requirements: Windows XP / Vista / Windows 7, USB port
• Accessory included: USB cable
STOR.E ALU 2 3.5"
• Storage capacity: 500 GB, 640GB, 1TB, 1.5TB, 2TB
• Power supply: 24W 12V/2A
• Size: 116mm x 34.5mm x 208.5mm
• Weight: 1170g
• High Speed USB 2.0 interface
• Interface transfer rate up to 480 Mbps
• System requirements: Windows® XP / Vista / Windows 7, USB port
• Accessories included: AC adapter, USB cable
Last updated: Apr 7, 2020 at 12:02 pm CDT