WD Launches My Book Studio LX Series External HDDs
WD, the world's leader in external storage solutions, today introduced its new high performance My Book Studio LX external hard drive, which offers a high speed FireWire 800 interface and features a sleek new, cool-to-the-touch aluminum case that complements any iMac, G5 or MacBook Pro. The award-winning book-like design, with its customizable, always-on digital e-label, allows creative professionals to easily archive and find photos and videos from different projects and time periods, even when the drives are unplugged.
Key features include a FireWire 800 interface to give users the speed they need for demanding tasks like photo and video editing and graphic design, as well as a customizable e-label that enables users to easily personalize their media collection and identify critical information about the drive, such as the contents and remaining capacity, without having to boot up their computer and plug in the drive. The My Book Studio LX drives also support USB 2.0, so users have maximum flexibility in allocating their FireWire and USB ports or plugging the drive into a variety of computers.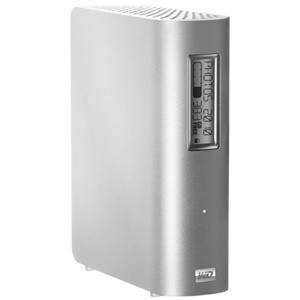 My Book Studio LX drives offer automatic, continuous backup through WD SmartWare software and also sync seamlessly with Apple Time Machine software, so consumers can choose the backup method that suits their needs. And the 256-bit hardware-based encryption, typically only found on much more expensive drive systems, provides a high level of data security along with password protection that acts as a virtual padlock to keep users' data safe. Available now at select retailers and the WD online store, the new My Book Studio LX drives are formatted for Mac® and come in capacities of 1 TB and 2 TB.
"When choosing the right hard drive, creative professionals look for high-quality materials, maximum speed and visual appeal to complement their creative toolkit. The My Book Studio LX drives offer high-speed Firewire 800 performance and a design that will look right at home next to their G5 or MacBook Pro computer," said Dale Pistilli, vice president of marketing for WD's branded products group. "With the customizable e-label, My Book Studio LX drives help videographers, photographers and graphic designers create, organize and locate their clients' valuable content, no matter how many drives are in their studio."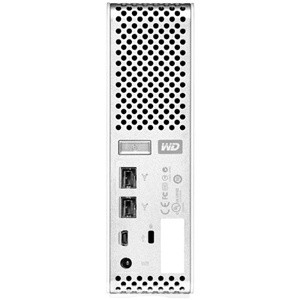 The new My Book Studio LX drives come equipped with WD SmartWare software, an optional application that provides automatic and continuous backup, control of the e-label display, password and other settings. The real-time visual interface of WD SmartWare software gives users a reassuring view of their backup as it happens. After the first backup, users' files are backed up automatically every time they change or add a file.
The new My Book Studio LX drive features:
• New, contemporary aluminum casing that remains cool to the touch and matches the aesthetics of Mac computers;
• High-performance FireWire 800 interface to access data at top speeds and USB 2.0 interface for maximum flexibility;
• Smart display with a customizable e-label that reminds users of what is stored on the drive, available capacity and security status at-a-glance, even when the drive is unplugged;
• Plug-and-play ready for Mac users and compatible with Apple Time Machine;
• WD SmartWare visual backup software, 256-bit hardware-based encryption and password protection to give users peace of mind knowing that data is protected from unauthorized access;
• WD GreenPower Technology, lowers internal drive power consumption by up to 30 percent. WD GreenPower Technology also includes a sleep mode that reduces power during idle times, and a power-saving feature turns the drive on and off with your computer;
• Planet-friendly packaging derived from recycled materials to minimize waste; and,
• HFS + Journaled formatting and are compatible with Mac OS X Tiger, Leopard and Snow Leopard.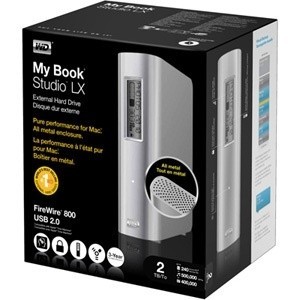 Price and Availability
The new My Book Studio LX drives are offered in capacities of 1 TB and 2 TB and have a 3-year limited warranty. My Book Studio LX drives are available now at select retailers and online at shopwd.com. MSRP ranges from $199.99 to $269.99 USD depending on the model.
Last updated: Apr 7, 2020 at 12:02 pm CDT