-- Who will be the Winner of the GO OC Asia & Africa regional final --
-- Visit the GO OC website to make your prediction, and get the chance to win some GO OC loot of your own -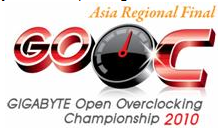 Taipei, Taiwan, June 7th, 2010- GIGABYTE's 3rd annual overclocking competition, the GIGABYTE Open Overclocking Championship (GO OC 2010), Asia and Africa regional final will be held on June 19th, 2010 in Indonesia. Can't join the event? It's ok, you can still be part of the competition and win some prizes.
From June 4th to June 18th, GIGABYTE will have online competition: "Guess the winner" at the GO OC 2010 Asia and Africa regional final's website. What are you waiting for? Just sign up on the GO OC official website (
http://gooc2010.gigabyte.com/Asia-Africa
) and make your prediction, for your chance to win the amazing OC gears. The prize including GIGABYTE motherboard and graphic card, Antec power supply and Seagate hard drives.
After the competition on June 19th, GIGABYTE will pick 6 lucky users who predicted the winner. GIGABYTE will announce the winners of this online competition on GO OC 2010 Asia and Africa regional final official website.
About GIGABYTE Upgrade Your Life
GIGABYTE, headquartered in Taipei, Taiwan, is known as a global leading brand in the IT industry, with employees and business channels in almost every country. Founded in 1986, GIGABYTE started as a research and development team and has since taken the lead in the world's motherboard market. On top of motherboards and graphics accelerators, GIGABYTE further expanded its product portfolio to include notebook and desktop PCs, digital home entertainment appliances, networking servers, communications, mobile and handheld devices, servicing every facet of people's lives at home or business. Everyday GIGABYTE aims to "Upgrade Your Life" with the most innovative designs and impeccable quality and services. Visit www.gigabyte.com.tw for more information.
Last updated: Apr 7, 2020 at 12:02 pm CDT