Stylish Quality-MSI F Series Laptops The Ultimate Blend of Art & Technology to Debut at Computex 2010
Did you know that a notebook computer can be just as chic as the world's most stylish handbags? MSI will be unveiling five models from its F series of laptops-classy high tech accessories for the fashion-minded urbanite, at Computex 2010.
MSI's all-new F series of notebooks, unpretentious yet sophisticated, are in the same class as the world's snazziest sports cars, most elegant fashion attire, and handcrafted purses. The F series topples the traditionally held view that high tech products are standard-issue items bereft of human touch. While caressing the delicate details, smooth lines, artistic chocolate keyboard, and tasteful Color Film Print body of one of the members of the F series, you will find your senses heightened and a feeling of warmth will well up deep inside you. Owning an F series laptop brings out the style that is you.
MSI Marketing Director Sam Chern points out that five models from the F series-the FX400, FX600, FX610, FX700, and FR600, will make their debut in MSI's exhibition area located in booth L607 on the fourth floor of the TWTC Nangang Exhibition Hall during Computex, June 1-5. The innovations that characterize the F series NBs, which range in size from 14" to 17", are not limited to fashionable exteriors; rather, they also offer the user an awesome multimedia experience. In a world first, MSI worked in close collaboration with internationally renowned sound system experts from Dynaudio and THX to design F series NBs so that they would be both powerful and offer amazing sound.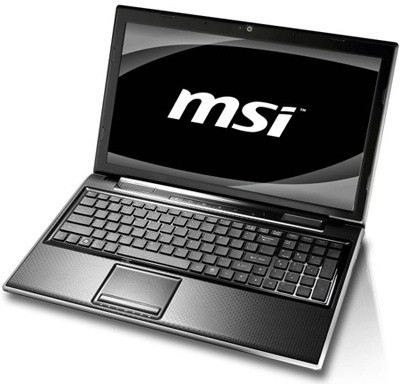 Instant systems boost
Advanced processor: The FX400, FX600, FX700, and FR600 are equipped with the power-sipping, high performance Intel Core i5 processor with Intel Turbo Boost and Intel® Hyper-Threading technologies which adjusts processor efficiency on the go, allowing you to process larger amounts of data and greatly enhancing overall systems performance. The FX610 comes with AMD's new Danube Champlian platform built on a more efficient 45-nm and power consumption by the three cores has been reduced to 25 watts, giving these NBs extended per-charge battery life.
GPU Boost technology: Models with discrete graphics in the F series all come equipped with the nVIDIA GeForce GT 325M discrete graphics card with 1GB GDDR3 of display memory bestowing them with high performance graphics processing capabilities. This is coupled with MSI's own GPU Boost technology which automatically switches graphics processing modes. When you are using applications that require high performance graphics processing, the system automatically cuts over to the powerful discrete graphics mode to bolster graphics processing to maximize your multimedia experience. When performing tasks that don't load the system down, like word processing and web surfing, the system automatically reverts back to the integrated graphics chip mode, greatly reducing power consumption. GPU Boost technology strikes an ideal balance between performance and battery life.
ECO engine power saving technology: Despite using high performance processors and an internal DVD Super-Multi CD-ROM, the MSI F series still boasts extended battery life. MSI's exclusive ECO engine power saving technology gives the F series more than twice the per-charge battery time of conventional NBs. Furthermore, ECO engine power saving technology allows you to select from among five power management levels-Gaming, Movie, Presentation, Office, and Turbo Battery, automatically adjusting display brightness, on/off switch, sleep mode, and processor performance settings, to maximize battery flexibility and per-charge use time.
*Actual battery time will vary with differences in computer use and settings.
Superior multimedia performance
Outstanding cinema sound technology: So you think you can't get quality visuals and sound out of a laptop? Well, think again. MSI's consummate craftsmanship coupled with the capabilities of world leaders in sound system design Dynaudio and THX have produced notebook computers with the ultimate in sound, so you can experience sound like you've never heard it before in an NB computer.
Perfect marriage of sound: To realize unparalleled sound performance, we had to focus on the details in our NB designs. Even the locations of speakers had to be precisely calculated. The sound technology incorporated into the FX700 was realized as a result of close collaboration with Dynaudio, extensive study, and countless calculations to determine the ideal locations for speakers to obtain obstruction-free sound transmission.
Smart surround sound: THX, the internationally renowned authority in sound system technology, worked closely with MSI in the designing of the entire MSI F series. The resulting high quality theater-grade surround sound speakers reproduce high fidelity sound regardless of music type and frequency range. This is then adjusted with the Smart Volume and Surround technologies to create a surround sound environment tailor-made for you.
Cinema Pro technology: MSI's F series boasts powerful hardware and world-class sound technology, so you can enjoy clean, crisp picture and sound. You can instantly switch to film mode for clearer pictures with richer colors with just one touch of the Cinema Pro button.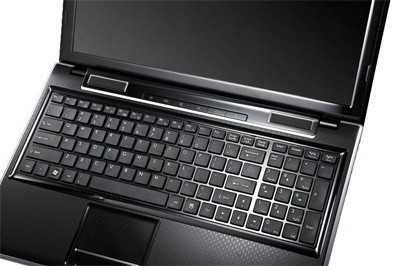 Beautifully designed inside and out
Highest standards in hardware: MSI F series NBs have two DDR3 memory slots. The FX400 comes with a 1.3 megapixel Webcam, while other F series NBs are equipped with the high definition HD720P Webcam for enhanced image quality. Large-capacity 250GB-500GB hard drives are also available. The comprehensive array of connecting ports ensures that you have everything you need for multimedia integration and transferring files. F series NBs are also equipped with an HDMI port to connect with digital HDTVs hassle-free.
Smart inside and out: Every detail in F series laptops comes together like the notes in a fine symphony. The brilliant chrome-plated MSI logo set in the center of the cover accentuates the textured sheer black finish exuding a refined elegance. The no-peel, textured color film print coating protects against scratching and wear, while adding that extra touch of class.
Precision craftsmanship: Similar craftsmanship went into the design of the inside cover and the wrist-rest areas, underscoring the overall design balance of the F series. In addition, details on F series NBs, including high tech raised points on the touchpad and unassuming matte platinum trim around the base and speakers imbue the F series with class heretofore found only in fine works of art.
Details on MSI exhibition and activities
MSI's Main Exhibition Area:
Booth L607, 4th Floor, TWTC Nangang Exhibition Hall
Dates: June 1-5
WiMAX Laptop Exhibition Area:
Booth A414a, Exhibition Hall 1, TWTC
Dates: June 1-5
NB Gaming Competition:
Booth L607, 4th Floor, TWTC Nangang Exhibition Hall
Dates: All day, June 1-5
Last updated: Apr 7, 2020 at 12:02 pm CDT