MSI G series NBs-your best Choice! - See Ultimate Multimedia Machines at Computex 2010
Designed for the serious gamer, the MSI G series of gaming NBs feature superior sound performance. Developed in cooperation with world-class sound system designers at Dynaudio, the unparalleled paradigm-shaping GT760 and GT660 offer flawless sound and MSI's exclusive TDE+ (Turbo Drive Engine +) technology. They are ready to shine at Computex 2010
Taipei-We wanted to see what happens when the brightest minds from two of the world's top companies in their perspective fields get together and brainstorm. We got our answer in the form of the GT760 and GT660. World leader in notebook computers MSI and internationally recognized leader in sound and recording equipment Dynaudio collaborated to integrate top sound equipment into NBs to create laptops that boast both superior sound and performance. They also feature MSI's TDE+ (Turbo Drive Engine+) processor and graphics card with double Turbo Drive technology which mesh perfectly with Dynaudio's unparalleled sound to provide gamers the ultimate in processing performance and crystal clear sound. World champions Fnatic and US champions Evil Geniuses, both of which attained their achievements at the keyboards of MSI gaming NBs, will be going toe-to-toe on GT660s at the Nangang Exhibition Hall on June 1st and 5th.
MSI Marketing Director Sam Chern explains that the power of the MSI G series of notebooks will be unleashed at the upcoming Computex. The GT660 and GT760 feature the most advanced CPUs, graphics cards, TDE+ (Turbo Drive Engine+ technology), and the ultimate in Dynaudio sound. The GX640 and GX740 pack high end ATi discrete graphics card for awesome sound and visuals, generating unmatched true-to-life graphics, so you can totally enjoy your multimedia whether you're battling baddies, cooling to music, or catching a film.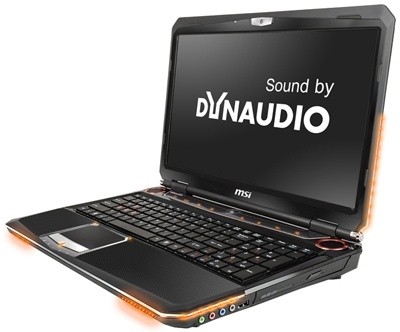 Amazing high fidelity
The remarkable fruit of collaboration between two top companies, the GT660 and GT760 are the newest and brightest stars in MSI's lineup for 2010. MSI's GT660 and GT760, which come with MSI's exclusive TDE+ technology and Dynaudio's mega sound performance, are set to take the world by storm at Computex 2010.
TDE+ technology: The GT760 and GT660 pack MSI's next generation TDE+ technology. One touch of the luminescent TDE+ hotkey gives you instant turbo, boosting the power pumped out of CPU and graphics card to smoothly and seamlessly process any graphics-heavy applications you throw their way. Watch orcs and goblins fall to the wayside at each blow of your battleaxe.
A match made in heaven: MSI's GT760 and GT660 will turn your impression of how a laptop is supposed to sound on its head. MSI and Dynaudio have designed high quality speaker units with next to no coloration and an optimal sound card circuit based on speaker and system configuration. Over 1200 hours went into testing and tweaking each frequency to obtain ideal tone and balance. Regardless of your taste in music, you'll get crisp, clean sound at all frequency levels.
Awesome presence: Following the MSI G series tradition, the GT660 and GT760 just plain look cool. The glowing white MSI logo on the cover is set in the middle of a raised black diamond trident below a smoldering red slash a la Knight Rider. The body is sheathed in MSI's exclusive glossy Color Film Print to protect the GT660 from scratches and wear, while enhancing its stunning appearance.
Light and sound show extraordinaire: Both NBs have another cool feature-a one-of-a-kind light show, featuring LED lights around the edges. So whether you're listening to music or engrossed in an excitingly fast paced game, the touch of a finger flicks on the MSI LED light show and lights embedded on both sides of the laptops and in front of the keyboard will pulsate automatically to sounds emitted by them, kicking the thrill level of the GT660 and GT760 up a notch or two.
Fully armed to do battle
All-new Intel® Core™ CPU: The GT760 and GT660 pack Intel's powerful quad-core Core i7 processor, while the GX740 and GX640 are equipped with Intel's Core i5 CPU. Both processors support Hyper-Threading technology and Turbo Boost technology for the fastest smart processing performance.
High end discrete graphics cards: These machines come with advanced nVIDIA® GeForce™ GTX 285M discrete graphics card with 1 GB GDDR3 and support NVIDIA ® CUDA™ and NVIDIA® PhysX™ to unleash their image and graphics processing potential and allowing the GT660 and GT760 to execute such high load tasks as conferencing and ripping with ease. Gamers can now enjoy smooth, true-to-life 3D visuals when playing any game. The GX640 and GX740 employ top end ATI Radeon HD5870 (GX740) and HD5850 (GX640) discrete graphics cards (1GB GDDR5 display memory), giving them better display performance, using less power, while supporting DirectX 11 to provide superior 3D graphics.
Super expandability
USB3.0 and accelerated dual hard disk architecture: MSI's GT760 and GT660 boast the most advanced interconnecting capabilities and full expandability. The GT660 comes with the latest USB3.0 port which transfers at speeds of 4Gbps-10 times faster USB2.0, as well as three DDR3 SO-DIMM slots supporting up to 12GB of memory. Even cooler is the accelerated dual hard disk architecture that comes in both models. Two SATA hard drives can be installed simultaneously to give you twice the memory and faster read-write speed.
Keyboards designed with the gamer in mind: The GT660, GT760, GX640, and GX740 follow the tradition of MSI G series NBs in that they are equipped with the "WASD" keys highlighted in easy-to-locate lava red trim and an independent number pad to give the gamer an added edge in battle.
Details on MSI exhibition and activities
MSI's Main Exhibition Area:
Booth L607, 4th Floor, TWTC Nangang Exhibition Hall
Dates: June 1-5
WiMAX Laptop Exhibition Area:
Booth A414a, Exhibition Hall 1, TWTC
Dates: June 1-5
NB Gaming Competition:
Booth L607, 4th Floor, TWTC Nangang Exhibition Hall
Dates: All day, June 1-5
Last updated: Apr 7, 2020 at 12:02 pm CDT