iBUYPOWER Announces Availability of unlocked Intel Core i5 and i7 Processors on all its Award Winning Desktop Lines
The company will also begin immediately offering the NVIDIA GeForce GTX 465 Graphics Card

El Monte, CA - June 01, 2010 - iBUYPOWER, a leading innovator in gaming PCs, is excited to be among the first system builders to announce availability of the new Intel Core i5-655K and Corei7-875K processors. Starting from $949, systems featuring the new unlocked processors from Intel are the perfect choice for gamers looking for an affordable high-performance gaming machine. Both processors feature an unlocked multiplier for easy overclocking or can be shipped already overclocked via iBUYPOWER's Power Drive Overlooking Service.
iBUYPOWER also upgraded its GPU offering today with the addition of the NVIDIA GeForce GTX 465 graphics card. Aimed at mainstream gamer, the GTX 465 offers iBUYPOWER customers DirectX11 and 3D Vision support for both Blu-ray and 3D gaming
The new components are all available on iBUYPOWER's latest small form factor PC - LAN Warrior II. Launched just over a year after the original PC Gamer Editor's Choice-winning LAN Warrior, the second-generation LAN Warrior is the most powerful µATX gaming system in existence, offering enough cooling, space, and power to stand toe-to-toe with any full-size system, despite being 40% smaller than most full tower desktops. The new portable desktop system II is housed in the portable, yet spacious NZXT Vulcan case with room for up to 3x 120mm, 1x 200mm, 1x 92mm fans and dual external water cooling cutouts.
FULL SPECS BELOW
Additionally, iBUYPOWER also offers several iBUYPOWER Labs exclusive services on all its desktops, including the Harmony Sound Reduction System, the Internal USB Expansion System (improves front panel and internal USB connectivity), and the Specialized Advanced Packaging System (expanding foam packaging to prevent damage from shipping). All iBUYPOWER systems come standard with 3 year limited warranty and lifetime technical support.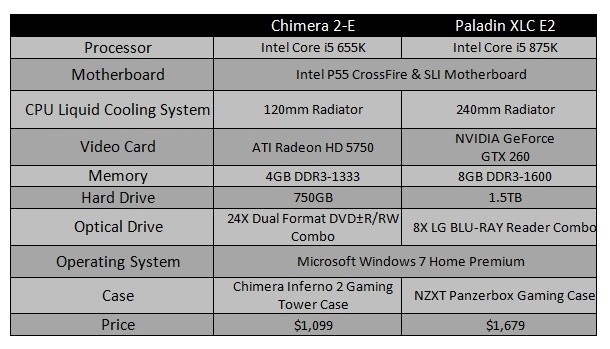 For additional information about iBUYPOWER please visit www.iBUYPOWER.com.
About iBUYPOWER
iBUYPOWER Computer, an enterprise in association with American Future Technology Corporation (AFT), is one of the largest system builders in the PC gaming industry. Located in Los Angeles County, iBUYPOWER's mission is to provide a complete computing solution to meet the needs of the surrounding community and customers nationwide. Currently, the company's product lines include gaming desktops, gaming notebooks, workstations, media center PCs, peripherals and multimedia products.
Last updated: Apr 7, 2020 at 12:02 pm CDT