Antec Launches New Dark Fleet Series
New set of enclosures introduces two Antec-exclusive innovations: Fleet-Release™ and Fleet-Swap™ to PC gamers and enthusiasts, for swift and flexible access to data
Fremont, CA - May 27, 2010 - Antec, Inc., the global leader in high-performance computer components and accessories for the gaming, PC upgrade and Do-It-Yourself markets, today announced the Dark Fleet series, its newest line of enclosures designed to meet the cooling and convenience demands of PC gamers and professional users.
The Dark Fleet series is available in four models: one full-tower chassis, the DF-85, and three mid-tower enclosures, the DF-35, DF-30 and DF-10, and all are designed to support the most current high-end graphics cards, extensive drive arrays and multi-CPU motherboards. The Dark Fleet series also introduces two new Antec-exclusive innovations giving convenient access to high-speed data interchange: Fleet Release™ and Fleet-Swap™.
Antec's Fleet-Release™ provides a front drive bay door system with variable-speed LED fans, fan controls and tool-free fan filters in a single modular package that "clicks" into place. This gives users rapid access to hard drives, easy maintenance and cleaning of washable fan filters, and improved maintenance and upgradeability to install additional fans or drives.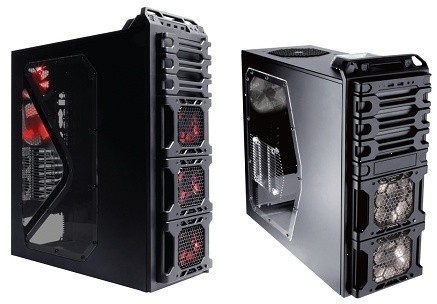 The Antec Fleet-Swap™ SATA drive bay system is a set of hot-swappable SATA drive bays that can be relocated within the drive cage, providing users with high flexibility to customize HDD configurations as desired as well as smoothly integrated hot-swap access through Fleet-Release doors™.
All Dark Fleet models feature advanced cooling systems that include top and rear 140 mm TwoCool™ fans and individual Fleet-Release™ 120 mm access doors for convenient access to drive bays, washable fan filters for quick and easy cleaning, a bottom-mounted power supply to isolate noise and front paneled USB 2.0 and AC'97/HDA compatible audio in/out.
The DF-85 and DF-35 models each sport a top-mounted hot-swappable 2.5" SATA (SSD-compatible) drive bay, as well as four (DF-85) and two (DF-35) 3.5" Fleet-Swap™ SATA drive bays. The DF-85 also features lockable drive bay doors for security and is compatible with Antec-exclusive CP Series CPX form factor power supply for superior thermal performance and noise signature.
"The new Dark Fleet series offers a wide variety of features and convenient access to components," said Scott Richards, senior vice president at Antec. "With state-of-the art cooling systems and rapid access to data, the Dark Fleet series comes packed with useful solutions that meet the fast paced lifestyles of today's enthusiasts and creative professionals."
The entire Dark Fleet series will be available through major retailers, e-tailers and distributors in June 2010 and is backed by Antec's AQ3 Antec Quality 3-Year limited warranty on parts and labor. For additional product information and full technical specifications, please visit www.antec.com.
Last updated: Apr 7, 2020 at 12:02 pm CDT