Powerful New Force~ SILICON POWER As "The Power to Perform" to Lead the Technology Trend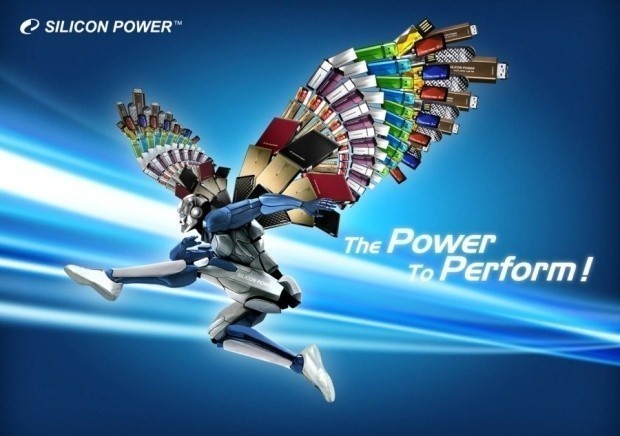 May 27, 2010, Taipei, Taiwan ~ One of the world's leading flash manufacturers, Silicon Power today (5/27) announces the launch of its exhibition concept, "The Power to Perform" to show its explosive potential power in 2010 Taipei Computex this June after its outstanding performance in attracting all visitors as a flying butterfly in CeBIT Hannover, Germany this year. SILICON POWER is going to demonstrate the hottest products and ready to give everyone a great surprise!
SILICON POWER first unfolded its wings and flied high as a molted butterfly in CeBIT, and now turns into a solid and strong big star who leaps to the big sky as a iron man. The change all shows that SILICON POWER poising as a shining star in the blue technology ocean will show its best capacity and step firmly to grow increasingly.
SILICON POWER is presenting the most breakthrough product, such as USB 3.0 relative products. Portable hard disk A80 continues the Armor series shock, vibration, pressure resistance functionality feature and appeals for rugged and fashion design same as Armor A70. Besides, Armor A80 and LuxMini 950 both provide a 5 Gbps/sec bandwidth which is 10x the bandwidth of a USB 2.0 interface. They both save users precious time backing up to and from the hard drive when transferring mass data files.
SILICON POWER's in-house developed technology dramatically increases E20's efficiency. E20 is also compatible with Windows 7 and can erase the relevant blocks and perform optimized through Trim indication in data writing and reducing SSD operation time. The new SSD E20 provides super-fast writing speed and improves greatly in efficiency! In addition, SILICON POWER also prepares the most explosive topical subject, SDXC memory card, globally multiple-awarded Compact Flash CF card and professional Video Card in this exhibition. SILICON POWER is providing higher quality, larger capacity and speedy transfer rate for users to enjoy more entertainment and storage space.
Silicon Power, this year 2010, is going to present the full product lines that are of quality, fashion and technologically advanced, and release the whole-new 2010 products in 2010 Taipei Computex. Welcome to Silicon Power's booth at K610, 614, 710, 714 in Nangang Exhibition Hall from Jun 1st to 5th, 2010.
More information about SILICON POWER in 2010 Taipei Computex, please visit
http://www.silicon-power.com/SP/2010Computex/web-en/index-en.html
About Silicon Power
Silicon Power Computer & Communications Inc., founded by a group of specialists with more than 20 years experience in the field of international trading, global marketing, technical know-how of flash data storage products, is the world's leading manufacturer of flash memory cards, USB flash drives, DRAMS, and card readers. We are also the initiator to offer Lifetime Warranty service both for the Flash Memory Card series and USB Flash Drive products. At the heart of Silicon Power, it exists a strong atmosphere of "Sharing, Caring, and of being Trustworthy." These are our finest commitments at the core. Recognized and supported in over 90 countries, Silicon Power provides fast, international lifetime service and superior products. Silicon Power makes a remarkable and successful achievement in the global community. The company is headquartered in Taipei and has established branches worldwide including the Netherlands and Japan.
Last updated: Aug 9, 2020 at 12:18 am CDT