Grace Digital Audio Roughs Up Your Tunes with the Eco Extreme All-Terrain MP3 Speaker
Rugged waterproof case with a built in speaker provides dynamic sound and protection for your MP3 player or cell phone
San Diego, Calif. - (May 25, 2010) - Grace Digital Inc, a leading brand of wireless indoor & outdoor audio solutions, is pleased to announce the Eco Extreme. Whether you're climbing to the highest mountain peak, kicking back on the beach, or just backyard grilling, the Eco Extreme provides quality sound and rugged protection for your iPod, iPhone, most cell phones and MP3 players. Affordably priced at $49.99 and available now at GraceDigitalAudio.com, the Eco Extreme is a must have for all your summer fun.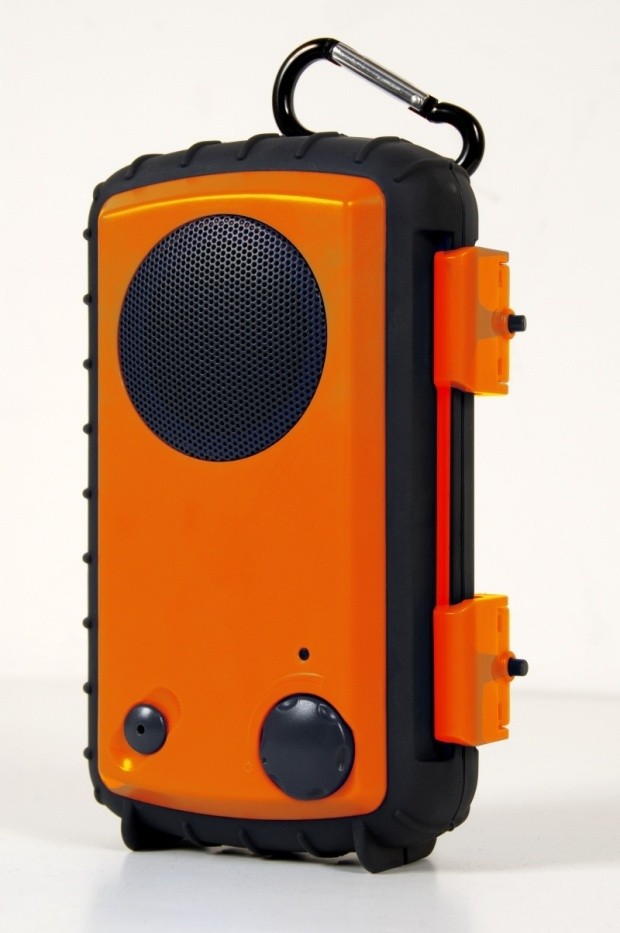 As summer approaches and weekend activities move to the outdoors, Eco Extreme's water, sand, and shock proof outer casing offers protection from all the outdoor elements. The Eco's built-in 3" full range front firing speaker provides Grace Digital Audio's signature high quality sound. Designed with a rubberized protective shell, Eco's high impact shock proof exterior withstands drops, falls, and mishaps. Lightweight and portable, the Eco Extreme comes equipped with a 2" detachable carabiner, making it ideal to clip to a beach bag or backpack for easy transportation. "With the Eco Extreme you no longer have to sacrifice audio quality for portability and versatility," says Grace Digital Audio's Chief Marketing Officer, Greg Fadul. "While ideal for outdoor use, the Eco Extreme provides a surprising volume and bass for a device of its size, making it great for less adventurous indoor use as well."
The Eco Extreme's sand resistant and waterproof interior includes a mesh pocket that securely holds an MP3 player, cell phone, wallet, cash, keys, and/or small digital camera. The universal 3.5mm audio jack easily connects the speaker to iPhones, most cell phones, iPods and MP3 players. IPX7 approved (international weatherproofing standard), the Eco Extreme will safeguard personal items and small electronics during all your outdoor adventures.
Eco Extreme features include:
- Waterproof and dirt resistant design protects your MP3 player from the outdoor elements
- High impact shock proof casing withstands drops, falls and spills
- Internal storage compartment holds keys, MP3 Player, credit cards, drivers license and cash, keeping it safe from sand, sun, and water
- 3.5mm audio jack works with any MP3 player, 3" full range forward firing speaker
- Includes a 2" detachable carabiner clip, making it ideal for backpacking, biking, beach trips, and camping.
- IPX7 Approved (International Weatherproofing Standard) will protect your valuables even if you submerse it in water, powered by 3 AA batteries which provide 30 hours of playing time at average volume levels
- Available in 3 colors (jet black, cobalt blue, and orange peel)
About Grace Digital Audio
Based in San Diego, California, Grace Digital Audio provides a family of audio products with the highest levels of quality, support and service. From internet radios to wireless indoor/outdoor speakers, Grace provides audio solutions for every situation. Grace's innovative iPhone & iPod Touch application allows users to control their entire Grace audio system with one convenient control. Grace sells its products through major retailers, ecommerce sites, dealers and distributors throughout North America. To learn more about Grace Digital products please visit them at www.gracedigitalaudio.com.
Last updated: Apr 7, 2020 at 12:02 pm CDT