Antec's LanBoy Air Scores COMPUTEX TAIPEI 2010 Design & Innovation Award
One-of-a-kind open-frame enclosure provides users with utmost configurability and flexibility, wins award for excellence in design
Fremont, CA - May 25, 2010 - Antec, Inc., the global leader in high-performance computer components and accessories for the gaming, PC upgrade and Do-It-Yourself markets, is pleased to announce the LanBoy Air chassis has been awarded the prestigious COMPUTEX TAIPEI 2010 Design & Innovation prize for excellence in design quality in the "Components and Parts" category. Hosted by Taiwan External Trade Development Council (TAITRA) in cooperation with International Forum Design (iF), the COMPUTEX TAIPEI Design & Innovation awards promote awareness of and support for design excellence, and honors innovative and strategic thinking to overcome global economic challenges and strengthen regional markets.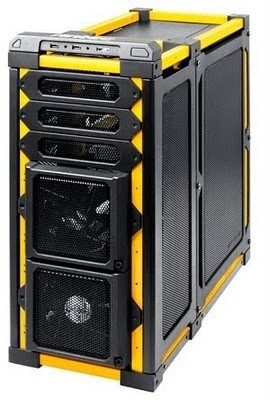 Antec's LanBoy Air is a state-of-the art open-frame enclosure providing limitless configurability and flexibility to high-performance gamers, modders and workstation users. It features the world's first patented vibration and noise-dampening HDD suspension system, AirMount™, in addition to cutting-edge cooling and airflow capabilities. The LanBoy Air is based around an entirely reconfigurable interior with modular drive bays, PSU and motherboard mounts that provide a highly versatile framework allowing for extensive air ventilation and customization - meeting the exacting demands of end users as well as system builders.
"We are thrilled to have the LanBoy Air recognized by COMPUTEX TAIPEI for its outstanding design and innovation," said Scott Richards, senior vice president at Antec. "Our product design team deserves applause as this design showcases the novel thinking and creativity our customers have come to expect from Antec."
With this award, the LanBoy Air joins a unique community of products recognized for high-quality workmanship, functionality and innovativeness.
The LanBoy Air chassis will be exhibited at COMPUTEX TAIPEI from June 1 - 5, 2010, and will be released to the public in July 2010. Visit the Antec booth at the Taipei World Trade Center from June 1 - 5, 2010 in Nangang Exhibition Hall, First floor, Booth 1617 for additional information and to experience the latest Antec cases, power supplies, notebook coolers and accessories.
Follow the official Antec Twitter page for event updates at www.twitter.com/AntecInc. Additional information about COMPUTEX TAIPEI and about the COMPUTEX TAIPEI Design & Innovation awards is available at http://www.computextaipei.com.tw/#
Last updated: Apr 7, 2020 at 12:02 pm CDT